The Audi brand is well-known for its luxurious vehicles, including innovative technology, superior craftsmanship, and the Quattro all-wheel-drive system.
Almost a single Audi vehicle has been meticulously designed. Their cabins never fail to thrill, and their engines always deliver as promised. The all-wheel-drive system is also dependable in various weather and road conditions, including snow.
When it comes to handling slick roads, no other all-wheel-drive system compares to Audi's Quattro. Here, we'll explore the Audi lineup and zero in on the six vehicles that excel in wintry conditions.
What exactly makes a car good for snow?
It's not enough to have all-wheel drive. They are finding the sweet spot between ground clearance, tire grip, the center of gravity, and clever systems that can adjust to different situations. And here is where Audi cars shine. Their Quattro system is a standard-bearer in its field. Specific versions also have high ground clearance, heated seats, and cutting-edge traction control systems, making them ideal for use in the snow.
6. Audi A4 Allroad Quattro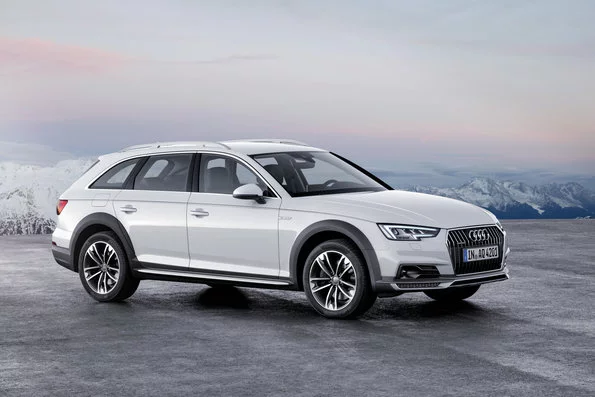 My recommended starting point is the Audi A4 Allroad Quattro. This version of the A4 has the same high-end cabin, powerful engine, and cutting-edge technology that I've come to expect from Audi, but with an added dose of toughness that impressed me. Due to its higher ride height, it can better handle icy roads than the regular A4 sedan.
With its optimized Quattro all-wheel-drive system, the A4 Allroad is a solid option if the weather takes a turn for the worse. It's already capable in the snow, but adding an off-road mode that modifies the throttle response and traction control makes it almost unstoppable.
How about non-Allroad A4?
The Audi A4 sedan is doing a decent job in snow, and I even put it in one of the best sedans for driving in the snow. Nonetheless, the Allroad boasts several features that the A4 sedan lacks, like increased ground clearance and air suspension, which are particularly helpful while driving in heavy snow.
The A4 Allroad Quattro, however, has its flaws just like any other vehicle. The fuel efficiency of this vehicle is below average for its category. The A4 Allroad Quattro, on the other hand, is a serious contender if I need a high-end car that can reliably manage snow.
5. Audi A6 Allroad Quattro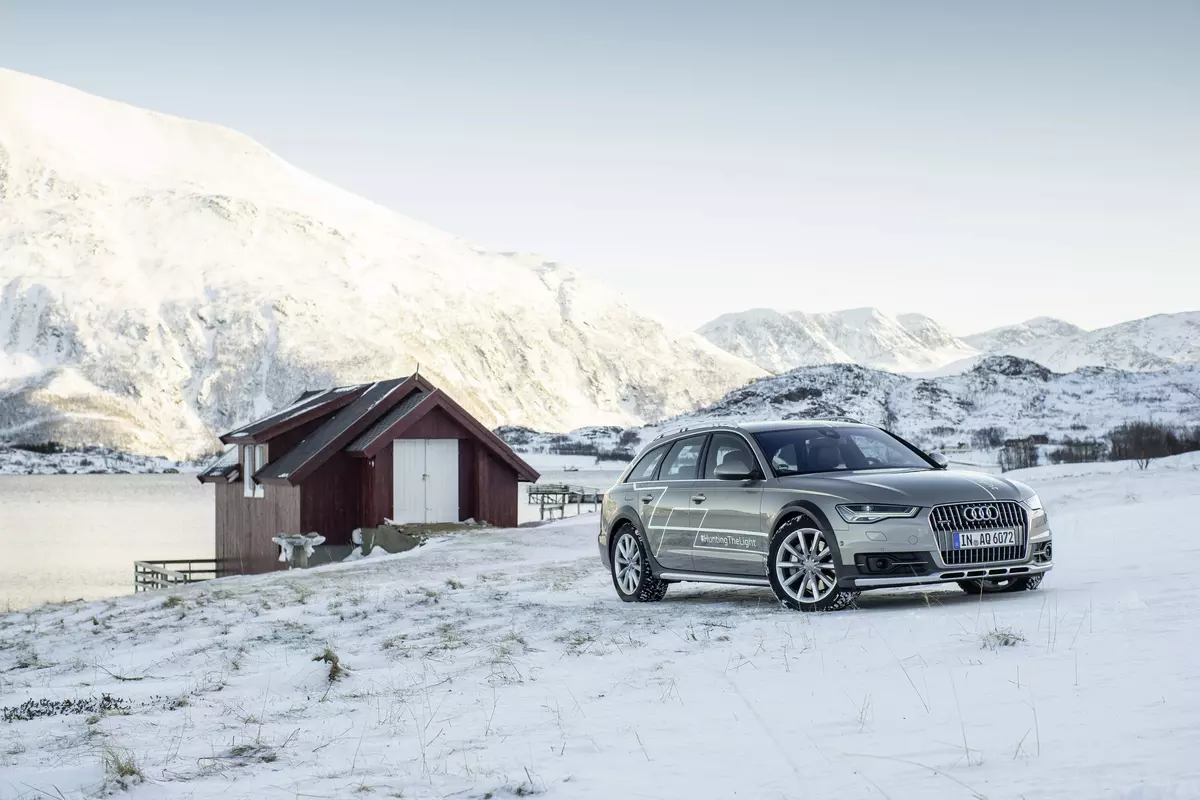 The Audi A6 Allroad Quattro jumps up to take the fifth spot. To the already spacious, comfortable, and technologically sophisticated A4 Allroad platform, the designers of this model have added even more of each.
The Audi A6 Allroad is made for people like me who need an SUV but still want the luxury of a sedan and the capability to drive in the snow.
The A6 Allroad has a powerful engine and Audi's Quattro all-wheel-drive technology, so I never have to worry about getting stuck in the snow or mud. The Allroad has an adaptable air suspension system that raises the vehicle's ride height as required, making it an excellent choice for driving in heavy snow.
The A6 Allroad's cabin is a shining example of Audi's dedication to refinement. The inside is roomy and luxurious, and it's loaded with cutting-edge technology, including a dual-screen infotainment system and several driving aids. Long trips in the snow are much more bearable and secure with these conveniences.
The A6 Allroad's exorbitant price tag could discourage some customers. It also doesn't give the highest fuel economy in its class, much like the A4 Allroad. But if I desire comfort, room, and the ability to handle snow, the A6 Allroad Quattro is an appealing option.
4. Audi Q3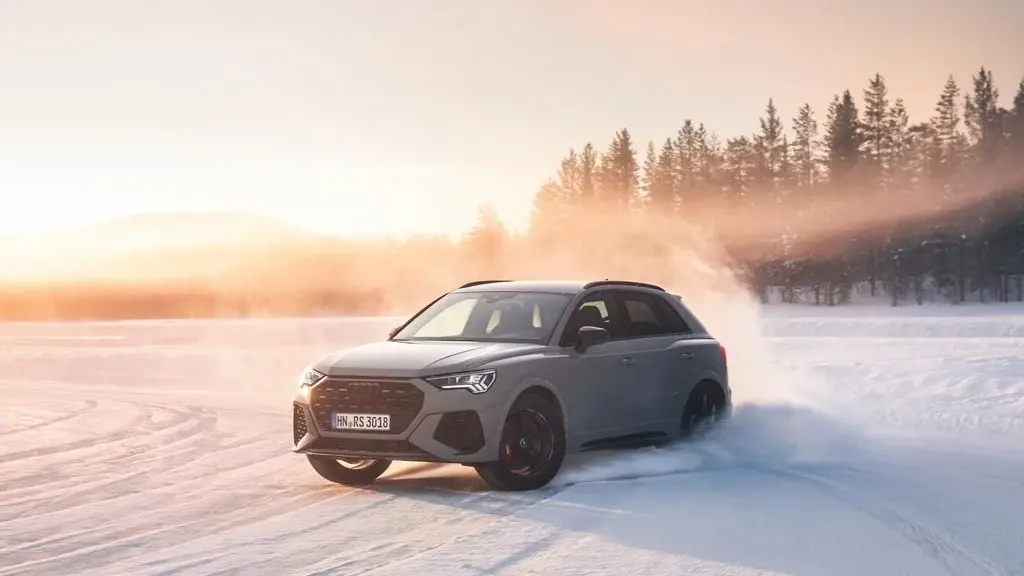 The following vehicle on my list is the Audi Q3, a small SUV that packs a big punch in the snow. In spite of its modest size in comparison to the Allroad versions, the Q3 is not to be taken lightly.
The Q3 is equipped with Audi's Quattro all-wheel-drive technology, ensuring confident handling in all weather. Its small stature makes it simple to control, especially in ice and snowy conditions.
The Q3 has a pleasant, high-tech interior, including heated seats and a cutting-edge infotainment system that makes snowy rides more fun. Furthermore, its small size allows cargo space, which helps store winter clothes or groceries.
The Q3's ideal mix of size and power is one of the primary factors that makes it such a formidable performer in the snow. It has plenty of ground clearance, a powerful engine, and an excellent Quattro system, all wrapped up in a small, beautiful package.
If you're interested in a more detailed look at how the Q3 performs in snowy conditions, I invite you to read my in-depth review of the Audi Q3 for snow and winter driving.
The Q3 is a tiny SUV, so its interior room might not be as generous as Allroad's or larger SUVs. Additionally, even though the Q3 has many useful amenities, some are only offered as options or in higher trim levels.
3. Audi Q5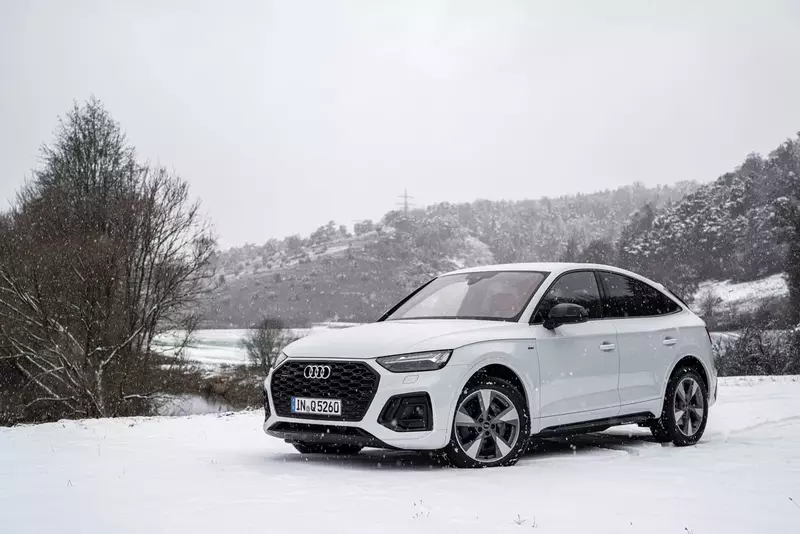 The Audi Q5, a small luxury SUV with snow-driving capabilities, is third on my list. It is a stylish vehicle that combines performance, comfort, and space. The Q5's Quattro all-wheel-drive technology guarantees a secure and comfortable ride as it confidently navigates slick roads.
While the Q5's well-tuned suspension dampens disturbances even when the road is coated in hard-packed snow, its turbocharged engine has enough power to climb icy inclines. Its decent ground clearance reduces the possibility of an undercarriage problem caused by snow. Damage
The Q5 excels on the inside with a roomy, comfortable, and high-tech interior; during those chilly winter rides, amenities like the virtual cockpit, heated seats, and an excellent entertainment system give a relaxed and toasty atmosphere.
However, there are certain drawbacks to the Q5. Its more costly higher trims come with opulent luxuries and cutting-edge safety measures.
Read More: Audi Q5 in Snow and Winter Driving
2. Audi Q7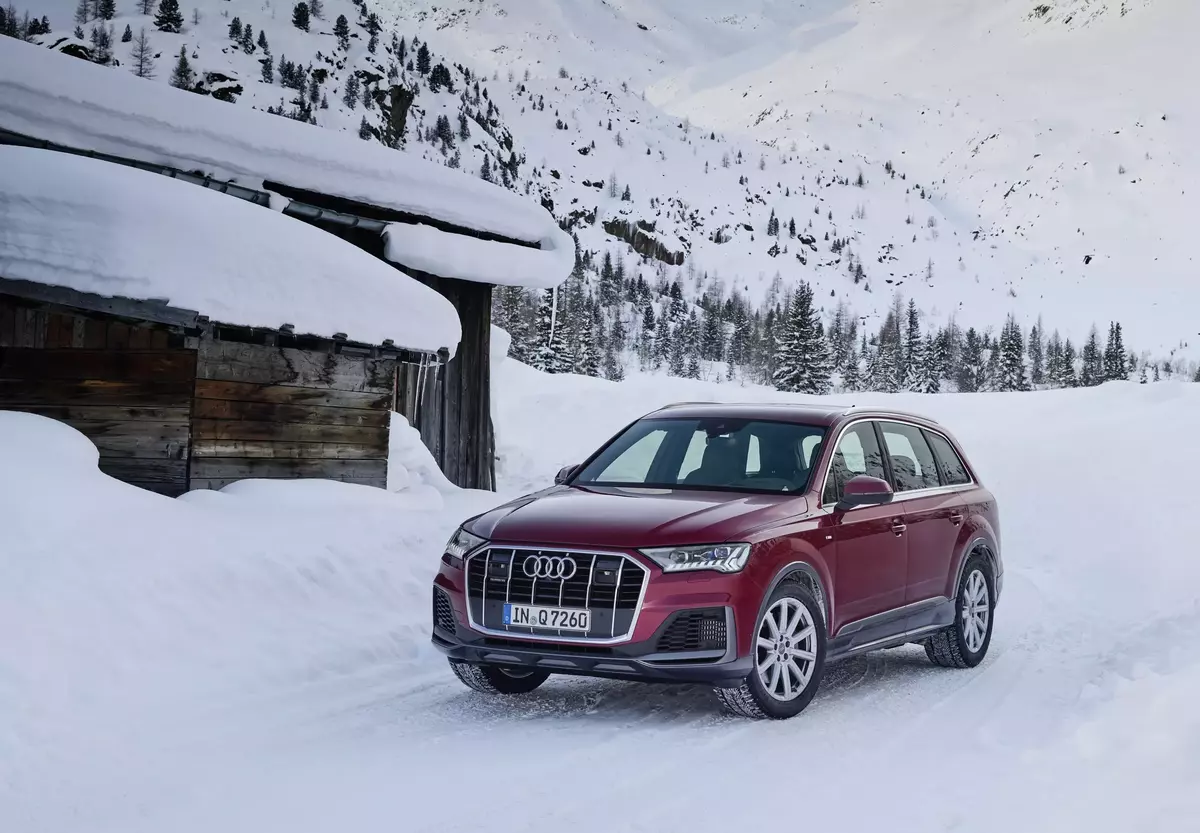 The Audi Q7, a premium midsize SUV with superb snow-driving ability, ranks second on my list. The Q7, which is larger and more roomy than the Q5, is an excellent alternative for families or people who want additional space.
The Q7's all-wheel-drive system and strong engine selections perform exceptionally in icy situations. Its high ground clearance, big wheels, and powerful stability control system enhance its capacity, assuring safe and confident driving even in the most severe winter conditions.
The Q7 interior is rich and spacious, with numerous elegant amenities and innovative technology. Whether driving to work in a blizzard or headed to the slopes, the Q7 assures you'll travel in luxury and elegance.
However, remember that the Q7 is more expensive because of its premium features and larger size.
1. Audi Q8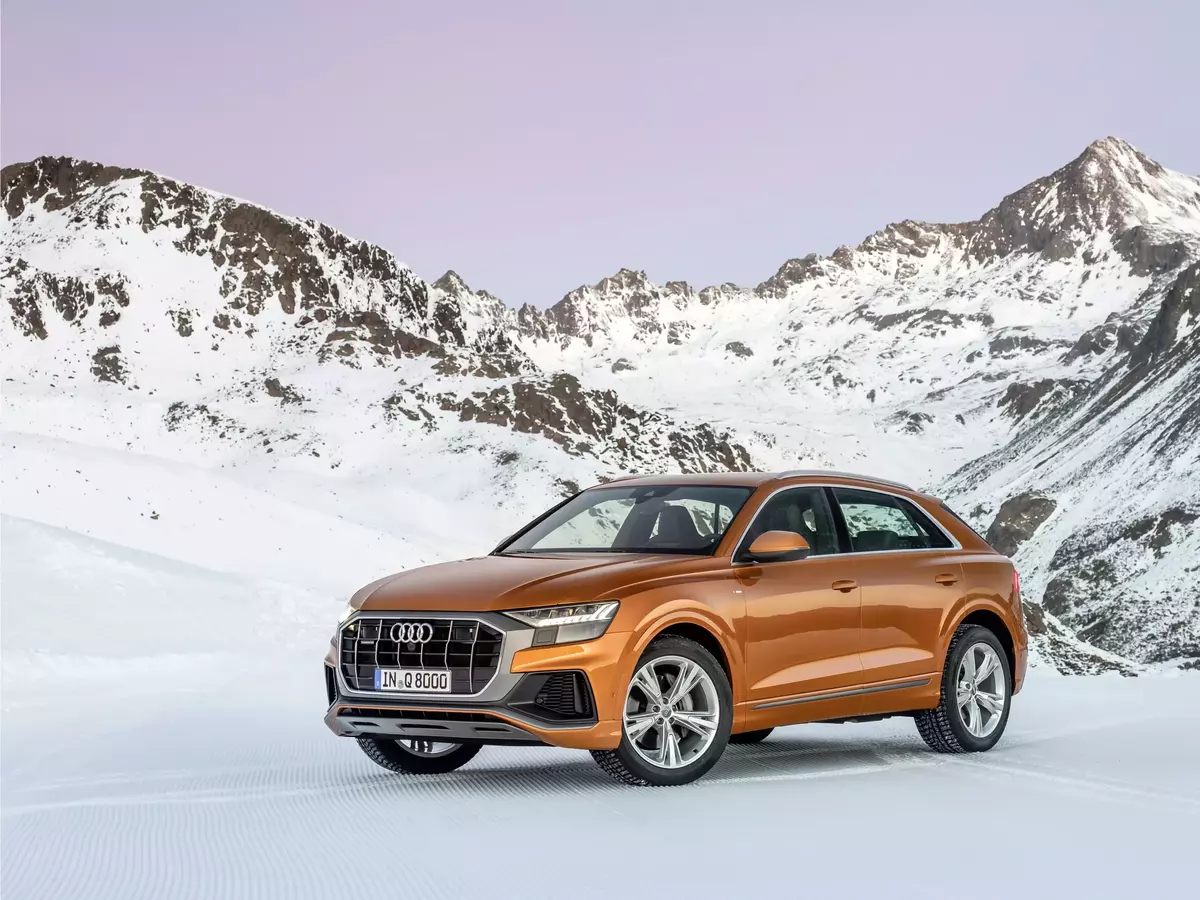 The Audi Q8, a premium SUV that I consider the greatest Audi for snow, is at the top of my list. The Q8 is a little sportier and more attractive than the Q7, but it doesn't skimp on performance, comfort, or snow-driving ability.
The Q8's Quattro all-wheel-drive technology and potent engine choices allow it to manage snowy conditions comfortably. It also has air suspension, which gives a smooth ride and can boost the vehicle's ground clearance when required – a significant bonus in thick snow.
The Q8's interior is roomy and sumptuous, stocked to the gills with the latest high-end materials and cutting-edge gadgetry. Having a high-quality infotainment system, heated seats, and other driver-assistance features may significantly improve the safety and comfort of winter road trips.
The Q8's higher price tag, like that of the Q7, reflects that it is the flagship model in the lineup. The Audi Q8 is the best option if you're looking for a vehicle that combines athletic styling, luxury, and great snow-handling qualities.
Honorable Mentions
While the Audis highlighted above excel in snowy conditions, there are other models worth a nod:
Audi Q8 e-tron: An all-electric SUV that blends zero-emission driving with Audi's robust Quattro system. Despite its electric powertrain, it handles snowy roads effectively.
Audi Q4 Sportback e-tron: Part of Audi's electric lineup, this sporty model offers practical features and reliable performance in winter conditions.
Audi SQ5: A performance-oriented SUV with a powerful engine, sport-tuned suspension, and Quattro all-wheel drive. It's a fun and capable choice for snowy drives.
Audi A7: A luxury sedan that combines sleek design, comfort, and Quattro all-wheel drive, ensuring solid performance in the snow while maintaining its stylish appeal.
While not topping my list, these models still embody Audi's winter-ready qualities and may be worth considering based on your preferences.
Conclusion
From compact to midsize, each Audi model on this list brings a unique set of advantages to snowy conditions. While they all benefit from the Quattro all-wheel-drive system, the thoughtful combinations of engine performance, ground clearance, interior comfort, and advanced technology genuinely make them shine in winter.
But even with their impressive winter performance, one more factor can significantly enhance Audi's capabilities in snow: a good pair of winter tires.
While all-season tires can provide decent performance in light winter conditions, nothing beats the traction and control of quality winter tires. Equipping your Audi with winter tires can elevate its snow-handling prowess, offering even better control and safety.