Owning a car with sliding doors would certainly be fun, not to mention the convenience you would enjoy.
Sliding doors tend to have wider openings than standard ones, making it easier to get in and out. This makes cars and SUVs with sliding doors perfect for senior passengers.
Also, sliding doors don't open as wide as conventional ones, so you are at an advantage in tight parking spaces. Even though these sliding doors have several advantages over other standard doors, not all cars adopt them.
So, are there SUVs with sliding doors?
Well, no. The truth is that there have been some compatibility issues, and there are no pure SUVs with sliding doors. A crossover is one vehicle that can quickly adopt a sliding door, but no one has made that yet. There are, however, other cars similar to the Crossover SUV with sliding doors.
Update: Toyota has recently introduced the Century SUV, which has a sliding door option.
Toyota Century SUV – Luxury SUV With Minivan Door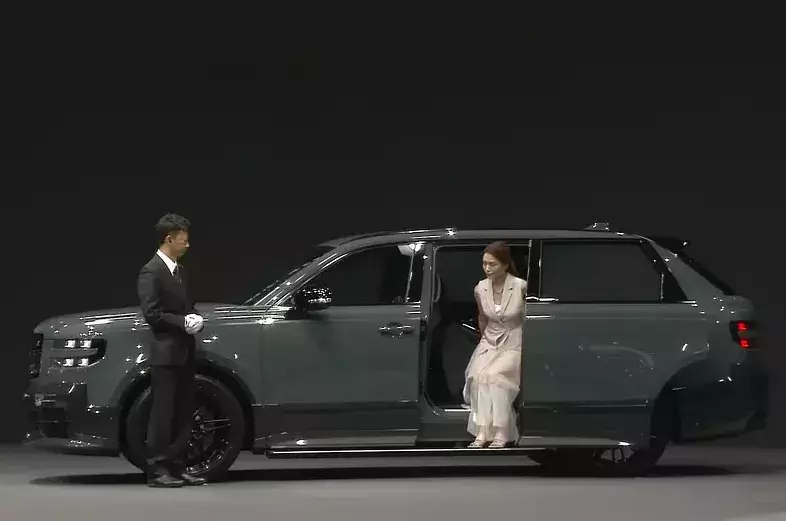 The Toyota Century has long held a unique spot in the Toyota line. It's made only for the Japanese market and in very limited numbers.
Recently, Toyota introduced an SUV version of the Century, which was surprising because the Century has always been a luxury sedan. What's also surprising is that despite its full-size SUV dimensions, the Century SUV only has four seats, offering a very spacious cabin with its golden phoenix logo.
But the surprises don't end there. Toyota allows future Century SUV owners to customize their vehicles. Buyers can pick paint colors, interior materials, seating configurations, and more. What's really eye-catching is that buyers can choose to have sliding doors installed, transforming the Century SUV into a luxury minivan perfect for CEOs.
Toyota's decision to offer sliding doors on their luxury SUV makes sense. Sliding doors are designed to make it easy for people to enter and exit the vehicle, which seems fitting for an exclusive vehicle like the Toyota Century.
Moreover, the sliding door design looks pretty cool on a luxury SUV. It would be intriguing to see other luxury car manufacturers adopt the same door design for their SUVs – imagine a Roll-Royce Cullinan or Bentley Bentayga with sliding doors!
An SUV-like Vehicles that has Sliding Doors
The cars in this list share some similarities, like the ground clearance and all-wheel-drive with the Crossover SUV. These cars include:
Kia Carnival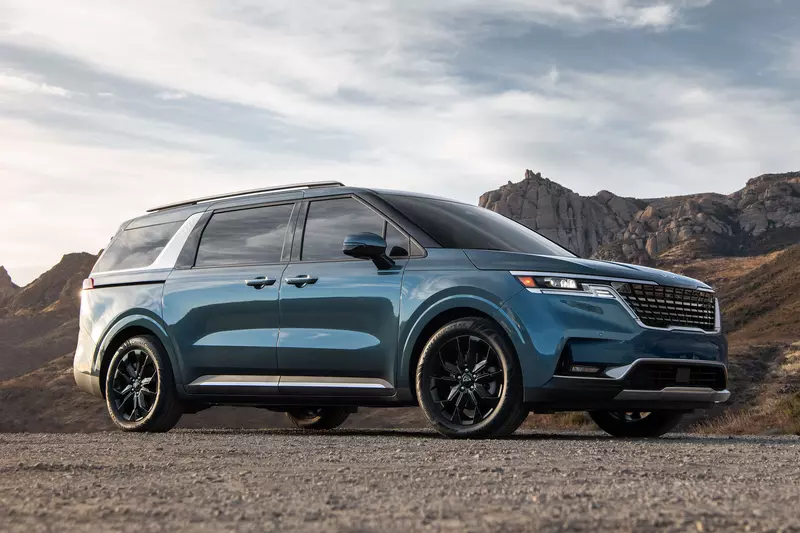 The Kia Carnival has never been officially declared a minivan or a crossover. It is referred to as a multipurpose vehicle, meaning that it can be used for various purposes. The aim of the Kia Carnivals is to reach a broad market by attracting consumers who want a comfortable car and one that can fit many passengers, like a minivan.
We all understand that the sliding door feature is typical of a passenger van. The Kia Carnival comes with a sliding door, but its exterior resembles that of an SUV. Other than that, it comes equipped with a captain's seat in its second row.
The new Kia Carnival model measures 203 inches long, 78.5 inches wide, and 68.5 inches high. It is equipped with a 3.5-liter V6 engine of 290 horsepower and 262 lb-ft of torque. This car can tow up to 3500 lbs, thanks to the eight-speed automatic transmission.
The Kia Carnivals' features; the large size, high ground clearance, and decent towing capabilities are what make it look more like an SUV than a minivan.
Chrysler Pacifica
The Chrysler Pacifica is an excellent minivan that comes with superior features compared to standard minivans. It is an all-wheel drive, and it also comes with sliding doors. The car's front-wheel-drive comes standard and has a 9-speed automatic transmission.
The Chrysler Pacifica's high ground clearance of 5.1 inches helps protect its bottom from scratches and from destroying the chassis. Thanks to this high ground clearance, the car can perform well in various road conditions, including on snowy roads.
The car's fully automatic all-wheel-drive system makes it the only minivan that can transfer 100% engine power to the rear wheels. This makes it perfect for slippery roads. The Chrysler has dimensions of 204 inches long, 80 inches wide, and 71 inches high.
The 2022 model engine is a 3.6-liter V6 that produces 287 horsepower and 262 lb-feet of torque.
Toyota Sienna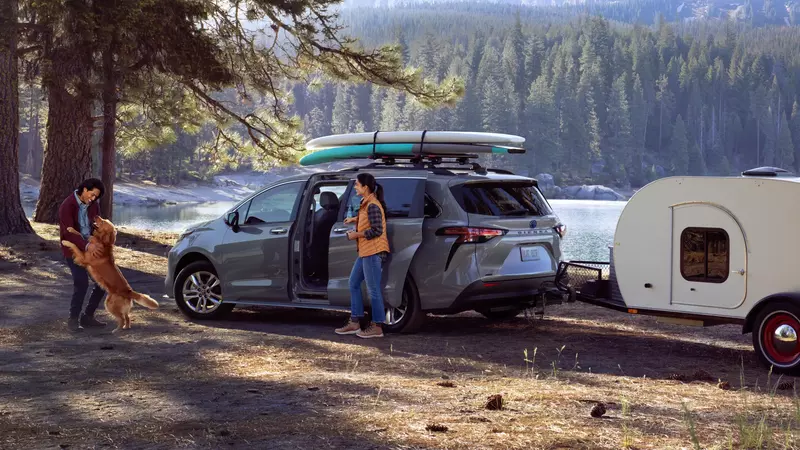 The Toyota Sienna offers a lot of exciting features. It comes with an all-wheel-drive system that makes it one of the best alternatives to the Crossover. It has a spacious cabin, elegant and luxurious interior, and comfortable seats to give you the best driving experience.
Its sliding doors make it easier to get in and out of the car. It also boasts ample cargo space, just like a minivan. Its dimensions are close to the Chrysler Pacifica at 204 inches long, 79 inches wide, and 70 inches high.
You can never have a hard time getting over snowy roads with this minivan. It has a high ground clearance of 6.9 inches, which is higher than many minivans and is close to many compact SUVs today.
If you are a fan of kayaking, fishing, and other outdoor activities, this car features the most impressive qualities to perform all those light off-road activities.
Why "Real" SUVs Don't Have Sliding Doors?
There would be nothing as convenient as an SUV with a sliding door. However, the manufacture of such SUVs has not yet been achieved. But you might wonder why automakers haven't made SUVs with sliding doors. Here is why:
Compatibility Issues
SUVs are built with conventional B-pillar that is not compatible with sliding doors. They actually require a particular rail system to be installed parallel to the door frame's bottom and top.
This B-pillar is designed to make SUVs sturdy for off-roading and other outdoor activities. This makes it difficult because it would compromise the consumers of SUVs who need a sturdy and reliable vehicle for various road conditions.
Other than the technical incompatibility, the SUV style simply doesn't match a sliding door. SUVs are known for their masculine look and feel, and that's enough worth for regular doors.
Can you try imagining a Toyota 4Runner with 20-inch wheels with a sliding door? Not only will a sliding door reduce masculinity, but the style simply won't work.
Safety Issues
We all want to feel safe when driving, especially in unfavorable road conditions. An SUV with a sliding door affects its safety rating big time.
The conventional B-pillar is designed to provide sturdiness when off-roading. The use of sliding doors will just reduce the sturdiness of the body car, which doesn't even feel safe at all.
Expensive
Installing a sliding door on an SUV requires redesigning. There will also be various experiments that must pass safety certification. Installing sliding doors can be so expensive as they use more complicated mechanisms than traditional doors.
The sliding doors also require extra care when handling, and in case of any repair costs, replacing one would be more expensive than the standard doors.
Final Words
Getting in and out of a car with sliding doors is much easier. Unfortunately, not all cars come with this option. There has not been any pure SUV with sliding doors as of now.
The only car that is designed to resemble an SUV with a sliding door is the Kia Carnival. If you want a car similar to a Crossover SUV, the Kia Carnival is an excellent alternative. If you want one with features resembling an SUV, then the Toyota Sienna and Chrysler Pacifica are the perfect choices.