If you live in a mountainous area or are just visiting, be prepared for hilly roads, which are twisty and often slippery due to wetness or snow. So it is best to have the ideal vehicle to beat the conditions.
So, what is the best car for hilly mountainous areas?
Vehicles with all-wheel drive, four-wheel drive, and traction control, such as SUVs and Pickup Trucks, are great for hilly mountain roads, especially in winter. The vehicle should have a good safety rating, a powerful engine, and good gas mileage. The car's cargo space and towing capacity are also worth considering.
 Here are the best cars to drive in a mountainous region.
Jeep Grand Cherokee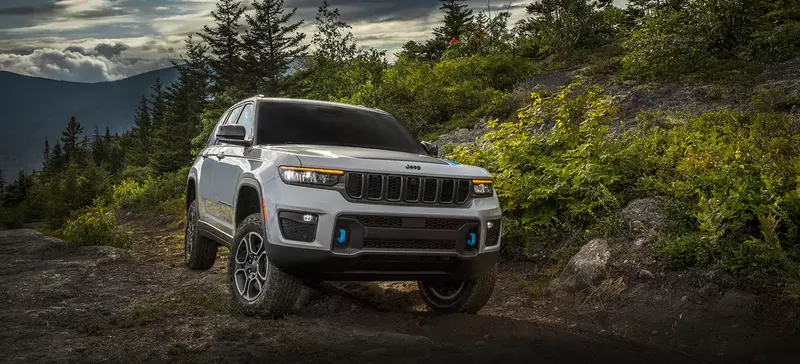 The Grand Jeep Cherokee is well-equipped for roads and trails. It has a legendary reign of capabilities. It has air suspension to raise the vehicle when driving in rough terrains and a up to 7200 pounds towing capacity. Its 4X4 systems offer all-weather capability with select terrain to cover any road condition.
The car's traction control system ensures all wheels have a firm grip on the road. It has 8.6 inches of ground clearance and a powerful V8 engine. The powertrain gives it the oomph to explore new horizons and bold terrains.
If you want more passenger seating, the latest model offers enough seating for 7 people and versatile cargo space of 37.7 cubic feet behind the rear seats and 70.8 when folded down. This braves you up to the journey ahead.
The Jeep Grand Cherokee's fuel economy is just Oke, with an estimated EPA of 19 mpg in the city and 26 mpg on the highway. It has safety features like automated emergency braking, forward collision warning, a head-up display, and cruise control.
Honda CR-V Hybrid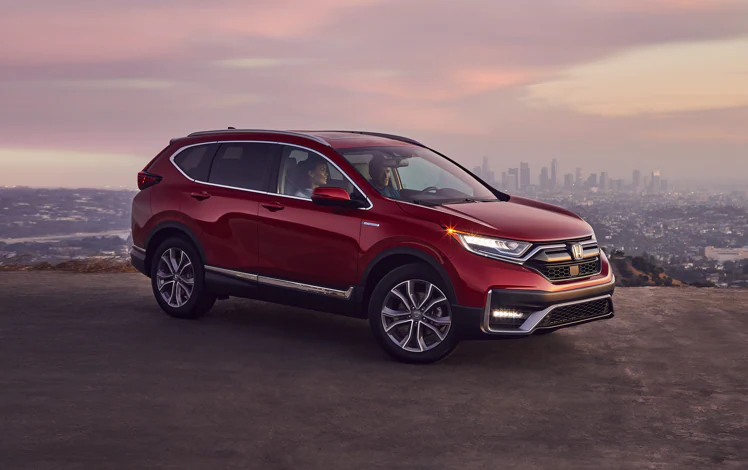 The Honda CR-V is small but mighty. It is powered by a 2.0-liter four-cylinder engine with two electric motors that combine to produce 212 horsepower.
This engine pairs well with the responsive CVT transmission that provides smooth shifting, making it a perfect choice for mountainous terrain driving.
The engine is also super-efficient, with an excellent fuel economy of 40 mpg in the city and 35 mpg on the highway.
Its interior is roomy, with enough seating area for 5 and cargo space of 33.2 cubic feet behind the rear seats and 68.7 cubic feet when folded down. This vehicle has proved reliable, with little to no complaints recorded.
It also has a standard all-wheel drive to enhance traction control and performance. The system redirects torque to the rear when maneuvering into different road conditions.
The Honda CR-V has an impressive ground clearance ranging from 7.8 inches to 8.2 inches to help drivers deal with different terrain.
It is also equipped with superb safety features; Honda's sensing suite, brake assist system, stability control, collision warning system, and tire pressure monitoring.
Toyota RAV4 Hybrid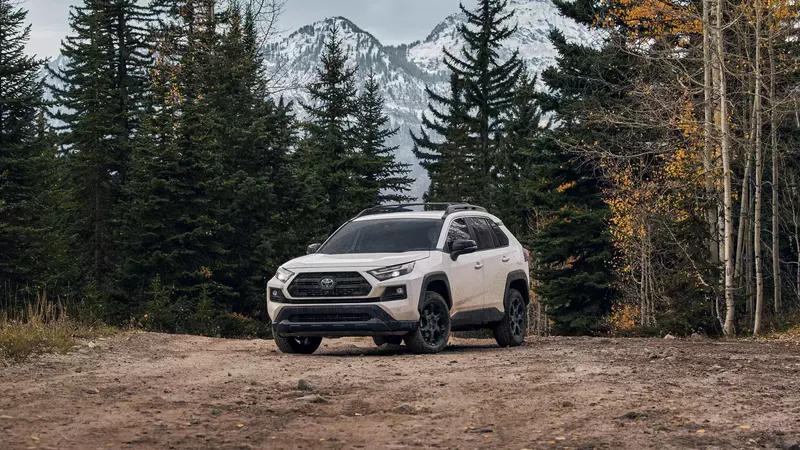 The Toyota RAV 4 Hybrid is a standard all-wheel drive that combines the engine and the motor to power the front wheels within a second, and the rear motor powers the rear wheels.
The high ground clearance of 8.4 inches handles the off-road trails with ease. RAV4 is powered by a 2.5L 4-cylinder engine and two electric motors that work with 8-speed automatic transmission. This helps the vehicle deliver an excellent fuel economy of 41 mpg in the city and 38 mpg on the highway.
The RAV4's interior is quite roomy and can seat up to five people. The cargo space is ample at 69.0 cubic feet, with the rear seats down and 37.0 cubic feet when they are up.
This vehicle has good safety features such as automated emergency braking and lane departure assist.
Hyundai Tucson Hybrid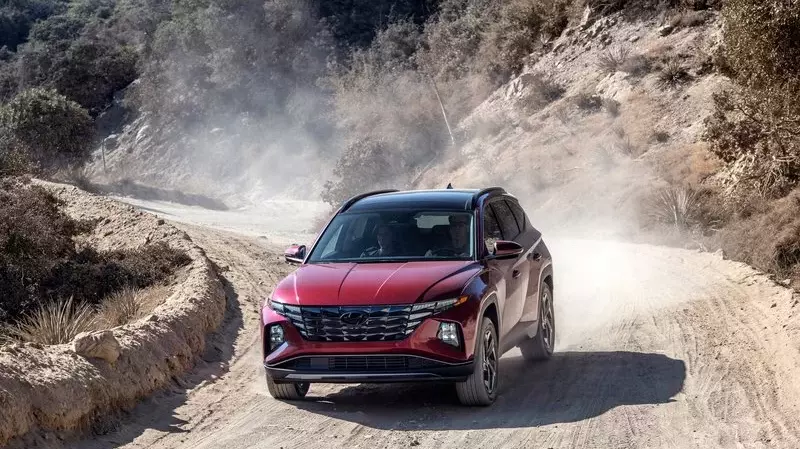 The Hyundai Tucson Hybrid offers innovative technology and a hybrid powertrain to take on mountain regions further using less fuel.
The Tucson Hybrid is powered by a 1.6-liter 4-cylinder gas engine and a 64 kW electric motor powered by a 1.49 kWh lithium-ion battery. Combined, they produce an output of 226 horsepower and 258-pound foot torque.
The power is distributed to the four wheels at an automatic six-speed transmission that shifts smoothly. It is also available in a more developed AWD system to meet the needs of hill starts and cornering at speed.
The estimated combined fuel economy of the hybrid is 37 mpg in the city and 36 mpg on the highway. This car has safety features such as traction control, lane-keeping assist, 4-wheel disc brakes, and a blind-spot monitor.
Its interior features a fully upgraded cabin, comfortable leather-trimmed five-person seating, and a large cargo area of 39 cubic feet.
Kia Telluride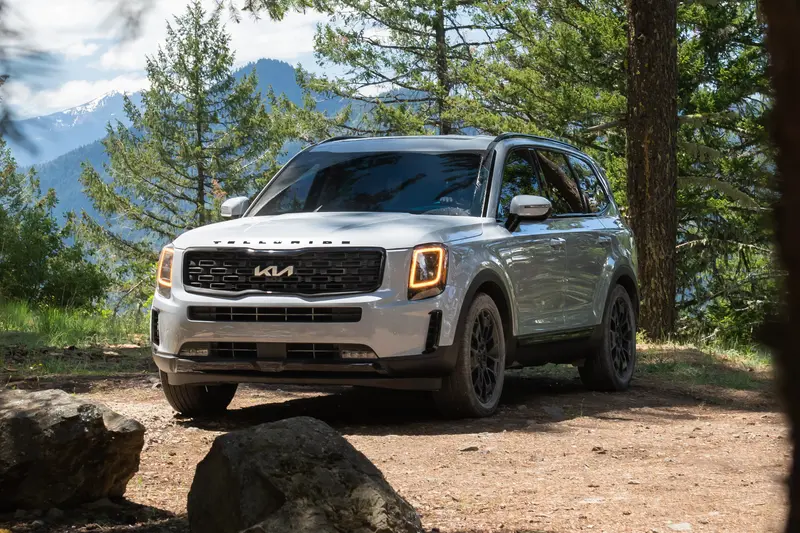 The Kia Telluride is a perfect adventure vehicle. It is available on all-wheel drive. The latest model is powered by a responsive 3.8-liter V6 engine that delivers 291 horsepower and 262 pounds of torque. The automatic transmission is eight-speed and with the standard front-wheel and all-wheel drive.
Regarding fuel economy, this vehicle is rated average compared to other cars. Standard front-wheel drives have an EPA estimate of 20 mpg in the city and 26 mpg on the highway, while the all-wheel-drive has 19 mpg in the city ad 24mpg on the road.
This vehicle has a high ground clearance of 8.0 inches and standard safety features such as a radar sensor system to detect any obstacles in the front and the rear.
It has a roomy, high-quality interior with enough seating for eight people and ample cargo space of 21 cubic feet behind the third-row seats and 46 cubic feet when folded down.
Chevrolet Traverse
The Chevrolet Traverse is such a flex. The automakers wanted it to give nothing but the best. It boasts safety features like automatic emergency braking and a safety alert seat.
This vehicle runs on a 3.6-liter engine and a 9-speed transmission. The Chevy Traverse's gas mileage is decent, giving 18 mpg in the city and 27 mpg on the highway. It has a good safety rating of five stars and four stars for front crash tests.
Its high ground clearance of 7.5 inches makes it suitable for mountain areas. The cabin is spacious enough for passengers and has a cargo space of 23 cubic feet behind third-row seats, 57.8 cubic feet when folded, and 98.2 cubic feet with the second and third-row folded.
Subaru Ascent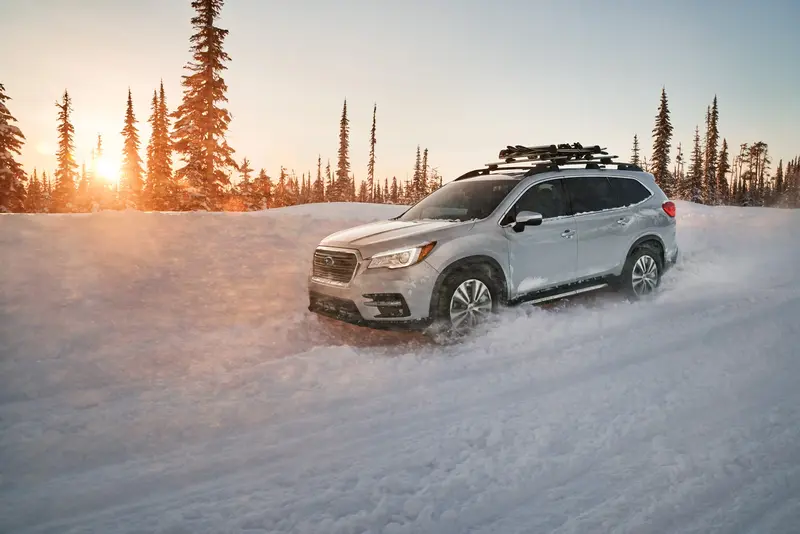 The Subaru Ascent is the perfect car for every growing family. It has a high ground clearance of 8.7 inches and all-wheel drive as standard.
Powered by a powerful engine, a 2.4-liter 4cylinder powertrain, it delivers 260 horsepower and decent fuel economy of 21mpg in the city and 27 mpg on the highway.
This vehicle has a spacious cabin to pack up to 8 people inside and ample storage of 17.8 inches cubic feet behind the third row and 47.5 cubic feet when folded down.
This vehicle has a traction control system to minimize wheels slipping and advanced adaptive cruise control.
Honda Ridgeline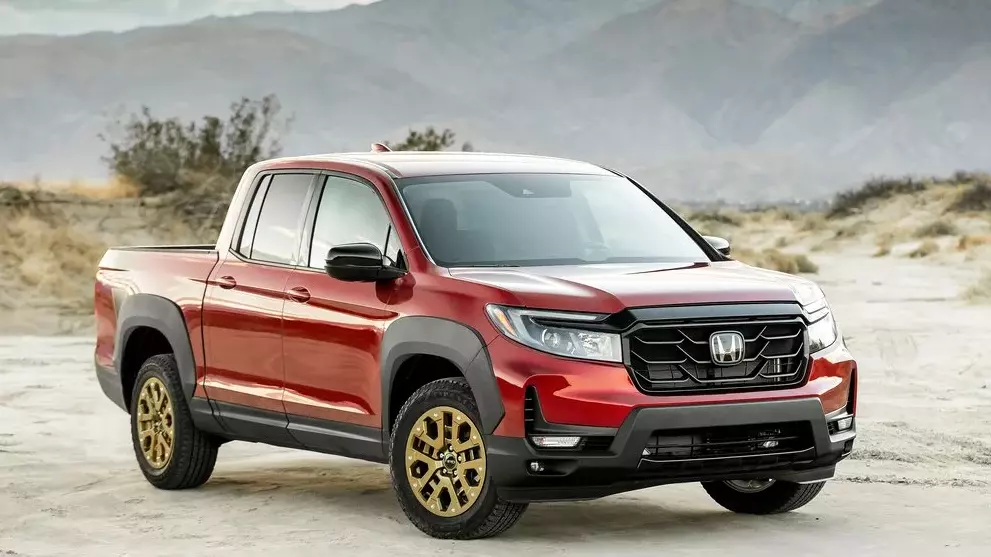 The Honda Ridgeline is an incredibly versatile compact truck. A 280-horsepower 3.5-liter V6 powers it with 262-pound feet of torque that hooks up to an automatic transmission and an AWD system. This All-wheel drive system has intelligent traction management that helps drivers maintain stability.
In another article about finding the right cars for the Colorado lifestyle, I also recommend the Honda Ridgeline. That means the Ridgeline has everything you'll need to drive in the mountains.
It is perfect for off-roading and has maximum tow ratings between 2000 and 2500 lbs. The 7.2 inches of ground clearance climbs quickly over obstacles. Honda Ridgeline provides a smooth ride, thanks to the all-terrain tires and the stability control feature.
Also fitted is a good list of standard driver-assist technologies like road departure mitigation systems, forward collision warnings, and collision mitigation systems.
Ford F-150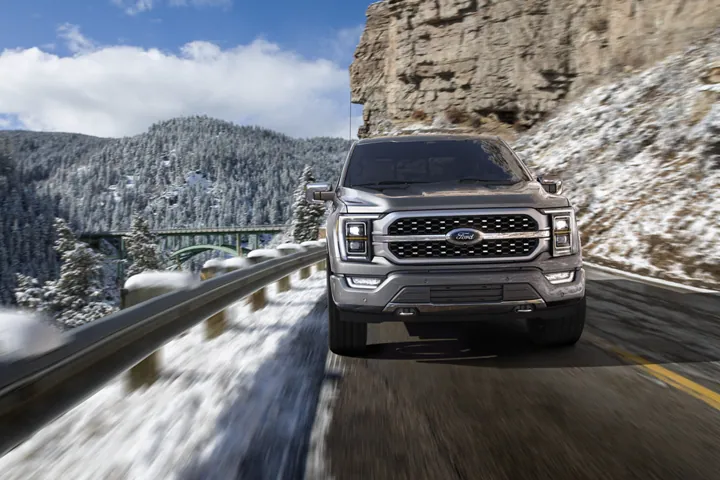 When it comes to strength and capability, the Ford F150 wins it all. It is reliable and comes with six engines, including a 3.5-liter full hybrid V6 and a 5.0-liter V 8 engine that provides superb towing of as much as 14000 pounds and a payload of up to 3325 pounds.
Ford F 150 has a vast seating space, so you will not be short of room. Its fuel economy is strong, with an estimated 20 mpg combined for city and highway driving. The new hybrid is equipped with 4WD with an estimated EPA of 24mpg combined.
Its 10-speed automatic transmission provides smooth and quick shifts to the powertrain. We cannot forget its unique coil spring suspension that gives it a better ride and the powerful climate control system.
Toyota Camry AWD
Toyota Camry is available in All-wheel drive performance to give you peace of mind when driving in the mountains. It is fitted with a robust 3.5-liter V6 engine that is more than ready to deliver the most thrilling drive. This engine produces 301 horsepower and 267 pound-feet of torque.
If you do not want to drive an SUV, the Toyota Camry is an excellent low-key car that can take on mountains easily. It has a 160mm ground clearance and gas mileage of 28mpg in the city and 39 mpg on the highway.
This vehicle has a comfortable interior with leather seating that provides extra luxury. It has a 5-person seating capacity with a maximum passenger volume of 100.4 cubic feet and 15.1 cubic feet cargo volume. It also comes with a cold-weather package to keep you warm.
Full-size SUVs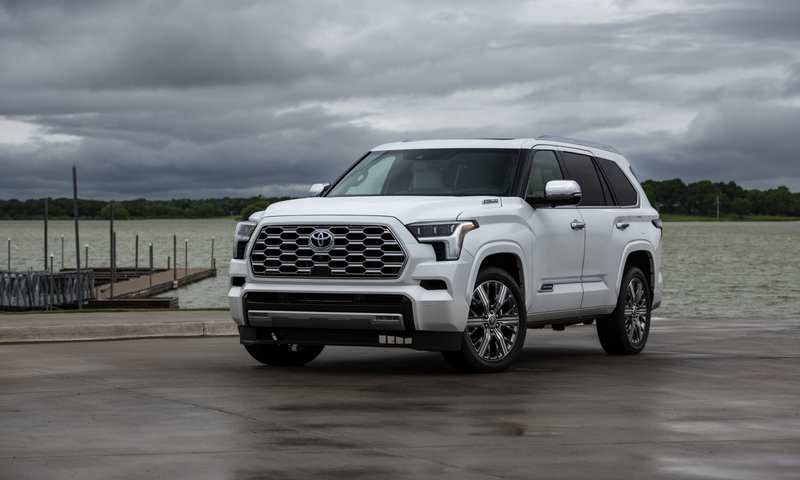 There are some cars with the best performance for hilly mountain roads that I haven't mentioned in the list above. I haven't mentioned a full-size SUV.
A full-size SUV has everything to be the best at conquering hilly, snowy, muddy, and all other bad road conditions. But, these truck-based SUVs are certainly giant in size, expensive in price, and high in fuel consumption.
If you don't mind the disadvantages of a full-size SUV, here are some of the best SUVs I can recommend, including the Chevrolet Tahoe, Ford Expedition, Chevrolet Suburban, Jeep Wagoneer, Toyota 4Runner, Nissan Armada, GMC Yukon, Toyota Sequoia.
Final Words
These cars can go off-road on rough mountains. The AWD system, high ground clearance, traction control, and driver-assist features help them go over the rough terrain. I hope you find the best car and SUV for the next mountain road trip. All the best!