Many people want to enjoy the comfort and space they are used to in their SUVs, even when transporting bulk.
The good thing is that several SUVs on the market today have fold-flat seats, allowing you to easily transport large items when needed.
Check out some of the 15 popular SUVs with fold-flat seats in this post.
Honda CR-V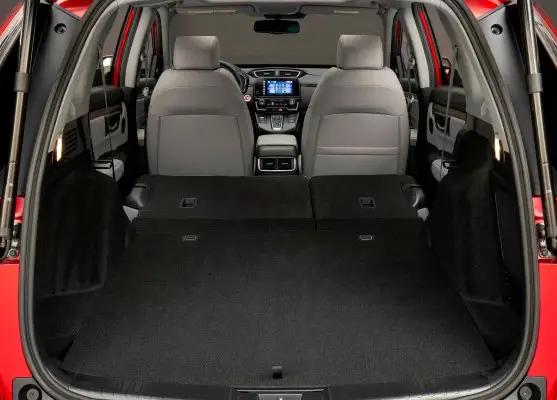 The Honda CR-V keeps getting better. The Honda CR-V seat configuration includes five seats in two rows with standard upholstery. This car can seat five, but an optional seventh seat can be added to increase passenger capacity to seven.
The front seats offer plenty of head and leg room, and the driver's seat is high enough to enjoy good driving visibility. With the standard seats in place, the CR-V's cargo space is generous enough to allow you to transport bulk.
The rear seats can be folded to provide even more space, up to 75.8 cubic feet, and numerous storage pockets and compartments are fitted throughout the cabin.
With its well-rounded package of attributes, it's no wonder that the Honda CR-V is one of the most popular SUVs on the market. The seats are covered in leather, and the front seats have power adjustability. You can even install child safety seats.
Nissan Rogue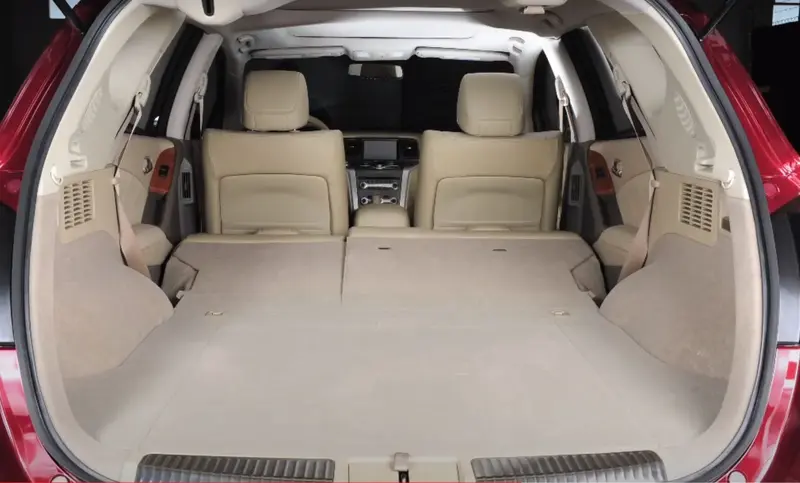 The Nissan Rogue is an ideal SUV for families and city dwellers. It also has a cloth upholstery with synthetic and genuine leather. The seating configuration can hold five passengers.
The interior of this vehicle is comfortable and provides enough headroom and legroom for the passengers.
Depending on the trims, the Nissan Rogue has 31.6 to 36.5 cubic feet behind the second row. The rear seats are foldable, providing additional cargo space of up to 74.1 cubic feet.
This vehicle also features an under-floor storage area, making it spacious with a versatile seating configuration.
The latest Nissan Rogue model has an eight-way power-adjustable driver seat, heated front and rear outboard seats, and a four-way front passenger seat.
Jeep Grand Cherokee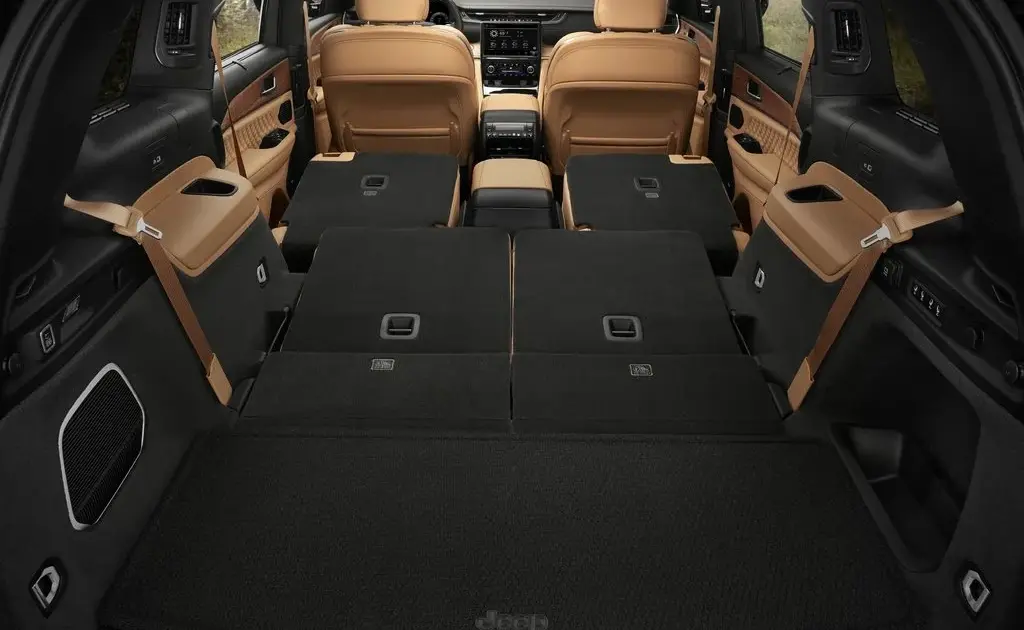 This vehicle is a popular choice for families and outdoor enthusiasts. Thanks to its versatile seat configuration and generous cargo space, it can easily accommodate everything from strollers and gear to groceries and luggage.
This vehicle has a maximum passenger capacity of five across two rows. It can accommodate adults at the back and front without any issues.
The leather upholstery and power-adjustable driver seat are something you'll appreciate.
There is also enough cargo space of up to 70.8 cubic feet with the rear seats folded down. So whether you're headed to the mountains or the beach, the Jeep Grand Cherokee is the perfect choice for your next adventure.
Toyota Highlander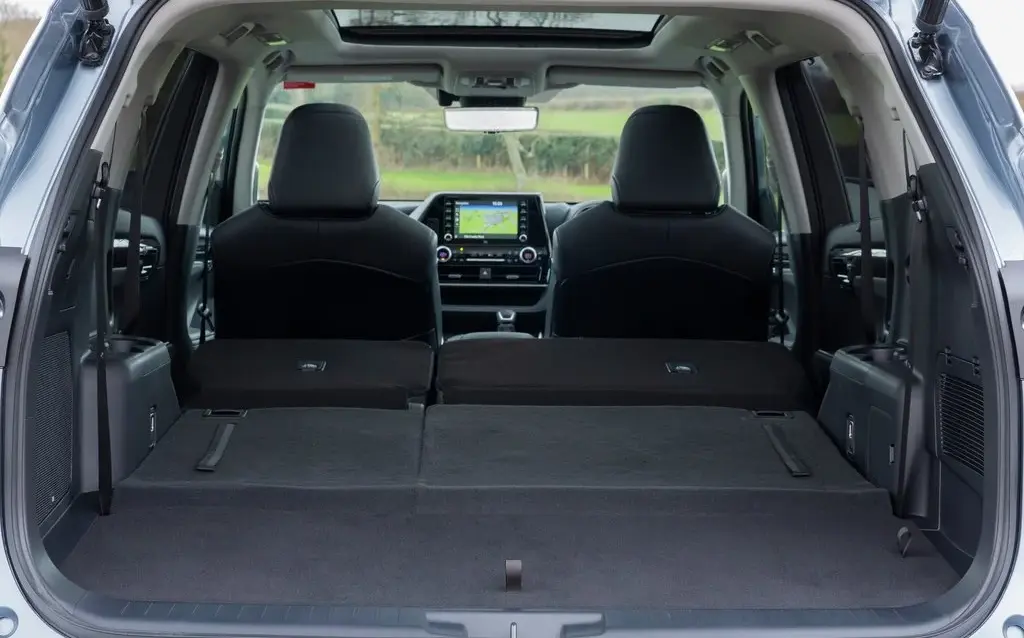 The Toyota Highlander is a practical SUV. It is ideal for families or if you want to transport large groups of people.
The seat configuration options include a seven-passenger layout for the second-row models or an eight-passenger layout for the three-row models.
The vehicle also offers more cargo space than mid-size SUVs. This car has 16 and 48.4 cubic feet behind the third and the second row, respectively. The total space behind the first row is 84.3 cubic feet.
Ford Explorer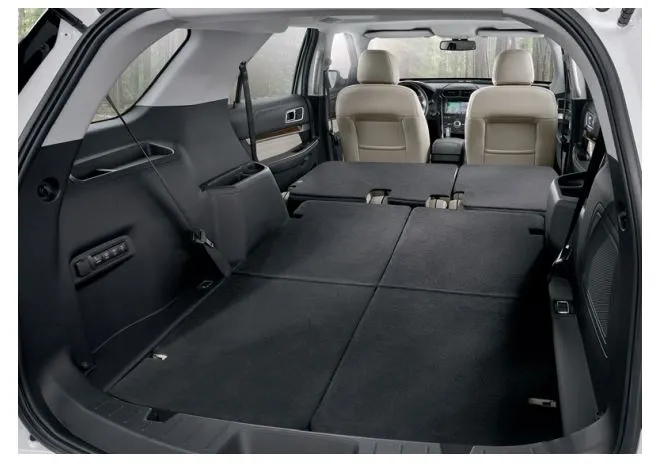 The Ford Explorer can accommodate a wide range of needs. Its seating configuration comes with second-row bench seats or captain chairs. This car offers seating for six to seven people.
The Ford Explorer also offers enough legroom than many three-row vehicles. Seating in the front seats of this vehicle is the best place since they provide good visibility and are supportive and spacious.
This vehicle also has a decent amount of cargo space. You get 18.2 cubic feet behind the third-row seats and 47.9 cubic feet when the third row is stowed down. This totals 87.8 cubic feet of space.
Tesla Model Y
The Tesla Model Y is a compact SUV with varying seat configurations. The options include five-seat and seven-seat configurations.
It is fitted with three rows, with the first and second large enough for adults to stretch easily during long drives. The third row is smaller and perfect for children.
The Model Y has two cargo areas: a front trunk and plenty of storage area for smaller items and bulky cargo.
The space between the front truck and the rear hatch is 76 cubic feet when the seats are folded down.
Mazda CX-5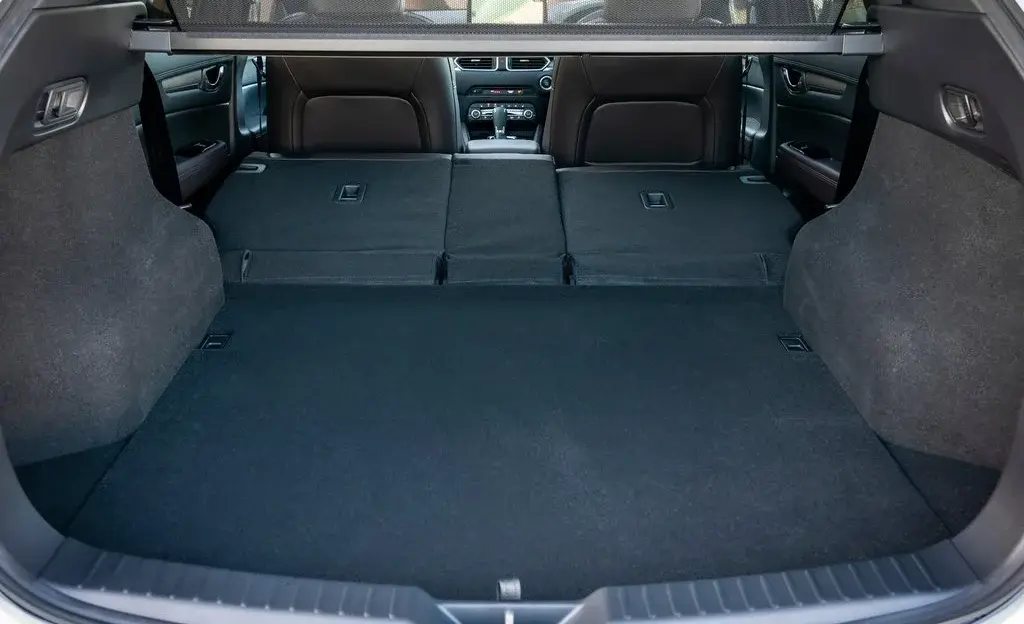 The 2022 Mazda CX-5 offers lesser passenger space than most rivals. It can accommodate up to 4 passengers, and its rear row space is tight, making it suitable for children.
When it comes to cargo space, the CX-5 offers 29.1 cubic feet behind the rear row and 58.1 cubic feet with the rear row folded down.
It also comes with storage cubbies for smaller items like smartphones and wallets.
Hyundai Tucson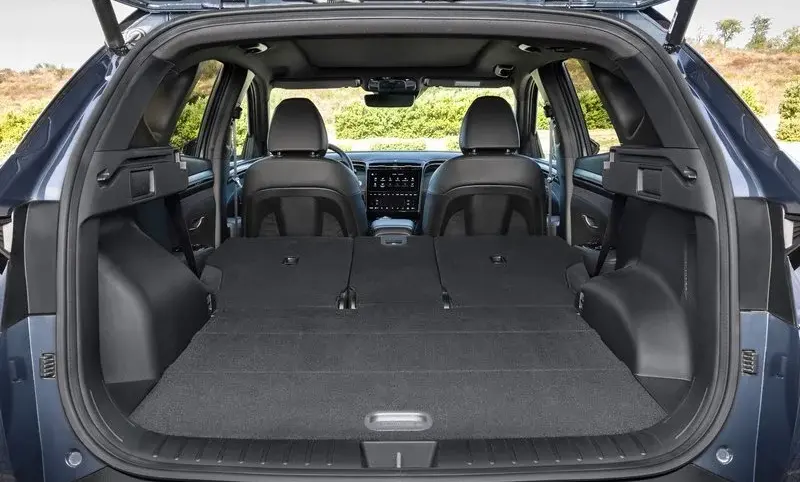 The Hyundai Tucson is a stylish SUV that can comfortably accommodate up to five passengers.
The comfortable front seats offer enough space for tall drivers and passengers.
On the other hand, the rear seats can accommodate two adult passengers for short outings. Regardless of the seat setup, there's plenty of room for cargo.
With the rear seats in place, there are 31 cubic feet of space, which jumps to 61.9 cubic feet when the seats are folded down.
Honda Pilot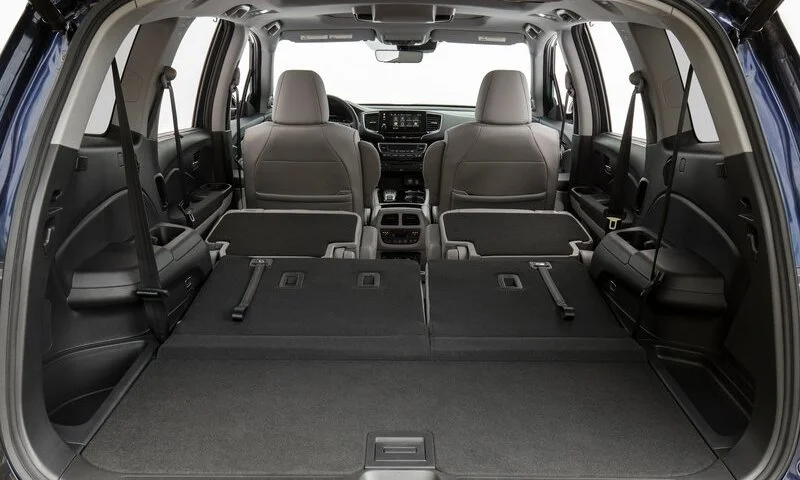 The Honda Pilot features a flexible seat configuration that can be easily adjusted to accommodate different numbers of passengers or different amounts of cargo space.
The Pilot also has an eight-passenger seating capacity and seven with optional second-row captain seats.
The third row is a bit cramped, but the other rows offer ample space, making it ideal for carpooling or group outings.
The 2023 Honda Pilot's new feature removes the second-row middle seat completely. Although it looks simple, this removable seat feature adds tremendous flexibility.
The cargo space of the Honda pilot behind the third row stands at 18.5 cubic feet. Behind the second row, it boasts 55.9 cubic feet and 109.2 behind the front seats.
Chevrolet Traverse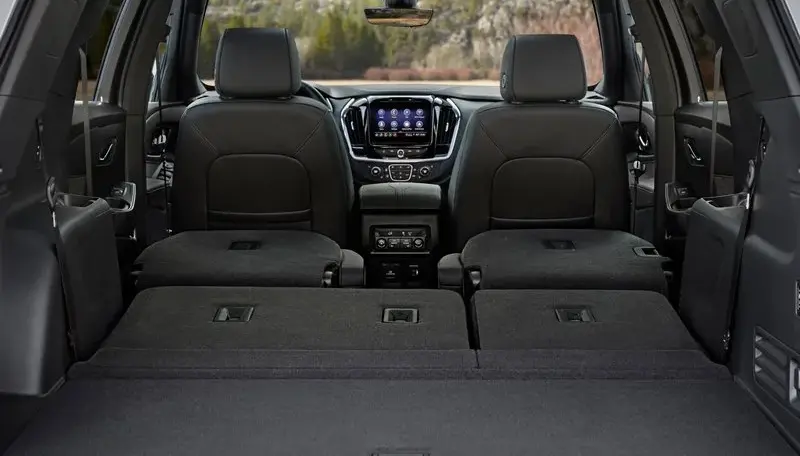 The Chevrolet Traverse is a mid-size SUV with seating for up to eight passengers.
The Traverse standard seat configuration includes two front seats, a second-row bench seat, and a third-row bench seat.
However, buyers can opt for captain's chairs in the second row. With the captain's chairs, the Traverse can accommodate up to eight passengers but with a more comfortable and spacious layout.
The Traverse also offers plenty of cargo space behind the third row with 23 cubic feet, 57.8 cubic feet when the seats are folded down, and 98.2 cubic feet when the second and third rows are folded. With such ample space, you can place a mattress and lie down during a picnic or take a short break during a long trip.
Acura MDX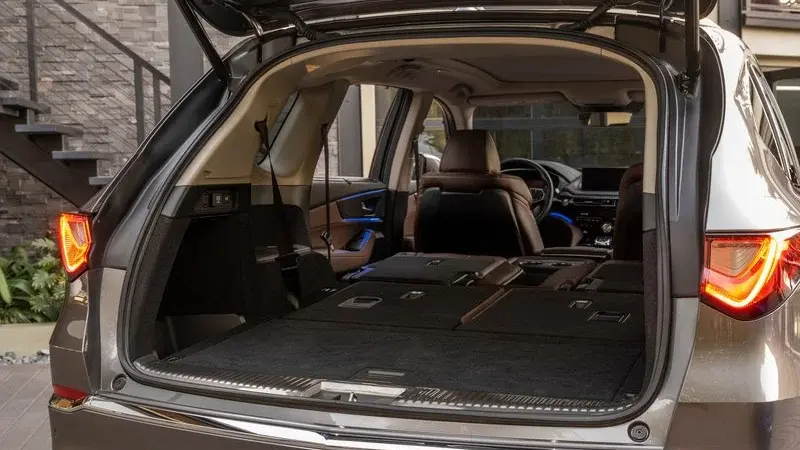 The Acura MDX is a 7-seat SUV that offers all passengers a spacious and comfortable ride. The MDX also has a roomy interior with plenty of cargo space for luggage or gear.
The vehicle's interior is already roomy but can be further expanded by folding the seats into the floor. This feature is almost similar to the "stow and go" seats found in Chrysler vehicles, and it allows for more cargo space when needed.
The vehicle's space behind the second row is 48.4 cubic feet and 18.1 cubic feet behind the third row. The maximum cargo space altogether is 95.0 cubic feet.
Kia Telluride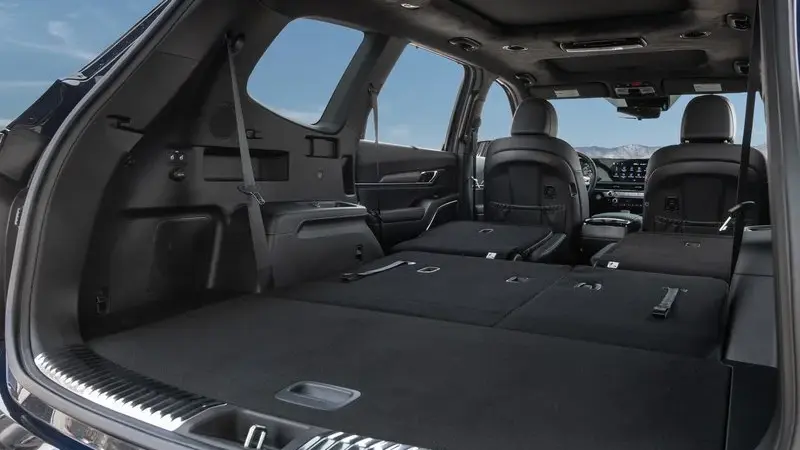 The Kia Telluride is a large SUV offering a standard seat configuration of seven seats, but an optional eight-seat configuration is also available.
Overall, the Telluride can seat up to 8 people comfortably. If you need even more room, the second-row seats can be folded down to create a flat load floor.
The cargo space is 75.5 cubic feet when the rear seats are folded down.
Chevrolet Tahoe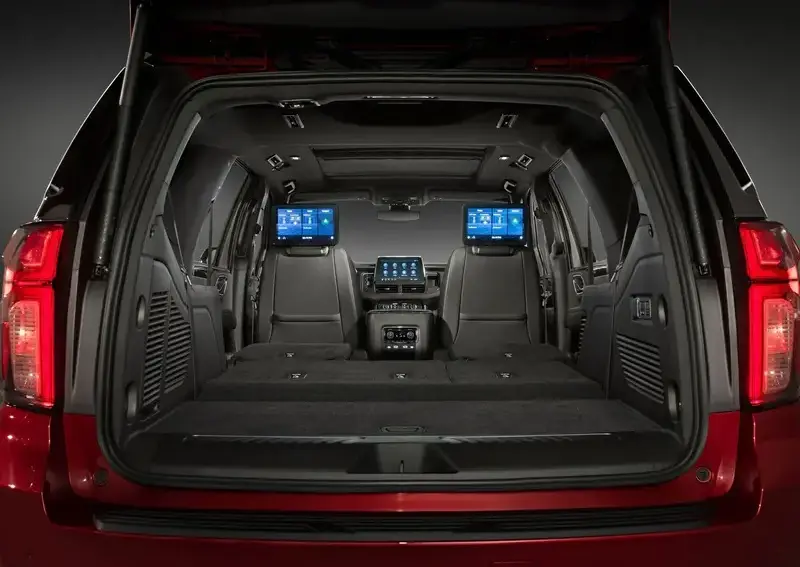 The Chevrolet Tahoe seats can seat up to nine people when all seats are in use. The seat configuration includes three rows with plenty of legroom and headroom. The third row, however, has lesser space that won't suit tall people.
The Tahoe has a maximum cargo capacity of 122.9 cubic feet, with the seats folded down into the floor, making it easy to transport large items, even a stack of plywood.
Behind the third row, the vehicle has 25.5 cubic feet; 72.6 cubic feet are available when folded down.
Kia Sorento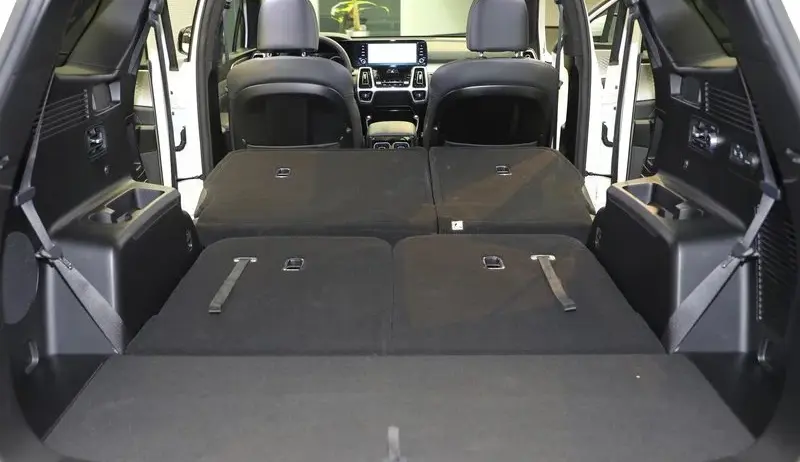 The Kia Sorento is always ready for adventure. The SUV can accommodate up to seven passengers and comes with three-row seating.
The first rows have ample space, while the third row provides an awkward seating position for adults. This would mean taking shorter drives in the third row.
The Kia Sorento, however, lacks behind in the cargo space. It has 12.6 cubic feet behind the third-row seats, 45 cubic feet when the third-row seats are folded and 75.5 cubic feet with all seats folded.
This vehicle also offers a comfortable ride, and the seat configuration can be customized to meet your needs. It has four sets of latch connectors to install child safety seats.
Conclusion
Looking for an SUV with fold-flat seats can be overwhelming, but understanding what you need can be much easier.
The Ford Explorer, Chevrolet Traverse, and Acura MDX are excellent choices for those who need a lot of space for passengers or cargo. And if you need even more space, the Honda Pilot and Chevrolet Tahoe are great options.
So whether you're looking for a comfortable ride or plenty of space, there is always that perfect SUV for you.