When most people think of winter driving, they think about huge SUVs with all-wheel drive. However, a few smaller cars can handle the snow just as well. The Toyota bZ4x is an excellent example of such a car.
This article will discuss some features that will improve your winter driving experience in the electric bZ4x. We will also answer questions surrounding the vehicle's capability in snow.
So, if you're looking for a small car that can take on the snow and wondering if the Toyota bZ4x is a great option, you are in the right post. Read on.
Is the Toyota bZ4x Good in the Snow?
The Toyota bZ4x is a great car to have in the snow. It is designed with many features, including an all-wheel drive that is perfect for winter driving. These features allow this vehicle to drive through winter roads with oomph and ease.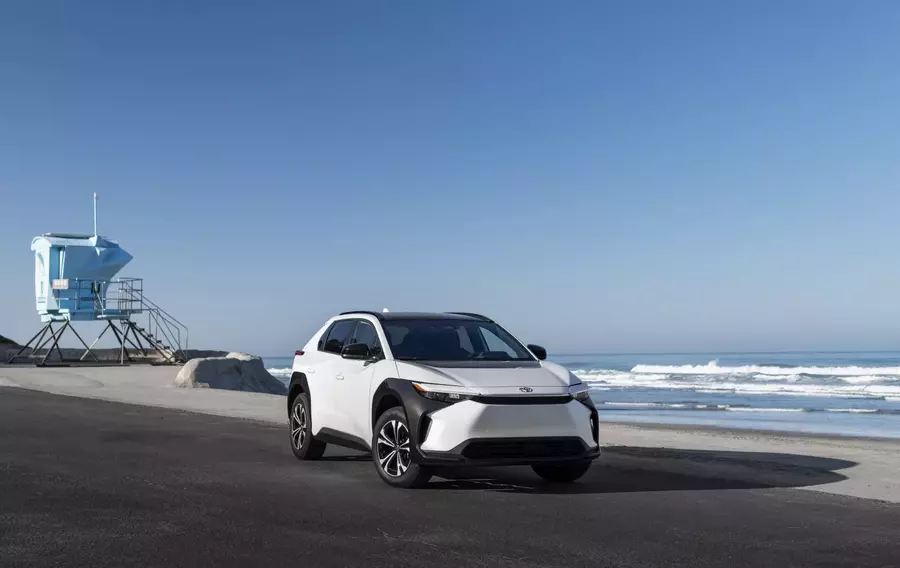 Which Toyota bZ4x Features Will Improve Winter Driving?
The Toyota bZ4x has impressive features that take on snow with ease. Some of the features suitable for winter driving include:
All-wheel drive
The bZ4x has a wheel drive capability to help you stay confident and on course through the snow. By adjusting the driving force and braking, you enjoy an impressive performance. This system does not depend on guesswork.
The system sends power to all four wheels of the vehicle at the same time. This helps you maintain traction on icy roads. It is a solid option for driving in deep snow as it handles such conditions better.
Traction control
The traction control helps you to have good control of the vehicle n all road conditions. The system monitors the speed between the wheels and activates the brakes reducing the engine power to curb the wheelspin.
Stability control
This system helps you keep the car under control in the direction you want to go. It should always be on in the winter as it helps keep the car on the road.
Intelligent conveniene
The bZ4x uses overall energy by adjusting its temperatures. It has a radiant foot and leg heater to warm you up and a heated steering wheel for driver comfort.
Does a Toyota bz4x have snow mode?
Yes, the Toyota bZ4x does have a snow mode to get an exhilarating, comfortable everyday driving. This feature is coupled with multi-terrain selection in 2 modes; the snow/dirt and snow/mud.
It helps to improve traction and control in snow and ice. Just a press of a button can activate the snow mode.
When engaged, the system will adjust the throttle response, transmission shift points, and stability control settings to help you maintain control of the vehicle.
Can you install additional snow gear?
Yes. You can install additional snow gear on your Toyota bZ4x x to help you drive in the snow. This includes things like winter tires, chains, and studs.
Winter tires
Winter tires will give you better traction in the snow and ice. They also help your car to move and stop on slippery roads. You can remove them later when the weather warms up because the soft rubber will wear out faster on the dry pavements.
All-wheel Drive makes your vehicle Drive. Winter Tire makes it Stop

suvpedia.com
Chains
Chains will help your tires grip the road, and studs will give you even more traction. You can use the chains in the four tires. They should be the front ones if you plan on using only two wheels. These chains significantly improve traction in the snow.
Winter wiper blades
If your vehicle doesn't have winter wiper blades, you should consider getting a set to help you see in the snow.
Winter tire studs
Winter tire studs are special pins engineered to be studded on the tread for increased traction in snow and ice. They claw into the ice, thus increasing maneuverability.
Do not forget to check your municipal regulations on snow gears when installing additional gears.
How Much Snow Can a Toyota bZ4x Handle?
A Toyota bZ4x can handle up to six inches of snow, depending on your tires. If you have all-wheel drive, you'll be able to handle more. You can also install additional snow gear on your Toyota bZ4x to help with traction and stability.
The vehicle has a high ground clearance of 8.1 inches which gives it an advantage on snowy roads. You should also understand all of your car's features and how to use them. For example, many Toyotas have a "snow mode" that you can activate to help with traction and stability.
Can a Toyota bZ4x drive on ice?
A Toyota BZ4 can definitely drive on ice, but there are a few things you should keep in mind. First, ensure your tires are properly inflated – this will help with traction. Second, go slowly and avoid sudden braking or acceleration. Also, be aware of black ice, which can be challenging to see and cause your car to slide. If you find yourself sliding, stay calm and steer into the skid. Remember safety first!
Is Toyota bZ4x a 4-wheel?
Toyota bZ4x is an all-wheel drive. This means it can send power to all four of its wheels simultaneously, which can help you maintain traction and stability on slippery surfaces like snow and ice or mud.
In addition, the bZ4x has several features that can further improve your winter driving experience. However, the dual-motor all-wheel drive versions of the bZ4x are miniatures on traction but come with improved performance. In fact, the bZ4x torque distribution is close to the Subaru Solterra.
Is Toyota bZ4x reliable?
Toyota has a reputation for reliability, so it's no surprise that the bZ4x is one of the most reliable cars on the market. Even in snowy and icy conditions, the bZ4x can handle itself well. This is thanks to its all-wheel drive system and its snow mode, which helps improve traction and stability.
Its X mode has incredible outdoor credibility to go over slippery pavements. The front-drive vehicle version charges faster, and the torquey motor system gives these vehicles a quiet punch.
Its riding quality is superb on the soft side, and handling it is easy and predictable. It can take off-road trips with an on-pavement EPA rate of 119 mpg.
How does Toyota bZ4x Handle Low Temperatures?
Electric vehicles are always pleasing in the cold weather but not when it is freezing in the winter. The Toyota bZ4x all-wheel drive model lacks an important feature.
The charging time significantly increases when the temperatures decrease below 32 degrees Fahrenheit. The battery must attain certain temperatures for the charging to be faster and more optimal.
How does the Toyota bZ4x compare to other winter driving Vehicles?
The Toyota bZ4x is a reliable and capable winter driving vehicle available on the market. It focuses on safety, convenience, and some peace of mind.
The only downside of the car is it takes longer to charge if the battery hasn't attained certain temperatures in the winter.
Can You Mount A Snow Plow On bZ4x?
Unfortunately, the bZ4x is not designed to do that. bZ4x is built on a car platform, and snowplowing can only be done by a truck or body-on-frame SUV.
Final words
While a Toyota bZ4x is an excellent choice for winter driving, there are other factors to consider. Make sure you have a good set of tires that are properly inflated and that your windshield wipers are in good condition.
It is also a good idea to keep an emergency kit in your car, just in case you get stranded. With some preparation, you can enjoy worry-free winter driving in your Toyota bZ4x.
2023 Toyota bZ4X Basic Specs
| | |
| --- | --- |
| Dimension | 184.6 in Length, 73.2 in Width, 64.9 in Height |
| Layout | Front- or all-wheel-drive compact crossover |
| Ground Clearance | 8.1-inches |
| Horsepower | 201 (FWD) / 214 (AWD) |
| Battery Technology | Lithium-Ion |
| Battery Capacity | 71.4 kWh (FWD) / 72.8 kWh (AWD) |
| Charging Capability | Level One, Level Two, DC Fast-Charging using Combined Charging System (CCS) plug |
| Passengers | 5 |
| MSRP | $42,000 |