If you live in an area with heavy snowstorms, you will find the roads in your neighborhood covered with snow and have to deal with it by shoveling or even plowing. Plowing is the best way to incorporate if the snow is too much for a shovel.
You can attach the plow to your truck or SUV, and you're good to go.
So, Can you plow with an SUV?
Technically, you can plow with any vehicle, but it will be very hard on some car engines and transmissions. That is why not all cars are suitable for this kind of work. Trucks and SUVs are the ideal types. The body-on-frame SUVs, also known as truck-based SUVs, have a sturdy body construction that allows you to plow snow without any problems.
Here are some SUVs and Trucks you can use for plowing.
Toyota 4runner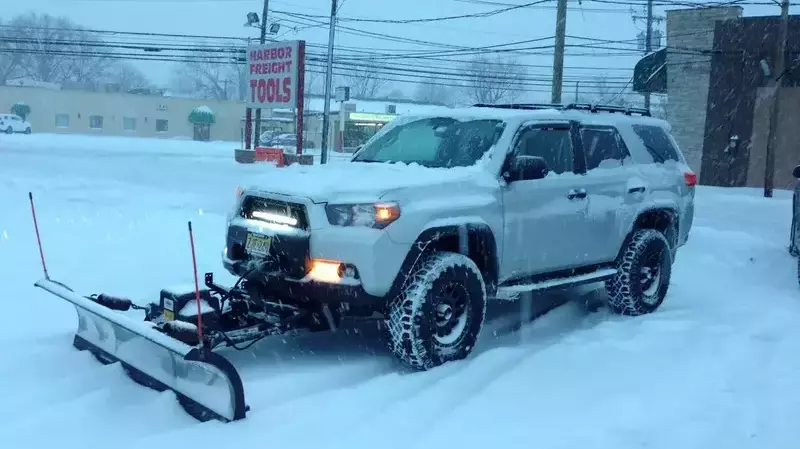 The Toyota is a sturdy choice for moving snow from your front yard. The 2022 model is powered by a 4.0-liter V-6 engine that delivers 270 HP and 278lb-ft torque. This car is a 4X4 drive that drives easily through the snow.
Toyota 4runner has a five-speed automatic transmission and shift mode. Its ground clearance of 9.6 inches with trim levels enhances the experience when driving on snow. Its fuel economy stands at 16mpg in the city and 19mpg on the highway, and it has a high-reliability rating of 5/5.
Toyota Sequoia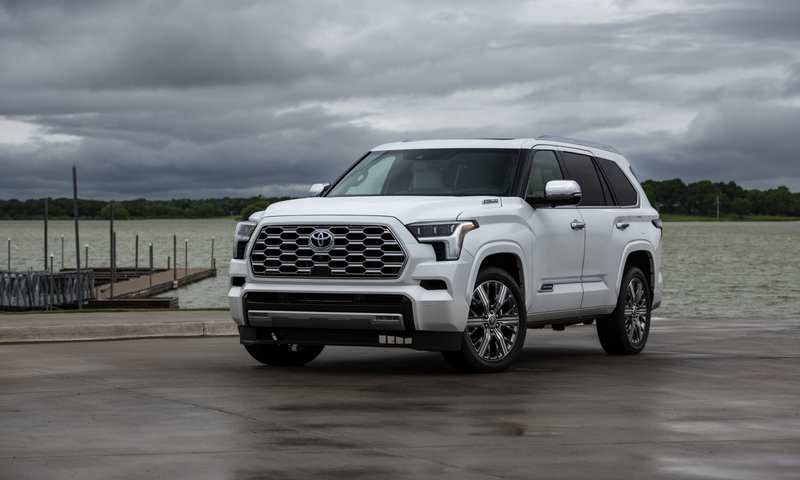 The Toyota Sequoia is another excellent choice for snow plowing. Ranking at 5 out of 14 full-size SUVs, you are sure of its agility. It has different powerful engine options, with the 2022 model coming with a 5.7-liter V-8 engine that produces 381 HP and 401 lb-ft torque.
The Toyota Sequoia has a 6-speed transmission, 4WD system, and high towing capacity(7100lbs). The Air Ride suspension enables you to raise the height to your comfort on snowy days. This also allows for adjustable ground clearance for more efficiency.
Chevrolet Suburban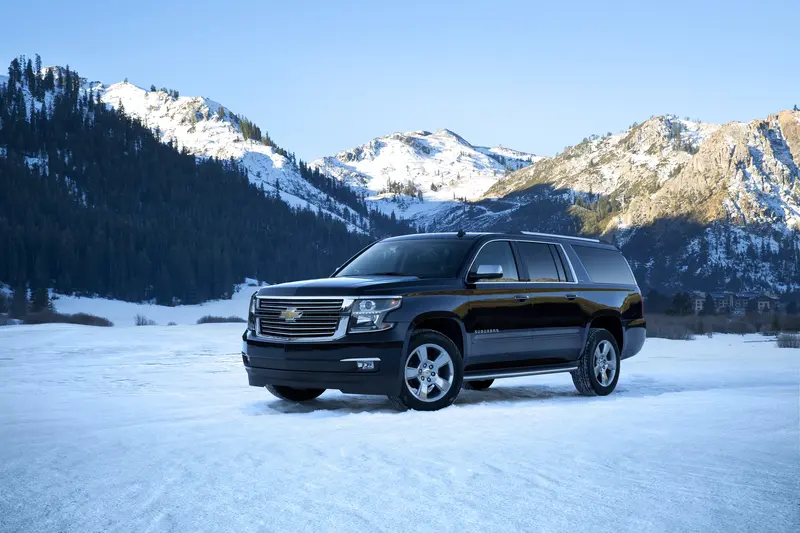 The Chevrolet Suburban is big and powerful, making it perfect for removing snow. It has a 6.2-liter V-8 engine that produces 420 HP and 460 lb-ft of torque. The high country models feature a 5.3-liter V-8 engine with 355 HP.
Both engine options hook up to the 10-speed automatic transmission and are also fitted with all-wheel drive in the rear. This SUV also comes with other transmission options. You can choose the six-speed automatic for towing and hauling, which also has better fuel efficiency.
The suburban has 8.0 inches of ground clearance, which is helpful when driving in snow. Its air suspension maximizes contact between the tire and the snow.
This SUV is also fitted with underbody skid plates to prevent damage from the undercarriage when it comes into contact with the snowy ground.
Jeep Wrangler
No wonder the jeep wrangler is among the best cars to plow snow. Even though it is not explicitly built for snow plowing, it is tough enough for the task and to drive through any terrain.
The Jeep Wrangler has different powertrains. There is a 3.6-liter V-6 engine producing 285 HP and 260 lb-ft torque. Also available are 2.0-liters producing 270 HP and 290lb-feet torque and a 3.0-liter Eco diesel producing 260 HP and 442 lbs-feet torque. This powertrain combination makes for a low-stress trail driving during the winter.
When it comes to transmission, the Jeep Wrangler comes with an automatic four and 5-speed, a 6-speed manual, and a hybrid drivetrain having a four-wheel drive. The manual transmission is excellent for off-road use, while the automatic transmission is better for on-road use, making it a good choice for snow plowing.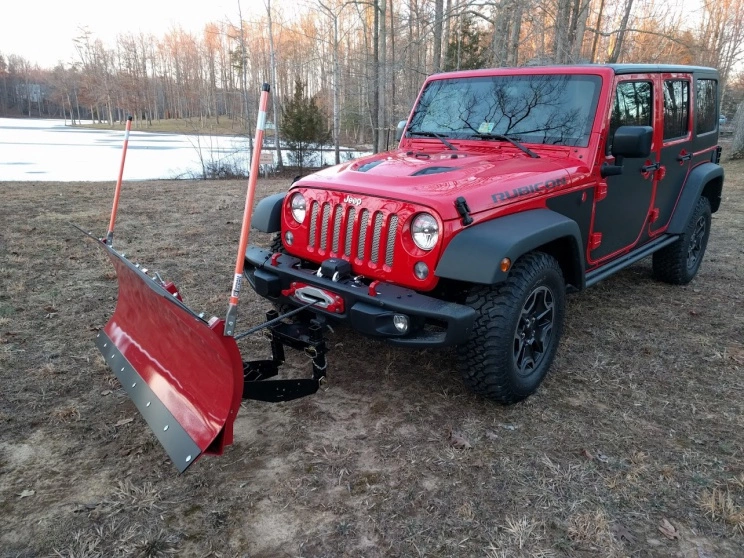 The Jeep Wrangler has 29.2 inches front and 40.8 inches rear overhangs, making it possible to accommodate the engine. Its 8.7 inches of ground clearance is high enough to drive over deep snow. The good thing is that the ground clearance can be increased by fitting bigger tires and a lift kit.
The jeep wrangler has an okay fuel economy. For the 3.6-liter, you will get an EPA estimate of 17 mpg in the city and 25 mpg on the highway. The 2.0-liter delivers 21 in the city and 24 mpg on the highway. The 3.0-liter eco diesel, on the other hand, has an EPA estimate of 22 mpg in the city and 29mpg on the highway, making it the most efficient.
It has front LED fog lamps that provide clear visibility even if you want to plow the snow during the night hours. All these features make jeep wrangler a very able workforce with a good reliability rating of 83/100.
Chevrolet Tahoe
Chevrolet Tahoe is a large SUV powered by three V-8 engine options, a 3.0-liter 6-cylinder, a 5.3-liter, and a 6.2-liter engine. They are paired with a 10-speed automatic transmission to give the best responsiveness during plowing.
The most efficient of the three is estimated at 15 mpg in the city and 29 mpg on the highways. The other two are rated at 20 mpg on the highway. Toyota Tahoe boasts 8.0 inches of ground clearance that helps you drive better in snowy conditions. It is a reliable car rated at 21st out of 26 midsize SUVs.
GMC Yukon
GMC Yukon won the best residue value among full-size utility vehicles for two years, guaranteeing its reliability.
It is powered by three engine options, with the base being a 5.3-liter V-8 that makes 355 HP and 383lb-ft torque. The transmission is a 10-speed automatic that offers an RWD and 4WD that provide safe driving during the winter. Its ground clearance of 6.0 is good enough to plow on light snow.
Nissan Armada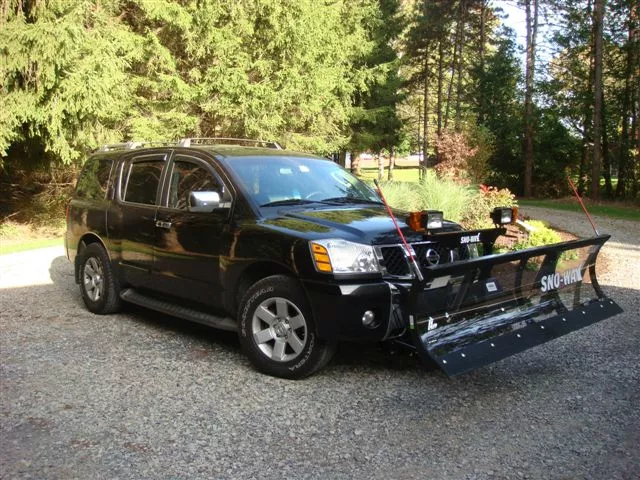 The Nissan Armada is a non-luxury SUV that can easily take on snow plowing. It is powered by a 5.6-liter V-8 engine and has a seven-speed automatic transmission; it produces 400 HP and 413 lb-ft torque.
It has a fuel economy of 14mpg in the city ad 19mpg on the highway. The all-wheel-drive channels torque the wheels, making it great for operating on snow.
This model has a seven-speed automatic transmission and ground clearance between 9.1 and 9.2 inches. Besides that, it is reliable and ranks 2nd out of 14 full-size SUVs.
Ford Expedition
This vehicle ranks well in terms of reliability among other large SUVs. It has desirable features and a balanced performance when driving on snow. It is a 3.5-liter V-6 engine with a 10-speed automatic transmission.
It also has a rear-wheel drive and a four-wheel drive that balances the drive well in snowy conditions. The standard engine produces 380 HP and 470 pound-feet of torque. You will marvel at its towing capability of up to 9300 pounds. The vehicle's fuel economy, the rear-drive delivers 17 in the city and 23 on the highway.
The two-speed automatic four-wheel drive, skid plates, and fuel tank underbody protection are other good features for snowy weather. The different trim levels have an impressive ground clearance between 9.7 and 10.6 inches, enough to maneuver over snow.
Toyota Tacoma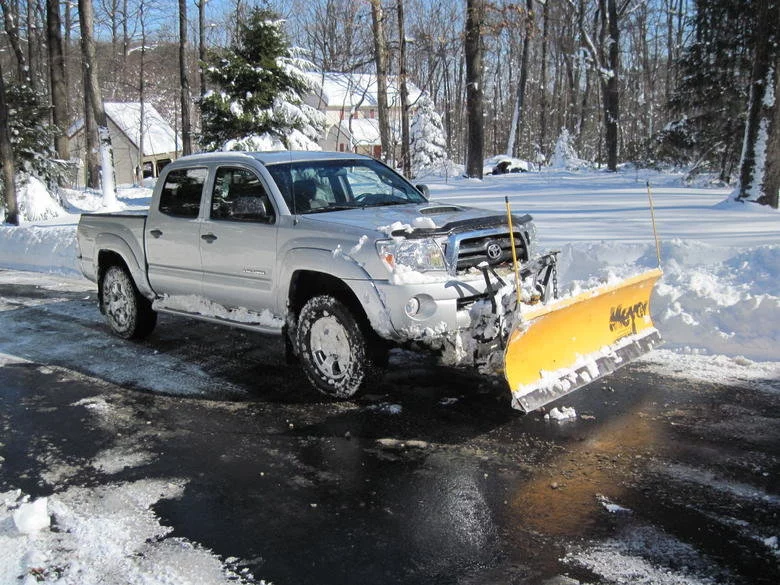 Toyota Tacoma has an excellent stick suspension hanging the plow from the front without difficulty. It can maneuver in tight corners, plowing snow from all the nooks and crannies.
This vehicle is rated 3.5/5.0. The third-generation models have a 2.7-liter 4-cylinder that delivers 159 HP and 180-lb-ft of torque and a 3.5-liter V-6 engine producing 278 HP and 265lb-ft of torque.
The engine is paired with a six-speed manual transmission or automatic transmission. It can deliver impressive fuel economy of up to 20 mpg in the city and 3mpg on the highway. Other than that, its 9.4 inches of ground clearance raises it well over the snow.
Ford F-150
The Ford F-150 is literally the king of plow trucks. It is a robust and reliable machine that has been around for a long time, so its reliability is unquestionable.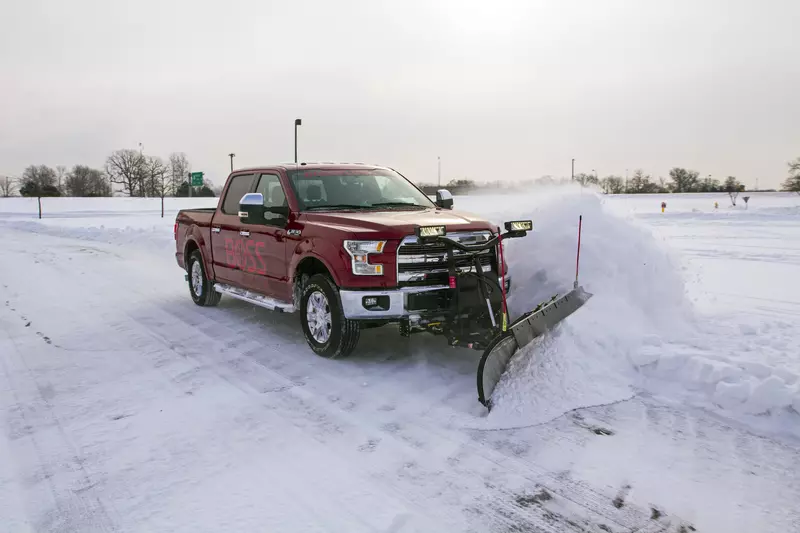 The vehicle offers interesting engine options to help you perform the most demanding tasks, including plowing snow. The engine's horsepower, which ranges from 290-430, and torque ranging from 265-570lb-ft, are efficient enough to conquer any obstacles that may come in the way.
The trucks towing and hauling capabilities are superb, so it is up to the task of plowing snow. If you got the hybrid model, it would have a very efficient fuel economy, with the Full Hybrid engine leading in efficiency. When it comes to transmission, this car has two different types; a 6-speed and 10-speed transmission that delivers enough power to plow snow.
You will appreciate that 9.4-9.9 inches of ground clearance that raises the tires high enough so you can plow without stress.
RAM 1500
A RAM 1500 is suitable for plowing on your driveway. There are V-6 and V-8 trims that are paired with 8-speed automatic transmission. The fuel transmission is excellent, with the V-6 achieving 20mpg in the city and 26mpg on the highway. The V-8, on the other hand, is estimated at 7mpg in the city and 23mpg on the highway.
The RAM 1500 can tow up to 12,750 pounds, and thanks to its suspension system, it provides a smooth ride over snow. You can never go wrong with this truck as it is rated average and ranks 4th out of 17 full-size trucks.
It has one of the highest ground clearances ranging from 8.4-to 11.8 inches, depending on the wheels on the truck you go for.