Drywall and Plywood are two things that we use all the time. Both have multiple roles, but they are usually the same size, even though they do different things.
Both are often sold in 4X8 form, long and wide enough; hence hard to move. So, moving Plywood from the store to your home will be tricky without a trailer or a truck.
So, What vehicles can you fit a 4×8 sheet of plywood/Drywall in?
Although some large SUVs can also handle this job, cargo vans and pickup trucks are two of the best vehicles for transporting Plywood and Drywall. Minivans also tend to be large enough to carry 4X8 Plywood or Drywall. You will need a trailer if the only car you have is. You will need to use it to haul Plywood and drywall sheets behind your car, but it will be much safer and more accessible.
Buying a brand-new truck or cargo van only to carry Plywood is very expensive. It can also be a solution since most trucks can carry these sheets, but it will be very costly for you. As such, continue reading this article to understand the vehicles for hauling Plywood and Drywall.
SUV for Hauling 4X8 Plywoods And Drywall Sheets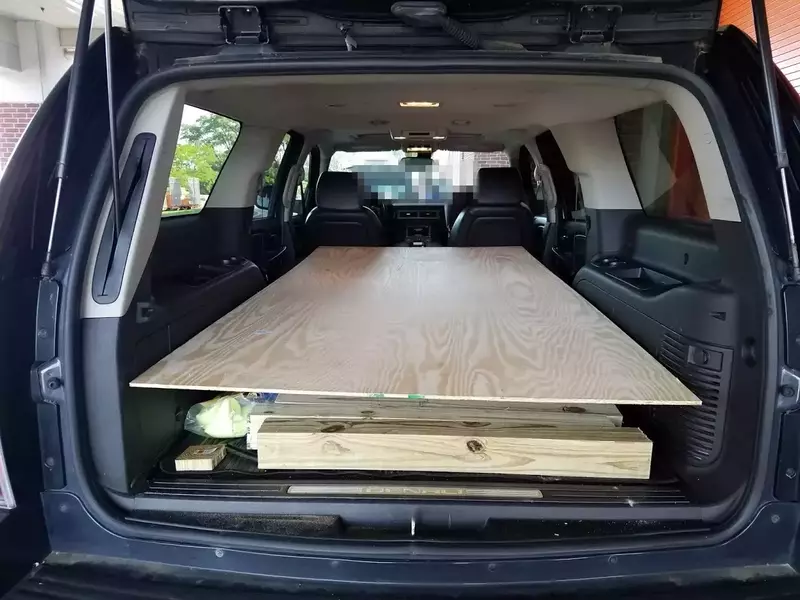 SUV is currently experiencing its golden age, as evidenced by vehicle sales dominated by it. Besides functioning as a passenger vehicle, SUV also has a cargo space that is wide enough to transport goods. Moreover, SUV has a good ground clearance that enables you to transport something to a challenging location, even your off-grid cabin.
Several large SUVs that can carry 4X8 in them are the Cadillac Escalade ESV, Chevrolet Suburban, Ford Expedition Max, and GMC Yukon XL. Everything I mentioned earlier can fit Plywood or Drywall perfectly.
Other SUVs like the Honda Pilot, Chevrolet Traverse, Ford Flex, and Nissan Pathfinder can do it, but you need to squeeze the Plywood or Drywall a little harder, and it won't close the trunk door completely.
The cost of a full-size SUV is higher than that of a truck or cargo van. However, with an SUV, you have a vehicle that can be used for various purposes, such as grocery shopping, hauling electronics, watching basketball, or anything else!
Minivans That Can Fit Plywood/Drywall Sheets
Minivans are commonly used as family vehicles, transporting children to school or football games. As a result, minivans have ample cargo space and interior volume, and if the passenger seat in your minivan can be folded flat, there's a good chance you can transport Plywood in it.
Some people prefer minivans because they are less expensive than SUVs or trucks. The most recent minivan even has engine performance comparable to an SUV's.
OK, let's get back on track. Which minivan can fit 4X8 Plywood or Drywall?
All can meet your needs in transporting Plywood or Drywall. Honda Odyssey, Kia Carnival, Toyota Sienna, Chrysler Pacifica, Chrysler Voyager, and Dodge Grand Caravan are some of the most popular and best options you can get. The Kia Carnival even has a relatively high ground clearance for a Minivan, that's certainly useful for some people.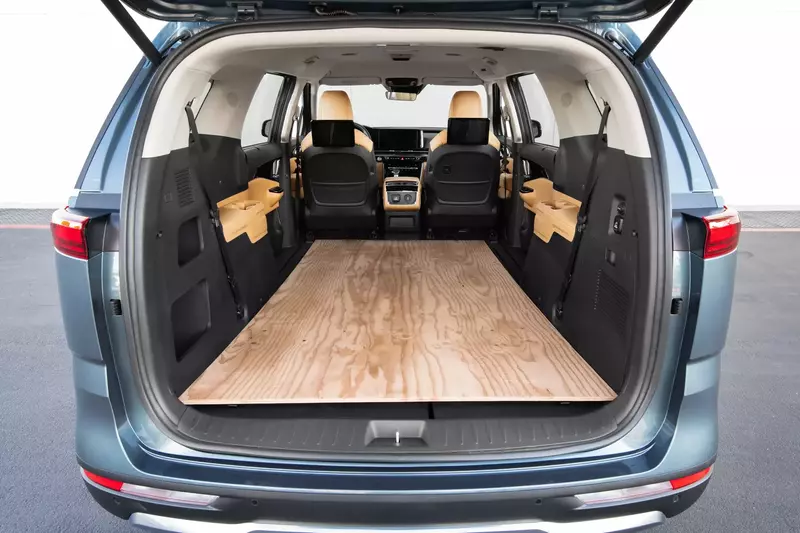 Alternative Way of Transporting 4X8 Plywood Using a Car
Don't despair. There's still hope. If your SUV or minivan doesn't have enough room to carry Plywood or Drywall, or all you have is a sedan or crossover, you can still do it.
Crossover owners can add a roof rack. With a few tweaks, you can transport a lot of stuff on the roof of your car, including Plywood.
Dan Pattison demonstrates how to do it step by step very well. It's shown in the video below.
Sedan owners find it difficult to carry Plywood or Drywall inside or on the car's roof. The only way is by using a trailer.
With a trailer, you can haul a lot of Plywood at once safely and quickly. The trailer is a little pricey, but it's worth having. Also, you can rent a trailer for about $15 a day.
Are you thinking about getting a cargo van?
Everything would be easier if you had a cargo van, but is it necessary?
Owning a cargo van is worth considering if transporting Plywood is something you often do. But if not, then an SUV or even renting a trailer is the best solution.
The price of a cargo van is relatively high, that's why I ask you to assess your needs first.
OK, let's say you do need a cargo van. So, which cargo van is suitable for transporting materials such as Plywood or Drywall?
There are a few options that you may be familiar with. The following are a few of the best cargo vans for carrying Plywood.
Cargo Vans
MSRP
(2022 My)
Pros
Cons
Ford Transit Cargo Van
$37,620
Reliable, Excellent Ride Quality, Powerful Cabin Comfort
Low Towing Capacity, Smaller Wheels Make the Ride Less Smooth, Rear-Wheel Drive Is Not Ideal for Some Drivers
Mercedes-Benz Metris cargo Van
$36,195
Better Equipped Interior, Powerful Engine, Smooth Automatic Transmission, Advanced Driver Assistance
Door Issue, No High Roof Option, Dash Tech
Nissan NV Cargo
$32,135
Vast cargo capacity, Heavy-duty platforms, Excellent acceleration, Comfortable ride
No AWD Options, Starting to feel outdated, Limited tech options
Ram ProMaster Cargo Van
$38,320
Powerful Engine, Impressive Payload, Multiple Cargo Lengths,  Choose a High or Standard Roof, Ideal Floor Height, Easy to Maneuver, Simple to Maintain
No Driver-Assist, Lack of Technology, Towing Capacity Could Be Beefed Up
Mercedes-Benz Sprinter Cargo Van
$39,945
Easy to Drive, durable & Powerful Engine, 4WD System Available, Simple Interior Layout,  Driver-Assist Safety Technologies
Costly, Not a Quick Vehicle, No Diesel Engine, Base Model Doesn't Pack Much Equipment
Chevrolet Express Cargo Van
$34,295
Excellent payload and towing capacities, Ready for demanding jobs, Comfortable seats for long trips
Not as fuel-efficient as rivals, Truck-like handling, Lack infotainment features, the high roof is unavailable
GMC Savana Cargo Van
$34,295
Heavy-duty strength for demanding jobs, Impressive cargo space and payload, Low starting price
Outdated platform, Few driver-assistance features, No infotainment system
Transporting Plywood FAQ
Can a 4×8 plywood fit in a honda pilot?
The Honda Pilot is a large SUV in its class, but it isn't long enough to fit a 4X8 plywood inside. You could probably do a single sheet in there. However, it will not lay flat, and you will have to open the tailgate.
Will a sheet of plywood fit in a Honda Ridgeline?
Yes, it will fit. Only the length of 4X8 Plywood will exceed the truck bed length. Therefore, you need a special rope to secure the load on the open bed truck.
Can you fit a 4×8 sheet of Plywood in a Kia Sedona?
The Kia Sedona is a minivan with a spacious interior. When the second and third rows of seats are folded, there is plenty of room for 4X8 Plywood.
Can a 4×8 fit in a rav4?
Unfortunately, You won't fit a 4X8 plywood inside the Toyota Rav4. But since it's an SUV, you can put it on the roof of the vehicle quite easily.
Will a 4×8 sheet of plywood fit in a Jeep Cherokee?
The 4X6 Plywood will fit fine, but the 4X8 Plywood will not work in a Cherokee. Alternatively, you can put it on the vehicle's roof or use a trailer.