The Kia Forte is a compact car that could be a good option for those looking for a basic vehicle without many gimmicks or extra features.
Forte comes with everything people need in a car, including a spacious interior, easy-to-use infotainment system, good fuel consumption, a powerful enough engine for daily needs, and a very affordable price.
However, due to the Forte's lack of all-wheel drive, most prospective buyers are skeptical of its capabilities in certain driving scenarios, including winter driving.
This time, I'll delve deeper into the Kia Forte's ability to drive on snow and ice in the winter.
Is the Kia Forte Good in Snow?
The Kia Forte handles light to moderate snow without any problems. Although it is not equipped with AWD, the Forte's front-wheel drive system is capable enough to take snow when combined with the right tires.
In addition, the Forte is also equipped with Electronic Stability Control and Traction Control systems that are very useful when driving in snow. Heated front seats and a heated steering wheel are also available to keep you warm.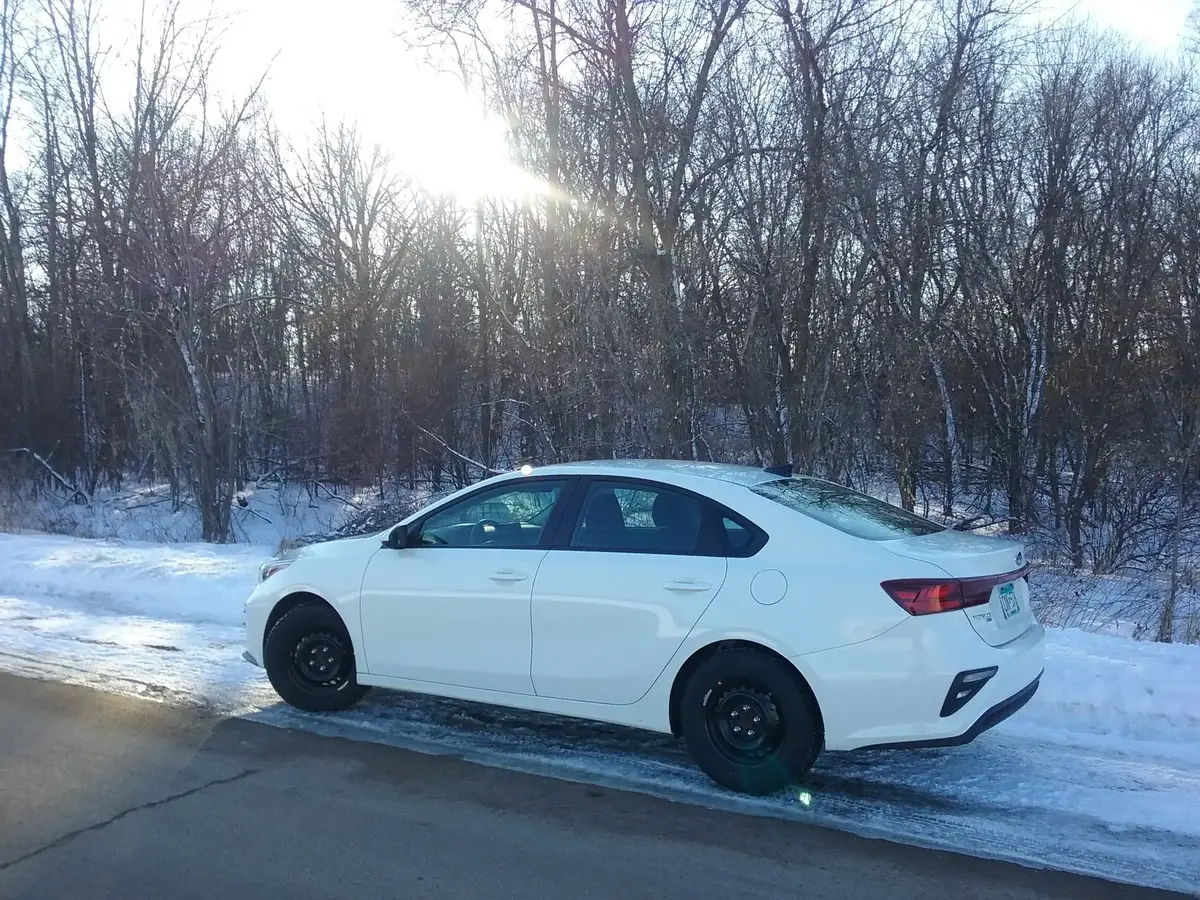 Which Kia Forte Features Will Improve Winter Driving?
The Kia Forte offers some great features that make winter driving easier and safer. The Traction Control System is an important feature in slippery conditions for safety.
It ensures that you can maintain traction even on icy roads, allowing for a smooth and easy drive.
Similarly, Electronic Stability Control helps keep the Kia Forte steady in all weather conditions.
Interestingly, the latest Kia Forte is equipped with a connectivity system that allows you to control the Forte via a smartphone.
You can start the vehicle remotely through your smartphone and adjust the cabin temperature, which is very useful during winter, so you don't have to be cold when you get into a car that hasn't been turned on.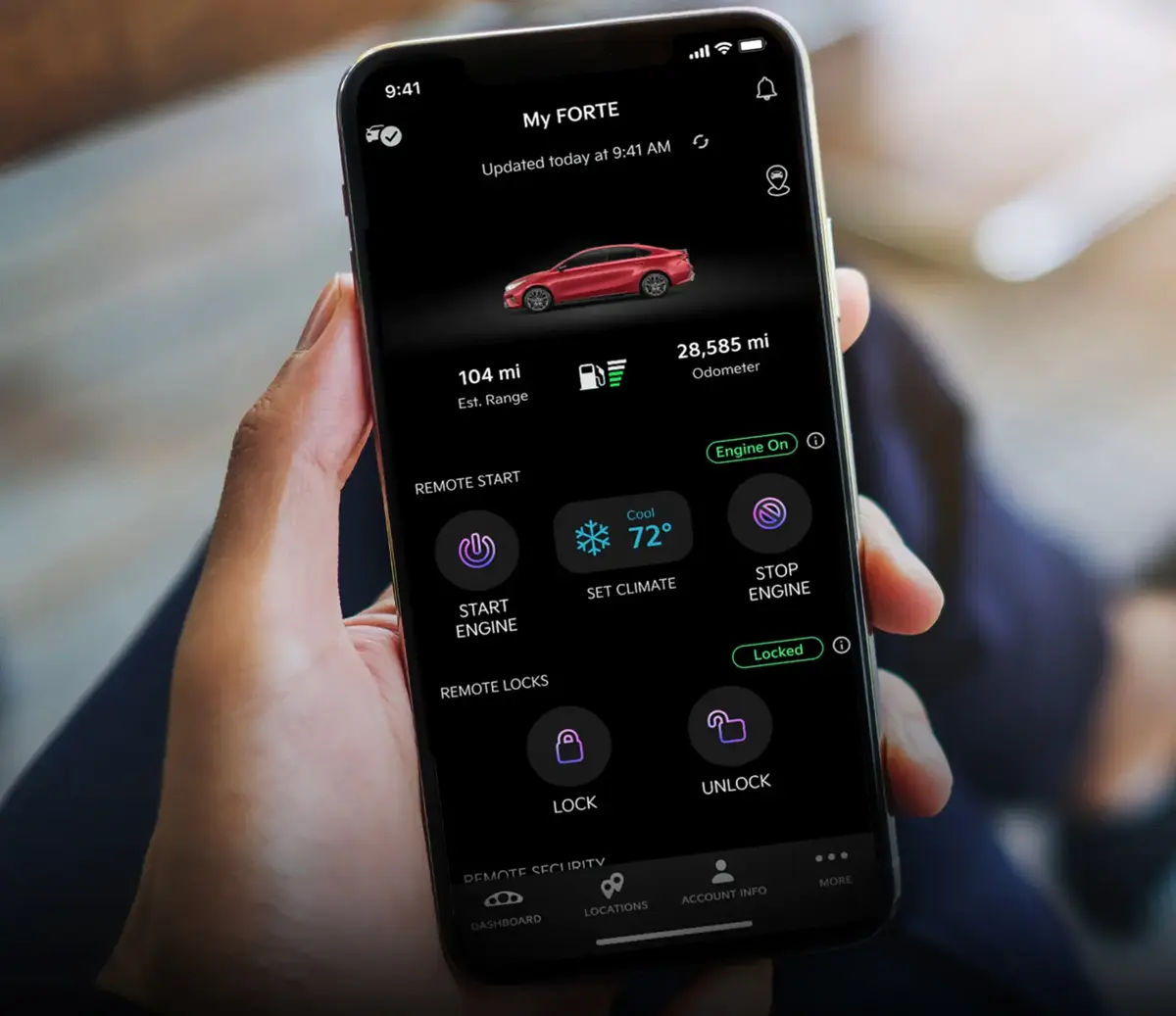 Finally, adding a bit of comfort to the ride is the Heated Seat feature which helps warm up quickly and will keep you cozy during long winter commutes.
With all these features combined, it's hard to pass on the Kia Forte when preparing your car for winter driving.
Does Kia Forte Have Snow Mode?
The Kia Forte does not offer a snow mode, meaning it won't automatically adjust its settings for slippery and icy roads.
Despite this, you can still reduce the Forte's power and increase traction levels around each wheel with its Traction Control System (TCS).
This system is designed to reduce wheel spin when driving over slippery surfaces and is complemented with an Anti-lock Braking System (ABS) that ensures your car doesn't skid if unable to maintain the grip of the road surface.
Although these systems are great at improving your safety while driving over snowy or icy roads, they won't replace the confidence-inspiring effects of a dedicated snow mode.
Does Kia Forte Need Winter Tires?
Yes, the Kia Forte absolutely needs winter tires!
Although it is capable of navigating slippery and icy conditions more effectively than a summer tire due to its superior tread pattern and softer rubber compound, winter tires offer much better traction in cold temperatures.
With a set of good winter tires, the Kia Forte can handle snow-covered roads with ease as they provide superior grip and stability in adverse conditions.
Moreover, stopping distances are decreased significantly because winter tires have braking and cornering capabilities that are far superior to summer tires.
So if you live in an environment with cold winters, investing in a set of winter tires is definitely worth your while!
How Much Snow Can a Kia Forte Handle?
Kia Forte is able to tackle anywhere from 6 inches to up to 10 inches of snow, depending on certain conditions and regular maintenance checkups.
With the right tires and regular inspections in the winter months, this popular vehicle is fully capable of tackling even deeper depths without breaking down or becoming stuck in the snow.
Is the Kia Forte Reliable?
For those looking for a reliable car, the Kia Forte is an excellent option.
Boasting a five-star overall rating from the National Highway Traffic Safety Administration, it's no wonder why so many people flock to it.
Through its advanced engineering and state-of-the-art technical components, its powertrain reliability ensures you won't be spending too much time at expensive repair shops.
In addition to its quality engineering, Kia also backs up their product with an unbeatable 10-year warranty—giving drivers double assurance on the road with proper maintenance and caretaking.
With a car like this in your possession, you can be sure that your driving experience will remain safe, efficient, and dependable.
Conclusion
Even if you don't have to drive in the snow every day, it's still important to know how your car will handle in wintry conditions.
The Kia Forte is a great choice for anyone who wants a reliable and affordable car that can get them through even the worst winter weather.
With its spacious interior and excellent handling, the Kia Forte is a great choice for anyone looking for a safe and comfortable ride in the snow.