Heads-up display (HUD) technology is revolutionizing how we drive by projecting crucial information onto the windshield or a combiner screen directly in the driver's line of sight.
Originating in the aviation industry, HUDs have entered the automotive world, providing drivers a safer and more convenient experience.
The primary purpose of HUDs is to allow drivers to access important information without taking their eyes off the road. This not only enhances safety but also improves overall driving comfort.
In this article, I will cover everything about heads-up displays. But first, I will provide a list of available cars with HUDs.
So, Let's get into it!
List of Cars with Heads-Up Display
Here is a list of cars available with HUDs. However, remember that HUD is currently an expensive feature, so in some models, you need to opt for a higher trim level to get it. Additionally, some models offer it only as an optional feature.
Brand
Model
Acura
Acura Integra
Acura MDX
Acura RDX
Acura TLX
Audi
Audi Q4 e-tron
Audi Q4 Sportback e-tron
Audi e-tron
Audi e-tron GT
Audi Q3
Audi Q5
Audi Q6
Audi Q8
Audi A3
Audi A4
Audi A5
Audi A6
Audi A7
Audi A8
BMW
BMW 2 Series
BMW 3 Series
BMW 4 Series
BMW 5 Series
BMW 7 Series
BMW 8 Series
BMW i4
BMW i7
BMW iX
BMW X1
BMW X2
BMW X3
BMW X4
BMW X5
BMW X6
BMW X7
BMW Z4
Bentley
Bentley Bentayga
Bentley Continental GT
Bentley Flying Spur
Buick
Buick Enclave
Buick Encore GX
Buick Envision
Cadillac
Cadillac CT4
Cadillac CT5
Cadillac Escalade
Cadillac Lyriq
Cadillac XT4
Cadillac XT5
Cadillac XT6
Chevrolet
Chevrolet Camaro
Chevrolet Corvette
Chevrolet Silverado 1500
Chevrolet Silverado 2500/3500
Chevrolet Suburban
Chevrolet Tahoe
Ford
Ford Mustang Shelby
Ford Escape
Genesis
Genesis G70
Genesis G80
Genesis G90
Genesis GV70
Genesis GV60
Genesis GV80
GMC
GMC Acadia
GMC Sierra 1500
GMC Sierra 2500/3500
GMC Terrain
GMC Yukon
Hyundai
Hyundai Ioniq 5
Hyundai Palisade
Hyundai Santa Fe
Hyundai Sonata
Infiniti
Infiniti QX50
Infiniti QX55
Infiniti QX60
Jaguar
Jaguar E-Pace
Jaguar F-Pace
Jaguar I-Pace
Jaguar XF
Jeep
Jeep Grand Cherokee
Jeep Wagoneer
Jeep Grand Wagoneer
KIA
Kia EV6
Kia Seltos
Kia Soul
Kia Stinger
Kia Telluride
Land Rover
Land Rover Defender
Land Rover Discovery
Land Rover Discovery Sport
Land Rover Range Rover
Land Rover Range Rover Evoque
Land Rover Range Rover Sport
Land Rover Range Rover Velar
Lexus
Lexus ES
Lexus LC
Lexus LS
Lexus LX
Lexus NX
Lexus RX
Lexus UX
Lincoln
Lincoln Aviator
Lincoln Corsair
Lincoln Navigator
Mazda
Mazda CX-30
Mazda CX-5
Mazda CX-50
Mazda CX-9
Mazda CX-90
Mazda Mazda3
Mercedes-Benz
Mercedes-Benz A-Class
Mercedes-Benz C-Class
Mercedes-Benz CLA
Mercedes-Benz CLS
Mercedes-Benz E-Class
Mercedes-Benz GLA
Mercedes-Benz GLB
Mercedes-Benz GLC
Mercedes-Benz GLE
Mercedes-Benz GLS
Mercedes-Benz S-Class
Mercedes-Benz EQS
Mercedes-Benz AMG GT
Mercedes-Benz AMG SL
Mini
Mini Hardtop
Mini Clubman
Mini Convertible
Mini Countryman
Nissan
Nissan Ariya
Nissan Rogue
Nissan Pathfinder
Porsche
Porsche Panamera
Porsche Cayenne
Porsche Taycan
Rolls-Royce
Rolls-Royce Cullinan
Rolls-Royce Ghost
Rolls-Royce Phantom
Subaru
Subaru Ascent
Subaru BRZ
Subaru Legacy
Subaru Outback
Subaru WRX
Toyota
Toyota Avalon
Toyota Camry
Toyota Highlander
Toyota Mirai
Toyota Prius
Toyota RAV4 Prime
Toyota Sienna
Toyota Supra
Toyota Sequoia
Toyota Tundra
Toyota Venza
Volvo
Volvo EX90
Volvo S60
Volvo S90
Volvo V60
Volvo V90 Cross Country
Volvo XC60
Volvo XC90
In addition to the list above, several other popular cars feature heads-up displays, including the Honda Accord, RAM 1500, Mitsubishi Outlander, and Lamborghini Urus.
Advantages of Heads-Up Displays in Cars
The Heads-Up Displays feature has several benefits, including:
Improved Driver Safety
HUDs significantly contribute to driver safety by keeping vital information within the driver's line of sight.
By projecting information such as speed, navigation directions, and warning indicators directly onto the windshield or a combiner, drivers can maintain their focus on the road, reducing the risk of accidents due to distractions.
Enhanced Driver Focus and Situational Awareness
Heads-up displays help enhance driver focus and situational awareness by minimizing the need to look away from the road.
With crucial data readily available in their field of vision, drivers can effortlessly process information and make better decisions on the road, especially during complex driving situations such as merging onto highways or navigating through busy intersections.
Convenience and personalization
Modern HUDs offer customizable options, allowing drivers to choose which information is displayed and how it is presented.
This personalization ensures that drivers have access to the data most relevant to their needs, enhancing their overall driving experience.
Additionally, many HUDs can integrate with smartphones, enabling the display of incoming calls, messages, and other notifications, providing further convenience.
Futuristic Driving Experience
Beyond their practical benefits, HUDs also contribute to a more futuristic driving experience by incorporating cutting-edge technology into the vehicle's design.
A HUD's sleek, modern appearance adds a touch of sophistication to any car's interior, making the driving experience feel more advanced and engaging.
Types of Heads-Up Display Systems
Windshield-projected HUDs
Windshield-projected HUDs are directly integrated into a car's design and project information onto the windshield.
This type of HUD offers a seamless experience, as the data appears floating in the driver's line of sight.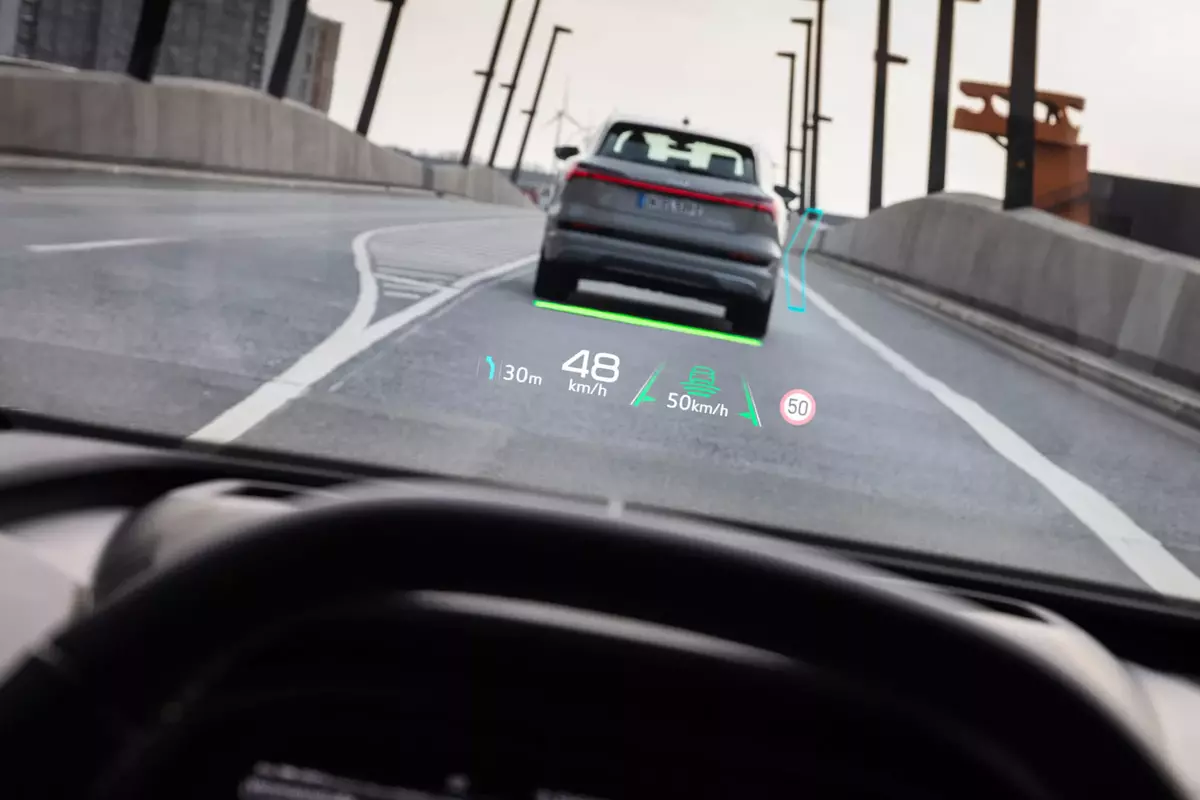 Windshield-projected HUDs are typically found in high-end and luxury vehicles but are becoming more common in mid-range models.
Combiner-projected HUDs
Combiner-projected HUDs utilize a separate transparent screen, or combiner, placed between the driver and the windshield to display information.
This type of HUD is a popular choice for cars that do not have windshield-projected systems, as it can be easily retrofitted without significant modifications.
Combiner-projected HUDs are more affordable than windshield-projected systems, but they may offer a different level of integration and aesthetic appeal.
Aftermarket HUDs
Aftermarket HUDs are add-on devices that can be installed in vehicles without built-in HUD systems.
They are available in windshield-projected and combiner-projected varieties and can be connected to a car's diagnostic system to display relevant information.
Aftermarket HUDs vary in terms of features, compatibility, and quality, offering drivers a wide range of options to choose from.
Augmented reality (AR) HUDs
Augmented reality HUDs represent the cutting edge of heads-up display technology.
These systems integrate real-time data with the vehicle's surroundings, overlaying information such as navigation instructions, points of interest, and traffic alerts onto the driver's view of the road.
While AR HUDs are still relatively new, they are expected to become more common as technology advances and becomes more affordable.
Can You Add an Oem Heads Up Display to a Car?
If your car doesn't have a HUD feature, you can still add one by purchasing an aftermarket unit.
Aftermarket HUDs come in various forms, including windshield-projected and combiner-projected options.
Some aftermarket HUDs plug directly into a car's OBD-II port, providing access to vehicle data such as speed, fuel consumption, and engine diagnostics. Others rely on smartphone connectivity to display information like GPS navigation and notifications.
Several brands offer high-quality aftermarket HUDs with various features to suit different needs and preferences. Some popular brands and models include:
Navdy
Garmin HUD+
Hudway Cast
Exploride
Carrobot C2 Lite
Factors to consider when choosing an aftermarket HUD
When selecting an aftermarket HUD, consider the following factors:
Display quality: Ensure the HUD offers clear and bright visuals, even in direct sunlight or at night.
Compatibility: Verify that the HUD is compatible with your car's make, model, and diagnostic system.
Ease of installation: Opt for a HUD with a straightforward installation process that requires minimal modifications to your vehicle.
Customizability: Choose a HUD that allows you to customize the displayed information and interface to suit your preferences.
Smartphone integration: If desired, look for a HUD that can connect to your smartphone for additional functionality.
How Much Does It Cost to Add HUD to Car?
The cost of adding a HUD to your car depends on the type of aftermarket heads-up display system you choose and whether you opt for professional installation. Here's a general breakdown of the costs:
Basic aftermarket HUDs: These typically cost between $50 and $200. They may have limited features and connectivity but can still display essential information such as speed and engine diagnostics.
Mid-range aftermarket HUDs: These devices usually range from $200 to $500, offering better display quality, customizability, and smartphone integration.
High-end aftermarket HUDs: Advanced HUDs with features like augmented reality, enhanced connectivity, and superior display quality can cost upwards of $500 to $1,000 or more.
Professional installation: If you choose to have your HUD professionally installed, you may need to factor in additional labor costs, which can range from $50 to $200, depending on the complexity of the installation and the rates of the installer.
Remember that prices may vary based on the brand, specific model, and features of the aftermarket HUD you choose. Researching and comparing different options is essential to find a heads-up display system that meets your needs and budget.
Future Trends in HUD Technology
Integration with Autonomous Driving Systems
As autonomous driving technology advances, HUDs are expected to provide drivers with real-time information about their vehicle's status and surroundings. The seamless integration of HUDs with self-driving systems could enable drivers to monitor the vehicle's performance, receive important alerts, and effortlessly switch between autonomous and manual modes, enhancing overall safety and convenience.
Advanced AR Features and Holography
Augmented reality (AR) HUDs are poised to become more sophisticated, with advanced features such as holography and integration with LiDAR sensors for improved depth perception.
This could allow for more accurate information overlays onto the driver's view of the road, enhancing situational awareness and creating a more immersive driving experience.
Gesture and Voice Command
Future HUDs may incorporate gesture and voice control features, enabling drivers to interact with the display and access information without taking their hands off the wheel or their eyes off the road.
This hands-free interaction could streamline the driving experience and further minimize distractions.
HUD will be Available in Lower-priced Car Models
As HUD technology becomes more affordable and mainstream, it will likely be adopted by a broader range of car models, including lower-priced vehicles.
This increased accessibility will enable more drivers to enjoy the benefits of heads-up displays, contributing to safer and more enjoyable driving experiences.
Conclusion
In summary, HUDs significantly enhance driver safety, focus, and convenience by projecting essential information within the driver's line of sight.
With advancements in technology and the growing adoption of HUDs across various car models, the future of driving promises to be safer and more engaging.
As HUD technology evolves, it's an excellent time to explore and consider incorporating this valuable feature into your driving experience.