The hip room is pivotal in cars, for it determines how comfortable people will be, especially the big-bodied ones who need an excellent space to be comfortable.
A spacious car contributes significantly to the driving experience. With a good space, passengers of all sizes can fit well in the vehicle and enjoy the ride.
This article will discuss the best SUVs with a spacious hip room organized by size categories, compact, midsize, full-size, and electric SUVs.
I will also display a table comprising 139 SUV models with hip room information, so stick around to the end.
Compact SUVs
Compact SUV has the advantage of spacious hip room for passengers and fuel economy. Below are the common SUVs with the most hip room.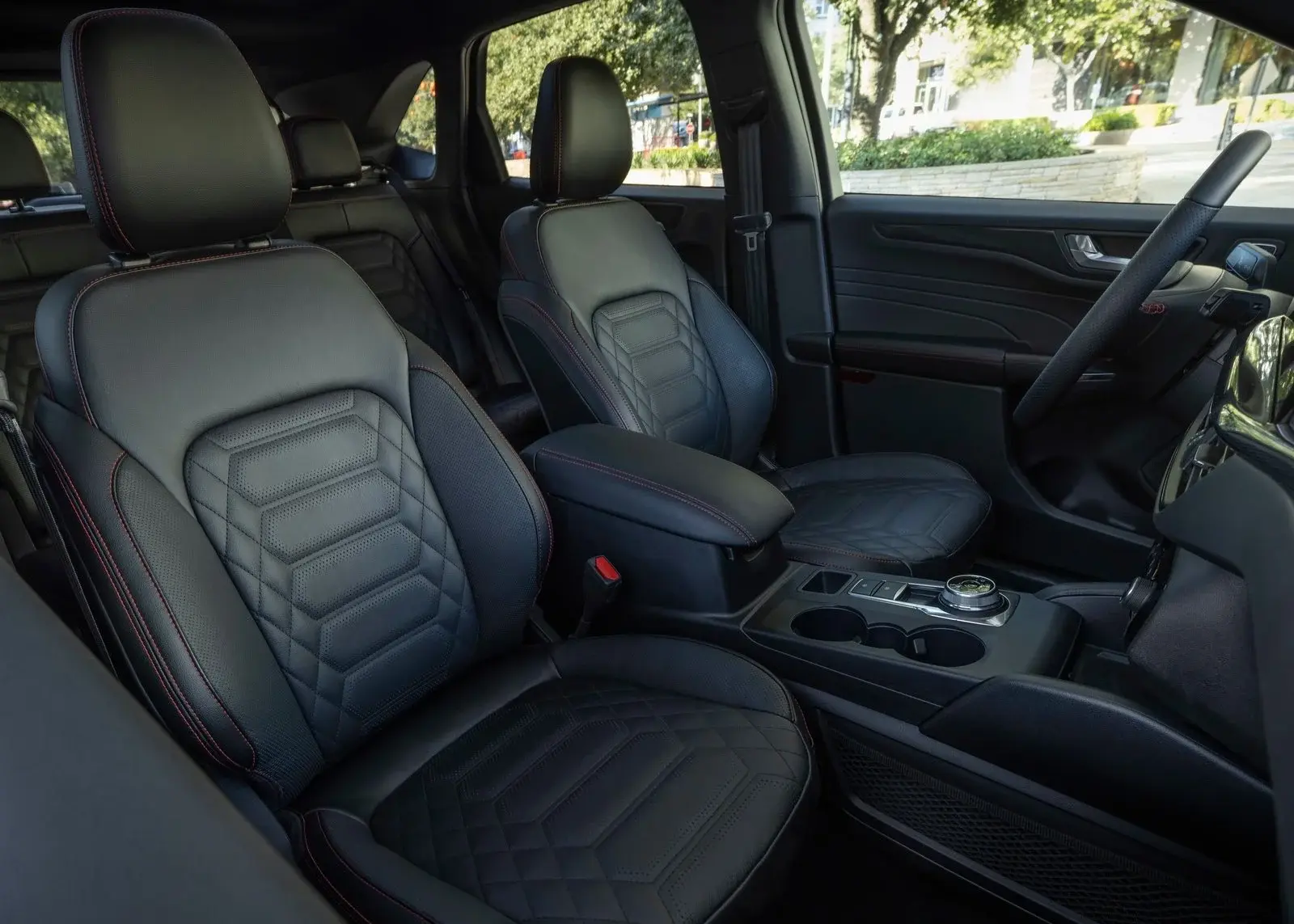 Ford Escape
This is one of the spacious SUVs with a front measuring 55.2 inches front and rear 53.3 inches. This hip room offers comfort to passengers of all sizes. Also, it has enough headroom (40.0 inches), giving the occupants the best experience.
It also comes with an in-built infotainment system for an enjoyable drive, and its upscale cargo hold is suitable for transporting luggage or equipment. Ford Escape is fuel efficient, making it the best choice for an economical and spacious SUV.
Subaru Crosstrek
The Subaru Crosstrek presents an attractive option for compact SUV enthusiasts, offering a well-rounded combination of standard all-wheel drive, a roomy interior, a smooth ride, and an impressive selection of optional driver-assistance features.
The front hip room is 55.1 inches, while the rear measures 55.2 inches, giving a comfy space for big-bodied people in all rows. In addition, it offers enough headroom at 39.8 inches, a shoulder room of 56.7 inches, and a legroom of 43.1 inches.
If you want cozy and flexible without compromising space and performance, this is your best choice.
Buick Envision
This compact SUV offers comfy and spacious.
Its front hip room measures 55.1 inches, while the rear hip room is 47.4 inches. It also has an impressive headroom of 40.0 inches, shoulder room of 57 inches, and legroom of 40.9 inches.
It's an outstanding choice for long drives for its wonderful fuel-economy properties and smooth and calm ride.
It features a powerful 228-hp engine and gives performance and efficiency. Besides, it's full of standard safety adds, making it the safest SUV.
Midsize SUVs
Midsize SUVs represent one of the market's most crowded segments, offering many options for potential buyers. However, we will look at the top 3 with an enormous hip room.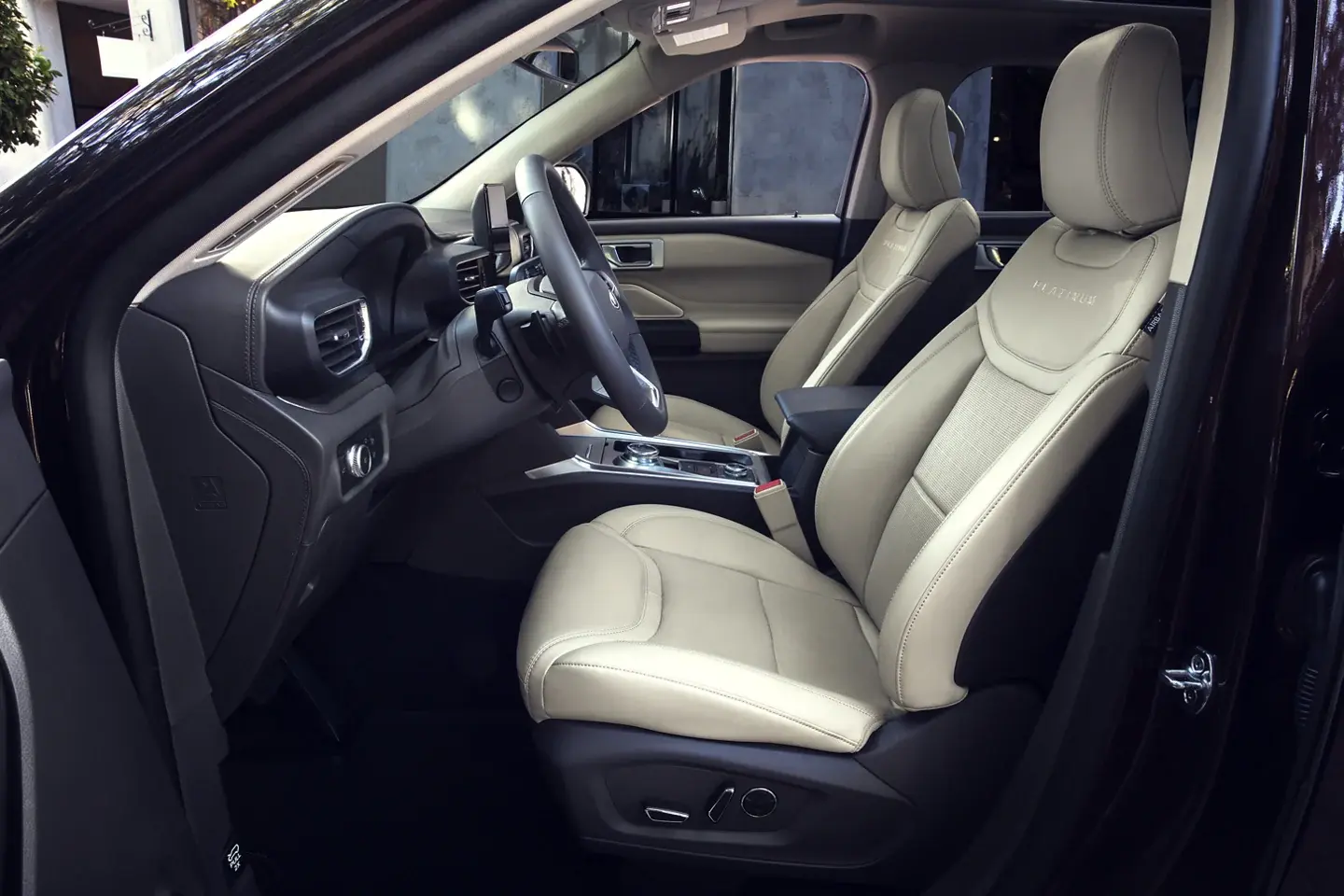 Ford Explorer
The Explorer is popular for its ample passenger and cargo space. Its front hip room is 59.2 inches, and the back hip room is 59.1 inches offering a comfortable space for drivers and passengers.
The Ford Explorer 2023 also boasts two lively engine options, handling prowess and a comfortable ride.
Both rows of Ford Explorer are spacious enough for big-bodied people measuring 40.7 inches for headroom, shoulder room 61.8 inches, and 43.0 inches for legroom.
The Explorer is the best choice for those looking for a spacious and comfortable SUV.
Honda Pilot
Honda Pilot has been a family choice for a long due to its flexibility and comfort. The latest pilot model was also redesigned for the family in 2022.
The completely redesigned 2023 Honda Pilot emphasizes its traditional strengths, and it's complemented by safety features, ample space for cargo, passengers, and the driver, and a comfortable drive.
Honda has the following measurement dimensions, front hip room of 59.1 inches, rear hip room of 57.3 inches, headroom (39.1 inches), shoulder room (61.9 inches), and legroom of 41.0 inches. This is enough space for any adult to stay comfortable.
In addition, Honda also boasts a cargo space of 87 cubic feet. Hence a perfect choice for a family who needs a small size car.
Kia Telluride
The 2023 Kia Telluride got a mid-model refresh. It's a lavish and spacious interior with the best tech features, smooth driving dynamics, and excellent value for money.
Its front and rear hip rooms are 58.9 and 58.0 inches, respectively. It also offers a good headroom space of 39.5 inches, a shoulder room of 61.6 inches, and legroom of 41.4 inches, and a cargo room of 87 cubic feet. This shows that Kia Telluride is spacious for both occupants and luggage.
Full-size SUVs
These vehicles are designed to carry more people and cargo; hence they are more spacious than smaller SUVs. You will find several Full-size SUVs with good space, but we will discuss the top 3.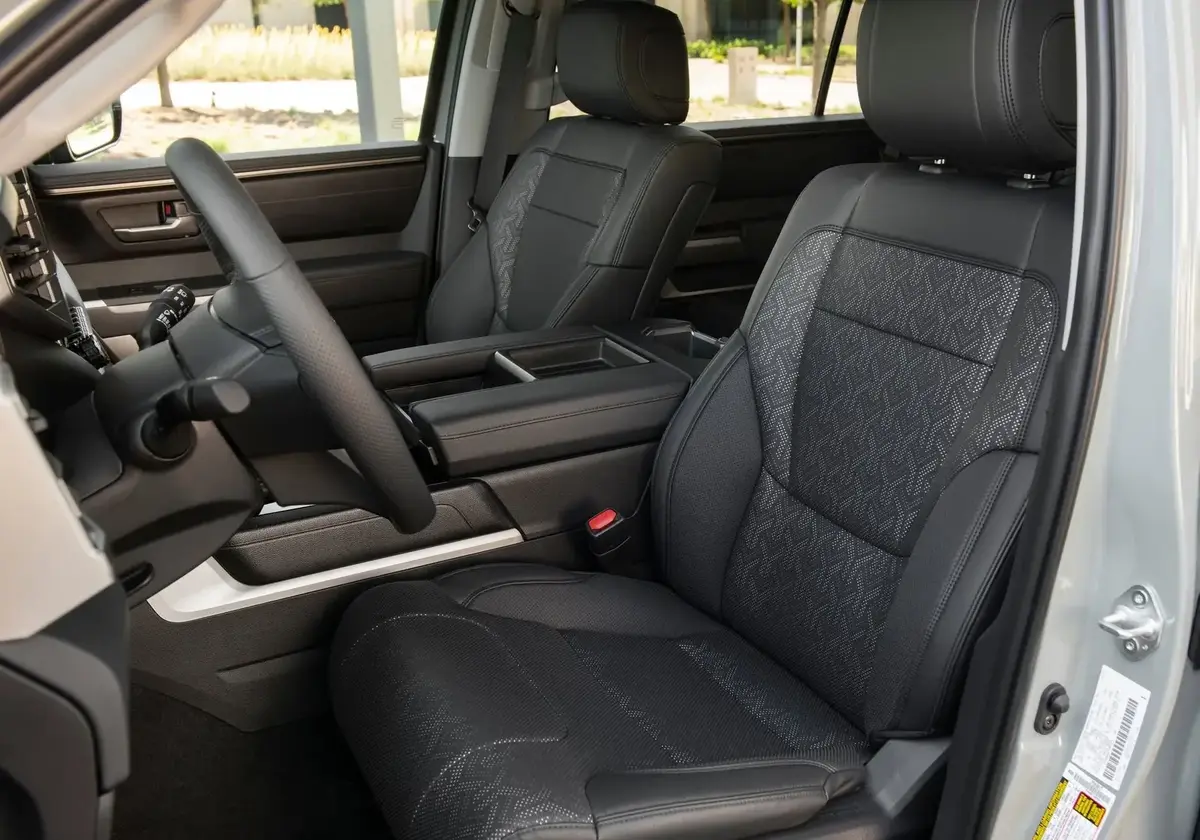 Toyota Sequoia
Sequoia features a high-quality cabin material and a spacious interior.
The 2023 model is equipped with a revolutionary hybrid engine that ensures delivery of the required energy and fuel efficiency. This is a good combination that was once a problem to find.
Passengers are comfortably seated in front and rear rows since they have ample space. The front hip room measures 62.5 inches, and the rear is 59.9 inches.
If you are tall, you can comfortably use this vehicle, for it has a headroom of 34.8 inches in front and 42.5 inches at the back.
Therefore, this is a perfect full-size SUV if you want a roomy, efficient, and powerful SUV.
Ford Expedition
Ford Expedition 2023 fulfills the expectations of a big SUV, giving a roomy and comfy interior while commanding the road authority.
It has a front hip room of 62.2 inches, a back hip room of 62.6 inches, front legroom of 43.9 inches, and rear legroom of 41.5 inches.
Chevrolet Tahoe and Suburban
Like SUVs in the full-size category, it commands space and interior comfort for both cargo and people.
Tahoe and Suburban have a great seating space with a front hip room of about 61.5 inches and a 61.3-inch back hip room. You need the two for enough room, comfort, and performance.
Electric SUVs
Electric SUVs have recently become very common and are available in small and large sizes. The top electric SUVs with the largest hip room are discussed below.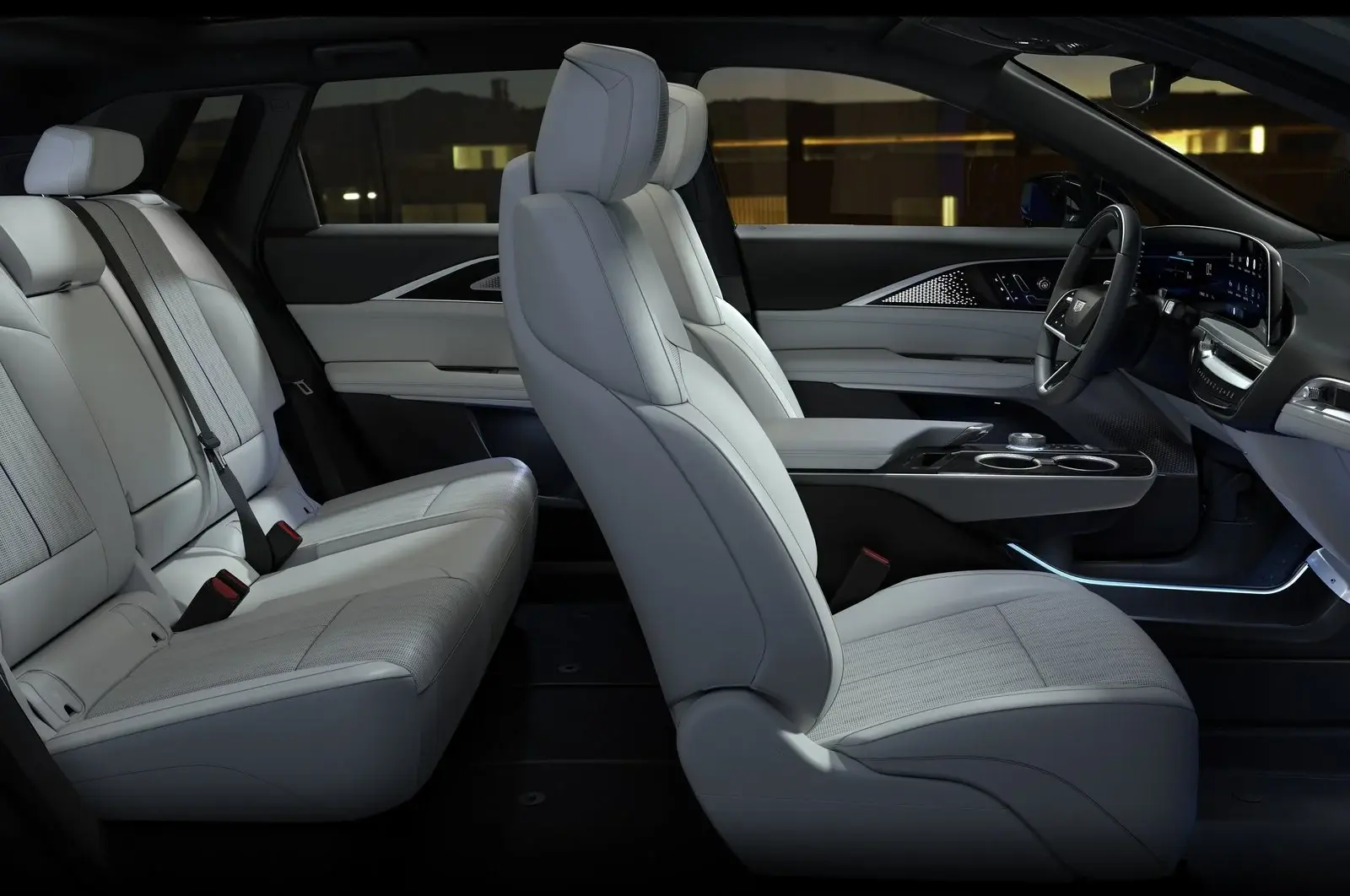 Cadillac Lyriq
This vehicle cares for both heavy-bodied and tall people with an impressive hip room. It features in the list of modern and future vehicle brands with a good interior of premium materials and considerable space.
Whether seated at the back or front, you will be comfortable. Its front hip room is 56.5 inches, its rear hip room measures 54.0 inches, its legroom is 44.3 inches, and its headroom is 38.6 inches.
Nissan Ariya
The Nissan Ariya distinguishes itself as an EV SUV with a spacious interior and an affordable base price, making it an attractive option for many buyers.
Inside, the Nissan Ariya provides comfortable and roomy seating, with ample headroom and legroom in the front for taller occupants to stretch out. The hip room measurements are 56 inches in the front and 52.5 inches in the rear.
The interior of the 2023 Nissan Ariya surpasses expectations considering its price point. Boasting a sleek and modern appearance, the cabin utilizes high-end materials such as synthetic leather and soft-touch plastic, further enhancing its appeal as a spacious and well-appointed EV SUV.
Tesla Model X
You can't mention EVs without mentioning Tesla. Tesla Model X is among the EVs with adorable features, exceptional driving range, and sporty performance.
The sleek interior is comfortable for its generous space. The front hip room is 55.7 inches, and its rear is 59.0 inches.
Furthermore, the Model X stands out as one of the EVs with the most cargo space, making it an ideal choice for those seeking a spacious, high-performing electric SUV.
Luxury SUV
The defining distinction between a standard SUV and its luxury counterpart predominantly lies in the interior. Luxury SUVs typically exhibit interiors of superior elegance compared to regular SUVs, crafted with top-notch materials and executed with meticulous precision.
Given these attributes, it's hardly surprising that luxury SUVs frequently offer spacious and comfortable interiors.
Here are three luxury SUVs with the most hip room, each guaranteeing a comfort level that's hard to rival.
BMW X7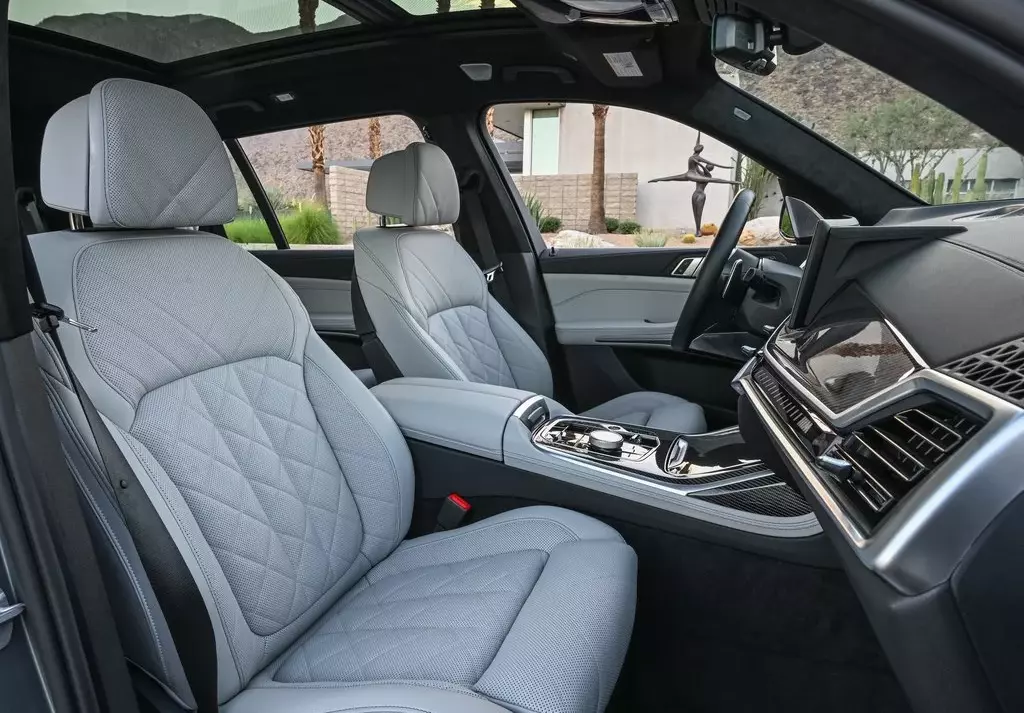 The BMW X7 is a luxury SUV that marries lavishness with spaciousness.
Boasting one of the roomiest interiors in its category, the X7 offers an impressive 64.1 inches of front hip room and 60.1 inches in the rear.
This ample space translates to heightened comfort for passengers, making long journeys feel effortless and enjoyable.
However, the X7 doesn't compromise on style in its pursuit of space. The interior is meticulously crafted with quality materials and sophisticated detailing. Seats are plush and supportive, promising a luxurious experience.
The hip room, in particular, adds to this feeling of refinement, providing both driver and passengers with a sense of uncramped ease.
The Lincoln Navigator is a paragon of luxury in the SUV landscape. It stands out, not just for its striking elegance but for its ample space, measured both in hip room and legroom.
The front hip room stretches to 62.2 inches, with the rear boasting an even more generous 62.6 inches. This ample roominess continues beyond hip space – legroom is another area where the Navigator excels. Front passengers can enjoy a spacious 43.9 inches, with the second and third rows offering 41.1 and 36.1 inches, respectively.
As you step inside, the Navigator welcomes you into its spacious and elegant world. It's more than just a vehicle; it's an expansive sanctuary on wheels. Every aspect, from the headroom to the shoulder room, has been carefully crafted to provide a sense of openness rarely seen in even the most premium SUVs.
The interior is a masterclass in luxury, with plush leather seats and refined accents that ooze sophistication. This SUV doesn't compromise on space for luxury; it delivers both in perfect harmony.
Honorable Mention
While our top three picks for the most hip room in luxury SUVs are truly impressive, other noteworthy models deserve recognition. Here are three honorable mentions:
Firstly, the Audi Q7, the cousin of our top pick Q8, offers nearly identical roominess with a front hip room of 61.8 inches and 61.4 inches at the rear. Renowned for its stylish design and comfort, the Q7 should be on the radar of larger drivers seeking a spacious luxury ride.
Secondly, the Cadillac Escalade V also brings a strong game in the hip room department, with a front measure of 61.7 inches and 61.2 inches at the back. The Escalade's grandeur and spaciousness make it a prime choice for those looking for a blend of American luxury and comfort.
Lastly, we have the BMW X6. This luxury crossover SUV provides ample space with a front hip room of 61.4 inches and 60.7 inches at the rear. With its unique blend of coupe-like design and the roominess of an SUV, the X6 offers an enticing option for those seeking style without sacrificing space.
While not reaching our top three, these models showcase impressive hip room measures, cementing their place in the luxury SUV market for their blend of space, comfort, and high-end features.
Audi Q8
The Audi Q8 is a top player in luxury SUVs, valued for its generous space and comfort. It provides an ample hip room of 61.8 inches in the front and 61.4 inches at the rear. But the roominess doesn't end there – the Q8 also excels in legroom, offering a spacious 41.6 inches at the front and 40.2 inches in the back.
Upon entering the Q8, you're welcomed into a realm of comfort. The seats are so comfy they make even long journeys feel like a breeze. And it's not just about comfort – the Q8's interior is well-built and airy, giving it a premium feel.
The design of the Q8's interior is all about luxury and space, offering both in abundance. Audi has gone the extra mile to make sure every journey in the Q8 is as comfortable and spacious as possible.
List of 139 SUVs With Hip Room Size
Below is a list of 139 SUVs available in the United States. Upon reviewing this data, it becomes clear that there are numerous choices in the SUV market for consumers to consider.
| | | |
| --- | --- | --- |
| Model | Front Hip Room (Inch) | Rear Hip Room (Inch) |
| BMW X7 | 64.1 | 60.1 |
| Toyota Sequoia | 62.5 | 59.9 |
| Ford Expedition | 62.2 | 62.6 |
| Lincoln Navigator | 61.9 | 61.6 |
| Audi Q8 | 61.8 | 61.4 |
| Audi Q7 | 61.8 | 61.4 |
| Cadillac Escalade V | 61.7 | 61.2 |
| Cadillac Escalade | 61.7 | 61.2 |
| Chevrolet Tahoe | 61.5 | 61.3 |
| Chevrolet Suburban | 61.5 | 61.3 |
| GMC Yukon | 61.5 | 61.3 |
| BMW X5 | 61.4 | 60.3 |
| BMW X6 | 61.4 | 60.7 |
| Mercedes GLE | 60.8 | 59.8 |
| Mercedes EQE | 60.7 | 58.3 |
| Audi Q5 | 60.3 | 59 |
| Kia Carnival | 59.8 | 66.4 |
| Acura MDX | 59.3 | 57.8 |
| BMW X3 | 59.2 | 58.1 |
| Ford Explorer | 59.2 | 59.1 |
| Infiniti QX80 | 59.2 | 58.4 |
| Nissan Armada | 59.2 | 58.4 |
| Honda Pilot | 59.1 | 57.3 |
| Honda Passport | 59.1 | 57.3 |
| Buick Enclave | 59 | 57.7 |
| Mercedes GLC | 59 | 58.3 |
| Kia Telluride | 58.9 | 58 |
| Infiniti QX60 | 58.8 | 58.8 |
| Audi Q4 | 58.7 | 57.7 |
| Lexus LX | 58.7 | 58.5 |
| Lincoln Aviator | 58.5 | 58.3 |
| BMW X4 | 58.3 | 57.4 |
| Nissan Pathfinder | 58.3 | 56.3 |
| Volkswagen Atlas | 58.2 | 58 |
| ChevroletTravaerase | 58.1 | 56.9 |
| Hyundai Palisade | 58.1 | 57.7 |
| Audi Q3 | 58 | 56.1 |
| Subaru Ascent | 57.8 | 57.5 |
| Hyundai Santa FE | 57.5 | 56.3 |
| Jeep Grand Cherokee | 57.4 | 56.3 |
| Mercedes GLA | 57.3 | 57.2 |
| Mercedes EQB | 57.2 | 56.7 |
| Toyoata Highlander | 57.2 | 57 |
| Dodge Durango | 57 | 55.5 |
| Mazda CX9 | 56.7 | 57.4 |
| BMW X1 | 56.6 | 57.2 |
| Lexus RX | 56.6 | 56.1 |
| Cadillac Lyriq | 56.5 | 54 |
| Genesis GV80 | 56.5 | 56.2 |
| Lexus GX | 56.5 | 55.2 |
| Toyota 4runner | 56.4 | 55.7 |
| Volvo XC60 | 56.4 | 55.4 |
| Ford Bronco | 56.3 | 43.3 |
| Lexus NX | 56.3 | 52.5 |
| Mazda CX-90 | 56.2 | 55.5 |
| Mercedes G-Class | 56.2 | NA |
| Cadillac XT5 | 56.1 | 54.8 |
| Nissan Ariya | 56 | 52.5 |
| Volvo XC90 | 56 | 56.5 |
| Ford Edge | 55.9 | 57.5 |
| Mercedes GLB | 55.8 | 54.8 |
| GMC Acadia | 55.7 | 53.3 |
| Tesla Model X | 55.7 | 59 |
| Chevrolet Blazer | 55.6 | 54.2 |
| Infiniti QX50 | 55.6 | 53.8 |
| Infiniti QX55 | 55.6 | 53.8 |
| Kia Sorento | 55.6 | 55.1 |
| Lincoln Corsair | 55.6 | 50.8 |
| Subaru Outback | 55.5 | 54.8 |
| Ford Mustang Mach-E | 55.4 | 53.2 |
| Nissan Murano | 55.4 | 55.2 |
| Ford bronco Sport | 55.2 | 53.4 |
| Ford Escape | 55.2 | 53.3 |
| Mazda CX-5 | 55.2 | 55.3 |
| Buick Envision | 55.1 | 47.4 |
| Honda CR-V | 55.1 | 49.5 |
| Subaru Crosstrek | 55.1 | 55.2 |
| Acura RDX | 55 | 50 |
| Rivian R1s | 55 | 54 |
| Kia EV6 | 54.9 | 53.2 |
| Lexus RZ | 54.7 | 51.8 |
| Volvo XC40 | 54.7 | 54.6 |
| Volvo C40 | 54.7 | 54.6 |
| Mazda CX-30 | 54.6 | 53.2 |
| Cadillac XT4 | 54.5 | 49.8 |
| Hyundai Tucson | 54.5 | 53.9 |
| Volkswagen Tiguan | 54.5 | 53.7 |
| GMC Terrain | 54.4 | 51.8 |
| Subaru Solterra | 54.4 | 44.8 |
| Lincoln Nautilus | 54.4 | 44.8 |
| Volkswagen id.4 | 54.4 | 46.7 |
| Toyota bZ4x | 54.3 | 47.7 |
| Toyoata RAV4 Prime | 54.3 | 47.7 |
| Toyota RAV4 | 54.3 | 47.7 |
| Chevrolet Equinox | 54.2 | 51.7 |
| Jeep Compass | 54.1 | 49.2 |
| Nissan Rogue | 54.1 | 55.9 |
| Subaru Forester | 54.1 | 53.5 |
| Honda HR-V | 54 | 47.4 |
| Hyundai Ioniq5 | 53.9 | 53.6 |
| Jeep Wrangler | 53.9 | 56.7 |
| Jeep Cherokee | 53.8 | 49.9 |
| Lexus UX | 53.8 | 52.3 |
| Tesla Model Y | 53.8 | 50.8 |
| Kia Niro | 53.7 | 48.3 |
| Mazda CX-50 | 53.6 | 52.1 |
| Hyundai Kona | 53.5 | 52.5 |
| Kia Seltos | 53.5 | 52.8 |
| Kia Soul | 53.5 | 52.8 |
| Kia Sportage | 53.4 | 53.4 |
| Jeep Renegade | 53.1 | 51.9 |
| Mitsubishi Eclipse Cross | 53 | 52 |
| Mitsubishi Outlander PHEV | 52.6 | 51.9 |
| Chevrolet Trailblazer | 52.3 | 45.7 |
| Buick Ecore GX | 51.9 | 47.5 |
| Buick Ecore | 51.7 | 50.1 |
| Chevrolet Trax | 51.7 | 50.7 |
| Chevrolet Bolt EUV | 51.3 | 50.6 |
| Nissan Kicks | 50.9 | 49.1 |
| Cadillac XT6 | 50.1 | 55.7 |
| Alfa Rome Stelvio | NA | NA |
| BMW iX | NA | NA |
| BMW XM | NA | NA |
| Dodge Hornet | NA | NA |
| Toyota Sequoia | NA | NA |
| Genesis GV60 | NA | NA |
| Land Rover Range Rover | NA | NA |
| Land Rover Range Rover Sport | NA | NA |
| Land Rover Discovery | NA | NA |
| Land Rover Range Rover Evoque | NA | NA |
| Land Rover Defender | NA | NA |
| Land Rover Discovery Sport | NA | NA |
| Toyota Grand Highlander | NA | NA |
| Mercedes EQS SUV | NA | NA |
| Mercedes GLS | NA | NA |
| Bentley Bentayga | NA | NA |
| Volkswagen Taos | NA | NA |