When coming to flat towing, not all cars will qualify to be flat towed. Despite this, there are different variables as to why some car models can't be flat towed. If you wonder if your Mercedes SUV makes the cut, then you are in the right place.
Is any Mercedes SUV flat towable?
Unfortunately, all Mercedes cars and SUVs are not flat towable due to several factors. However, there is still a solution to being able to tow your Mercedes quickly and safely.
Although Mercedes cars aren't made to be flat towed, it has an automatic transmission. Due to this nature, there are a few alternatives instead that I will take you through. Noting the difference between whether or not your vehicle has an automatic or manual transmission can further assist you when deciding if flat towing is the best option for your vehicle.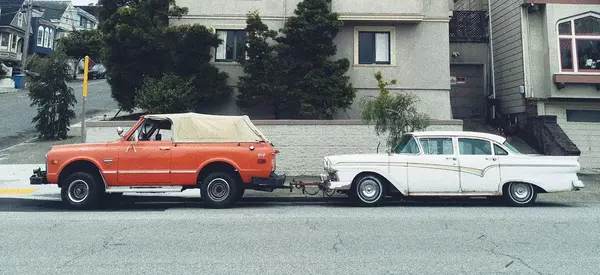 Below I will break down what flat towing is and how to tow or transport your Mercedes SUV.
What Is Flat Towing and How Do It Work?
Flat towing is the most common method of towing to people simply because of its connivance, doesn't require a lot of space, and is easy to attach or detach the equipment. They are typically used on an RV or a motorhome.
Despite this being the most suitable method, it is always important to check with your car's manufacturer to ensure your car can be used to flat tow during a road trip.
Always make sure you follow all directions when attempting to flat tow. Make sure your vehicle has a self-lubricating transmission. This will allow a safe flat tow. Flat towing can permit you to save more money as well as save more time.
So Can I Flat Tow my Mercedes ?
Due to modern-day cars, many cars are not advisable to flat tow due to these cars having automatic transmissions. If you still attempt to flat tow your car anyway, you will damage your car's transmission despite this method not being compatible. So it's safe to say, No, you can't flat tow your Mercedes.
Overall, you want to tow your car no longer than 30 miles, going 30 miles per hour. Subsequently, the car will need to be transported.
Referring back to Mercedes, you want to stay away from towing Mercedes automatic E class and Mercedes with 4matic. You will only end up damaging the transmission. So please, if you have a Mercedes stay away from flat towing. It is not a good option for this car model.
These types of car models aren't made to be towed but instead transported. No matter the car model, always be up to date with your vehicle's car manual and the manufacturer. This way, you prevent further damages to your vehicle unknowingly.
How Can I Tow my Mercedes Then? – Flat Tow Alternatives
Though a Mercedes can't be flat towed, alternative methods are available to tow cars. While Mercedes can't be flat towed due to its transmission, it can still be towed.
Special equipment is required to tow your vehicle longer than the 30 miles limit. Deeming unnecessary equipment will only damage your vehicle, and trust me, you do not want that.
As a reminder, always check with your vehicle's manufacturer and cars Manuel to help you get clarity on the best towing method for your car model. Raising your car will be needed to tow from afar.
A tow dolly or a towing trailer is most recommended for your vehicle.
You may have questioned yourself like, what is a tow dolly? What is a towing trailer? How do they work? Is this a safe and inexpensive way to tow my car?
Don't worry; here is all you will need to know when deciphering if your Mercedes can be towed using these alternative methods.
What Is a Tow Dolly?
A Tow Dolly is often compared to a smaller trailer but will be smaller in size. You will need a hitch and ball to help get it connected.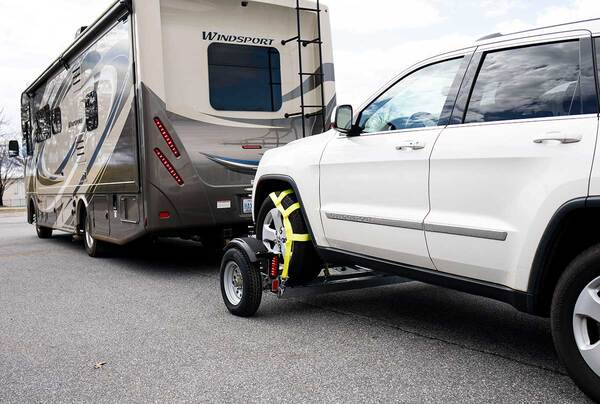 Using this to put your wheels on this small trailer can provide a safe tow for your vehicle.
When hooking the dolly up to your vehicle, your car should be flat down on the grown all wheels leveled with the car in park. Using the instructions that come with the manual, you will use the straps to help you attach them to the car of your RV or motorhome.
Using the installed ramps, you will drive your car onto the trailer, ensuring your car can receive power from the engine. Next, you want to attach the straps and make sure you secure them tightly. Essential to make sure everything is tightly secured and centered on ensuring your safety. After you have done this, you can proceed to start driving.
Vehicles that weigh below 5,000 lbs would be an excellent match for this alternative towing method. It is used for front-wheel drive vehicles.
This method does not add on miles to your car, so that's a plus and allows you to save some money in your pocket. Great to store anywhere due to this trailer not taking up a ton of space.
What Is a Towing Trailer?
A Towing Trailer will help keep your vehicle flat and protect your vehicle from any debris. Towing Trailer can also protect your car tires from getting damaged.
Although a towing trailer is a perfect option for your car, it is deemed more expensive than the dolly and works exceptionally well.
Despite the towing trailer method being pricy and taking up lots of space, it's safe to say this method accompanies four wheels that help lift the whole vehicle off the ground.
Any four-wheel, rear-wheel drive or all-wheel drive is suitable for this method. You will still require maintenance for your car after either method.
Can I tow Mercedes with a 4Mactic?
Raising the front or back axle to your 4matic will damage the transmission. If you damage your transmission, you can transport your vehicle using a transporter or a trailer. It is not recommended you tow a Mercedes Bens with a 4matic.
So please be advised that Mercedes Bens with 4matic do not want to tow them only to transport them. It will be a disaster to damage the transmission of your car. So do what's best for your particular car model.
Towing a Merceds Bens from the Front or the Rear?
In the case of a breakdown, only is it recommended to transport your Mercedes, not towing it.
If your vehicle has a manual transmission, you can only tow your car when both axles are on the ground or if the rear axle is raised. If your car has an automatic transmission, you can only tow with both axles on the ground.
What Car Models Can Be Towed without any Problems?
Any car that has a manual transmission is eligible to be flat towed. If your vehicle doesn't t have a manual transmission and has an automatic transmission, it doesn't result in flat towing. This will only create damages to your car's transmission.
Today, more and more cars are made with automatic transmissions. For this reason, it is crucial always to check your car's manual and check in with your car's manufacturer to ensure that your car model is eligible to be flat towed or transported using the alternative towing methods. This is only going to save you the trouble and help protect your vehicle's transmission from damage.
Conclussion
Overall all vehicles are made uniquely. Not all methods are required to work for every single car. This is why there are different remedies to help you along the way. Knowledge is key. Always make sure you are up to date with your vehicle's model for the dos and don'ts.
For you would hate to ruin your car's transmission using the wrong towing method because you were unsure. Get familiar with the different types of methods you can use for different types of vehicles. Note, any vehicle made with a manual transmission can be flat towed.
When your vehicle has an automatic transmission, it will result in other methods such as transporting, using the tow dolly, and the tow trailer. Please make sure you are also aware of the distance you can tow your car and how many miles per hour. You do not want to tow you care for more than 30 miles going at 30 miles per hour. Even still will your car require further maintenance.
So next time you and your family decide to plan that special road trip, you now have the proper knowledge to help guide you and decide whether flat towing is the proper technique for you.
Most methods will require you to use special equipment to enable a safe and effective tow. So you also want to make sure you are using the proper equipment when carrying out such activities. The overall goal is to protect your vehicle's transmission.