Winter, a time for fun, is fast approaching. Skiing and Snowboarding are usually the activities to look forward to year long. You will require spear equipment and gear at that time of the year. Skiers and Snowboarders should start planning ahead of time to make the process enjoyable and easy.
So, What is the best vehicle for Snowboard Trip?
You will require the best cars that can handle snowy and hilly roads. AWD and 4WD vehicles with high ground clearance are ideal. Furthermore, cars with massive cargo capacities will also be required as they will carry your belongings and pieces of equipment.
Not all cars and trucks are suitable for snowboarders. There are a few things to consider: the vehicle must handle wintry conditions, be powerful enough for mountain roads, and have enough cargo space to accommodate a large amount of luggage.
Here are 7 cars with decent performance on snowy roads to get you to the slopes. It's vital to note that no matter the features that your car might have, you will, after all, require winter tires for the conditions.
Subaru Ascent
Model year: 2023
MSRP: Start From $33,895
MPG: 21 City / 27 Highway
Cargo Space: 17.8 ft³, 47.5 ft³ When Third Row Folded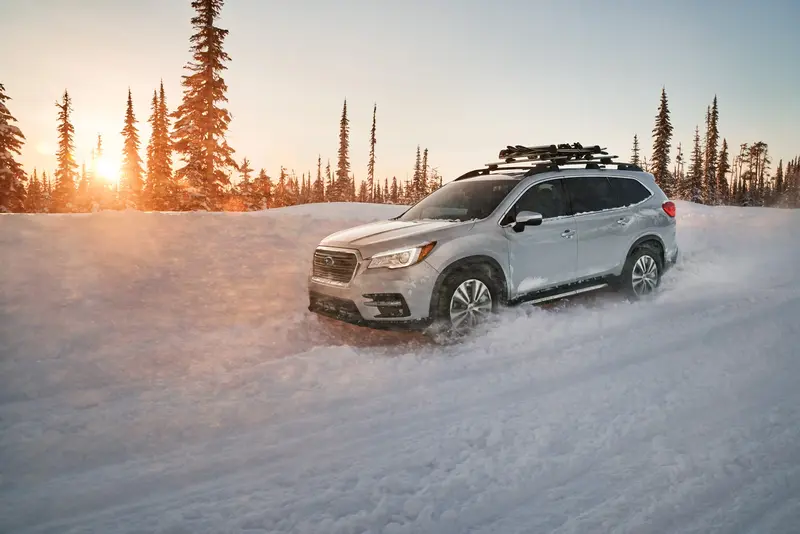 The new Subaru Ascent has bold and rugged looks as if it is ready to cruise on terrains. The Ascent has an excellent grip on the road due to the presence of a standard all-wheel drive.
It offers a lot for snowboarders. With its descent hill control and X-mode traction management, the Subaru Ascent can navigate you through the roads to the Snowboarding slopes.
On top of all these, this car offers more than the above cargo carrying capacity and can carry up to 8 passengers.
Kia Telluride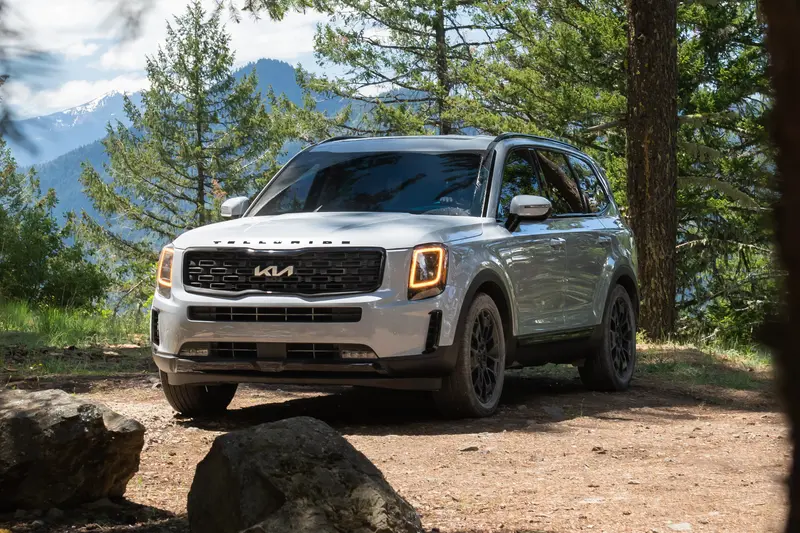 Model year: 2023
MSRP: Starting at $35,690
MPG: 20 in the city, 26 on the highway
Cargo Space: 21 ft³, 46 ft³ When Third Row Folded
The Kia Telluride is equipped with everything necessary to establish itself as the midsize SUV segment's king. The Kia Telluride is one of the most dependable midsize SUVs available today, even on snowy roads. As a result, it's unsurprising that it's one of my top recommendations for snowboarding trips.
It is made with All wheel drive, a snow driving mode, and most importantly, 8 inches clear of the ground, making it one of the wise options for a snow vehicle. It can accommodate up to eight passengers so that you will sort your family. It has more than enough space to hold your gear and equipment.
Jeep Grand Cherokee 4xe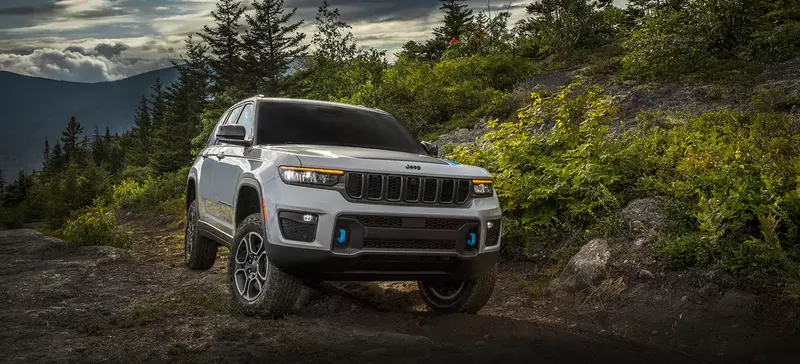 Model year: 2023
MSRP: Starting at $59,865
MPG: 23 MPG / 56 MPGe
Cargo Space: 37.7 ft³, 70.8 ft³ Seat Folded
It has been a while since anyone knew that Jeep Grand Cherokee possesses excellent performance on snowy roads. Thus, a must check if you require a car for a snowboarding trip.
The Jeep Grand Cherokee has 4X4 Drive Systems with Quadra Trac technology, making it superior in all weather conditions. There are even special buttons for selecting the driving mode, such as the Snow button, which selects a suitable driving mode when the road is covered in snow.
With all of that 4X4 capability, the Jeep Grand Cherokee has fuel consumption issues. That is why Jeep created the Grand Cherokee 4xe. The Jeep Grand Cherokee 4xe retains all of the traditional Cherokee's capabilities but adds an electric motor to improve overall fuel efficiency.
You don't need to worry about running out of cargo space to put your stuff. Jeep Grand Cherokee has spacious cargo space, and you can also fold flat the seats to get more space.
Hyundai Tucson Hybrid
Model year: 2023
MSRP: Starting at $30,900
MPG: 37 mpg city and 36 mpg highway
Cargo Space: 38.8 ft³, 74.5 ft³ Seat Folded
There is no better midsize hybrid SUV than the Tucson Hybrid in the market. Some qualities make it stand out, including spacious cargo space, a quality interior, a punchy powertrain, and a long list of safety features.
The Hyundai Tucson Hybrid is powered by a 1.6-liter 4-cylinder engine and a 59-horsepower electric motor with a 1.5-kWh lithium-ion battery pack. This combination generates up to 226 horsepower, sufficient to transport you to snowboard lodges, typically located in the snowy road mountains.
Behind the back seat of the Hybrid, there are 38.8 cubic feet of space for you to store your gear. It is spacious enough to accommodate the belongings of at least four people.
Acura RDX
Model year: 2023
MSRP: Starting at $41,550
MPG: 22 City / 28 Highway
Cargo Space: 29.5 ft³, 58.9 ft³ Seat Folded
Acura RDX is a luxury compact SUV. It is roomy, has great interior materials, has a sleek design, has a spacious cabin, is fun to drive, and has ample parking space. You will not be wrong if you go for the Acura RDX.
Is Acura good in snow? It is an excellent choice for the winter with an 8.2" ground clearance, Super Handling AWD, and several safety traits.
You will be safe driving on snowy and hilly roads as it has ABS, snow mode, Traction Control, and stability assist.
Ford Bronco Sport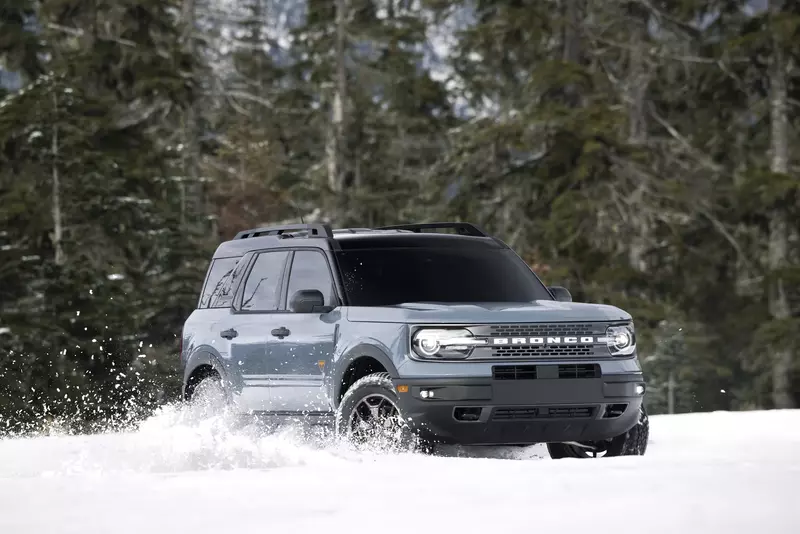 Model year: 2023
MSRP: Starting at $29,215
MPG: 25 City / 28 Highway
Cargo Space: 32.5 ft³, 62.5 ft³ Seat Folded
A compact 4wd SUV that is attractive was mainly manufactured to support outdoor activities such as skiing, fishing, camping, and Snowboarding. It should not be surprising that it has several features that suit that need.
In my opinion, the Ford Bronco Sport is the best choice for snowboarders. The Bronco Sport is excellent for driving on snowy roads, thanks to its 4WD Drivetrain, high ground clearance, many safety features, and powerful engine.
Chrysler Pacifica
Model year: 2023
MSRP: Starting at $37,020
MPG: 19 City / 28 Highway
Cargo Space: 32.3 ft³,  87.5 ft³ With Seat
The Pacifica might be the best option, especially when you have many travelers, including family members and children. Its cargo space is spacious, comfortable for children, has easy access in and out thanks to the sliding doors, and is more than capable of coping with extreme road conditions.
The Chrysler Pacifica, unlike some of the other vehicles I've mentioned, is a minivan with an all-wheel-drive rather than an SUV.
The Chrysler Pacifica also has a relatively high ground clearance, which means that with winter tires, you will have no trouble navigating snowy roads on your way to a ski or snowboard resort.