Electric vehicles are becoming increasingly popular due to their environmental advantages, but many drivers are unsure how much their electric vehicle can tow.
Generally speaking, most electric vehicles have a towing capacity between 1,000 and 3,500 pounds.
This range is determined by factors such as the electric motor's power output, the vehicle's total weight, and the amount of energy stored in the battery.
For instance, a compact electric car with a relatively small motor may have a towing capacity of around 1,000 pounds, while an SUV or pickup truck that is powered by multiple electric motors could potentially tow up to 3,500 pounds.
Rivian R1T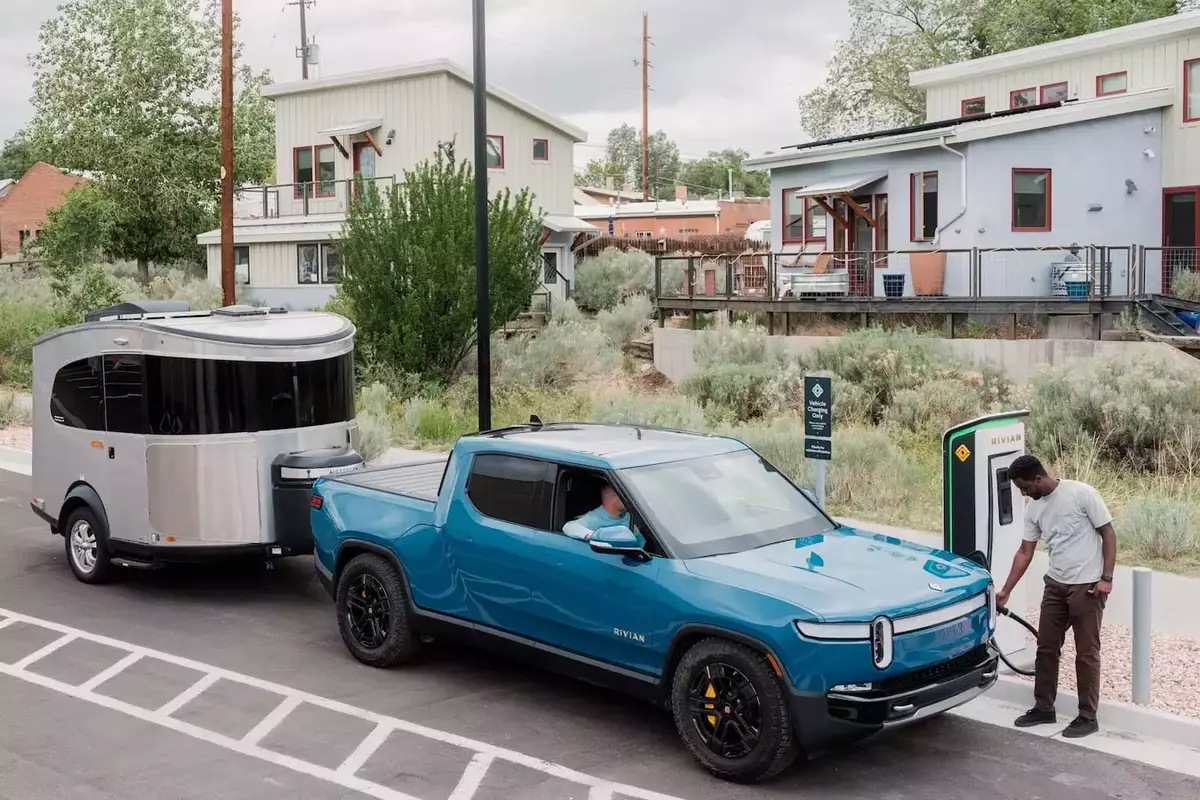 The Rivian R1T Electric Vehicle has been highly praised for its towing capability.
Boasting an engine with up to 750 horsepower and 825 lb-ft of torque, this electric vehicle packs quite the punch.
It comes with a range of options for battery capacities, so you can tailor your experience depending on what suits your needs the best.
With a maximum towing capacity of 11,000 lbs, you can be sure that the Rivian R1T will give you performance at its peak, regardless of your load.
Ford F-150 Lightning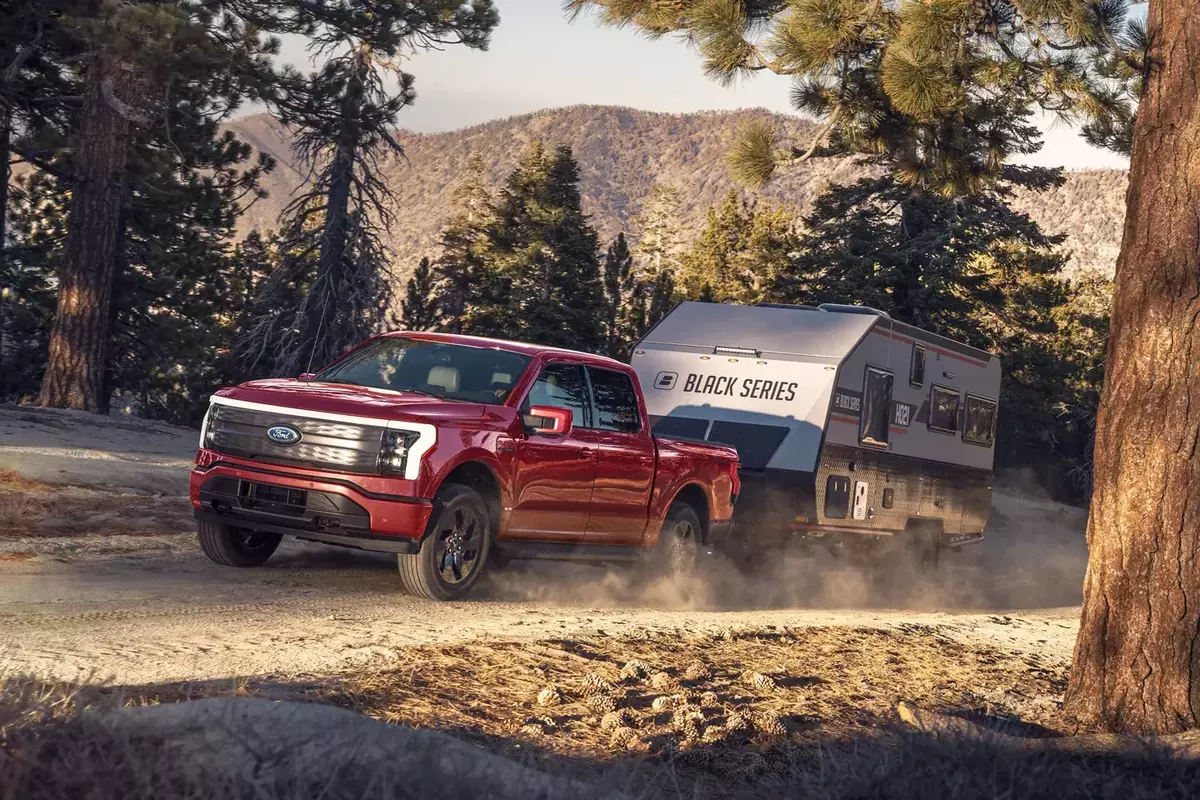 The Ford F-150 Lightning Electric Vehicle is set to revolutionize the way we work and play, thanks to its incredible engine specs.
This performance pickup truck features an astounding 563 horsepower and 775 lb.-ft of torque, allowing it to quickly tow up to 10,000 lbs. when equipped appropriately.
Not only that, but the F-150 Lightning also has a battery range of up to 300 miles per charge, so you won't have to worry about running out of power halfway through your job or journey.
With this impressive electric vehicle from Ford, you can get anything you're hauling from point A to point B with speed and confidence.
Rivian R1S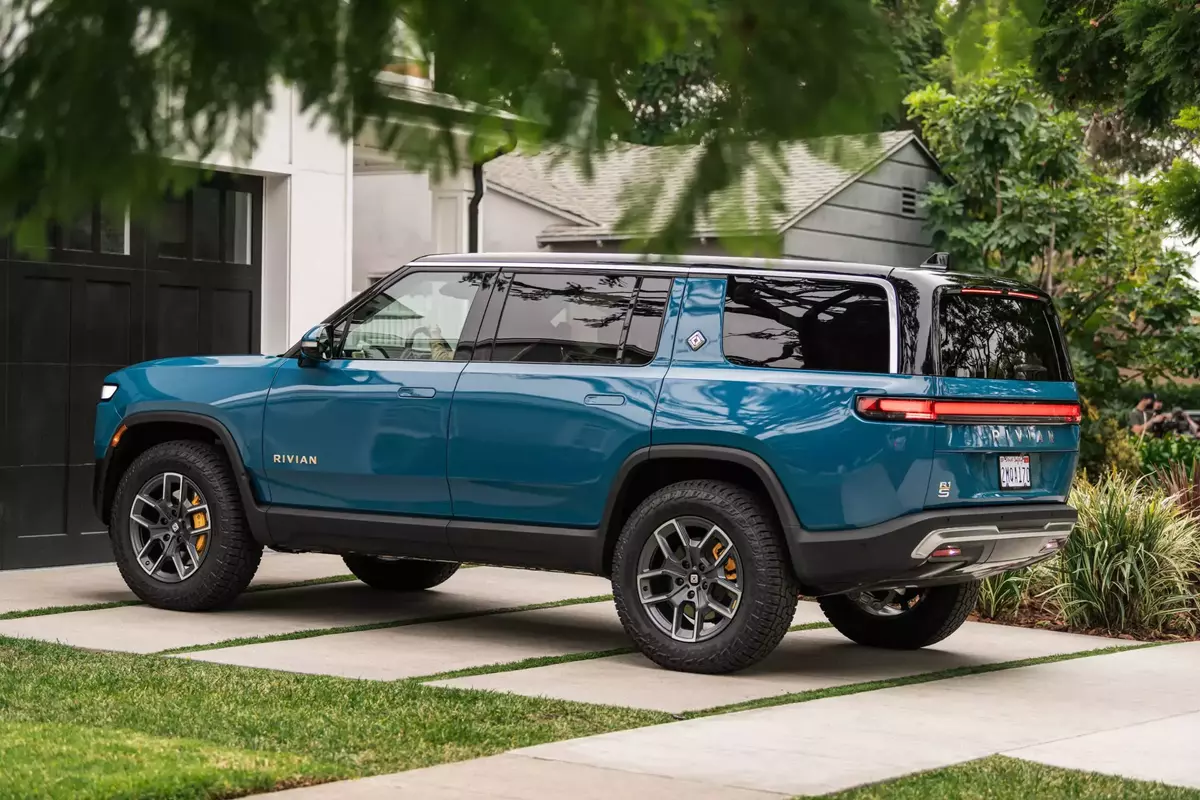 The Rivian R1S Electric Vehicle has incredible engine specs, providing a whopping 562 horsepower and 826 lb-ft of torque.
With this much power under the hood, it can tow up to 7,700 pounds! It is powerful, and its battery range is impressive as well, boasting up to 410 miles on a full charge.
Thanks to this combination of power and range, the Rivian R1S Electric Vehicle is an ideal choice for anyone looking for a vehicle that can handle some serious hauling.
GMC Hummer EV
The GMC Hummer EV is an electric vehicle that has absolutely incredible towing capacity.
Its engineering specs allow this mighty SUV to tow up to 6500 lbs., powered by an Engine with up to 1000 hp and 11,500 lb.-ft torque.
Not only that, but the Hummer EV also features an incredible battery range of up to 300+ miles on a full charge. It's no wonder why the Hummer EV is quickly becoming one of the most sought-after EVs on the market.
With its impressive Engine Specs, Torque, Horsepower, and Battery Range, it's easy to see why this EV can help get any job done quickly and efficiently.
BMW iX
The BMW iX electric vehicle is an impressive technology, boasting engine specs that include 372 horsepower and 375 lb-ft of torque for a towing capacity of 5,000 pounds.
Alongside this impressive towing power is a generous battery range that can travel up to 300 miles on one charge.
This powerful capability, combined with the long-distance power, makes the BMW iX perfect for those who need a car that can pull heavy loads and go long distances without recharge.
Tesla Model X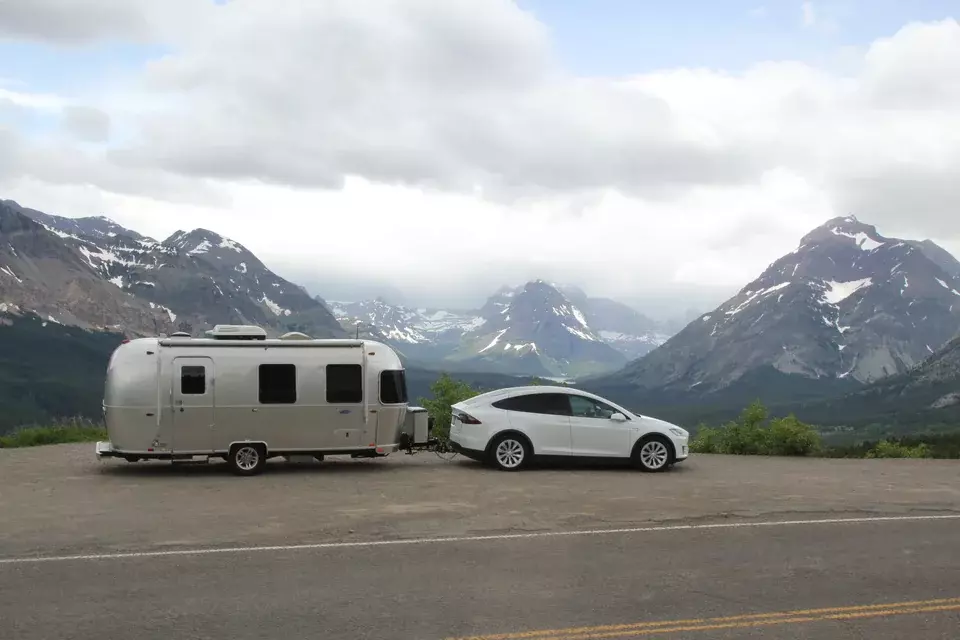 The Tesla Model X Electric Vehicle is revolutionary regarding towing capacity.
Its Engine Specs offer features of two electric motors and all-wheel drive, which generate an impressive amount of torque and horsepower, as well as a battery range that allows you to tow without worrying about losing power mid-haul. The Model X can easily pull up to 5,000 pounds thanks to these features.
Whether you need to transport supplies for work or take your next camping trip in style, this vehicle presents the perfect option for anyone looking for the perfect balance between cost and efficiency.
Audi e-tron S
The Audi e-tron S is an exceptional electric vehicle with engine specs that are sure to impress.
With 350 horsepower and 414 lb-ft of torque, it offers a towing capacity of up to 4,000 pounds.
This makes the e-tron S more than capable of hauling heavy loads. It's also equipped with a 95 kWh battery range, allowing you to go farther on a single charge than ever before.
All in all, the Audi e-tron S' powerful engine specs and long-lasting battery make it an ideal choice for those who need a reliable and capable electric vehicle for their towing needs.
Mercedes-Benz EQS SUV
With great power also comes great towing potential. That's certainly true for the new Mercedes-Benz EQS SUV Electric Vehicle.
This all-electric car packs a powerful punch thanks to its impressive engine specs.
The high torque and impressive horsepower translate into big towing capabilities, allowing the EQS to carry up to 4,000 lbs.
Of course, all this power doesn't come without a cost; battery range is cut by as much as 20% when attempting to tow a heavy load.
But even with that gone, the EQS still offers an impressive 345 miles on a full charge in everyday mode – enough for most day-to-day activities and short road trips.
Clearly, this electric-only vehicle has some serious muscle under its hood.
Audi Q4 e-tron
Audi's all-new Q4 e-tron is a special electric vehicle. It's got some serious towing power for an EV! With up to 402 horsepower and 490 lb-ft of torque, this SUV can tow up to 4,000 lbs.
That's amazing for an EV! The Q4 e-tron also has a great battery range.
It can go up to 250 miles on a single charge. That's more than enough to get you where you need to go!
Honorable Mentions
Here is a list of some popular electric vehicles' towing capacities that you might find useful.
| | | |
| --- | --- | --- |
| Electric Vehicles | Towing Capacity | Horsepower |
| Rivian R1T | 11,000 lbs | 835 hp |
| Ford F-150 Lightning | 10,000 lbs | 580 hp |
| GMC Hummer EV | 7,500 lbs | 1000 hp |
| Rivian R1S | 7,700 lbs | 835 Hp |
| BMW iX | 5,500 lbs | 532 hp |
| Tesla Model X | 5,000 lbs | 1,020 hp |
| Audi e-tron S | 4,000 lbs | 429 hp |
| Mercedes-Benz EQS SUV | 4,000 lbs | 536 hp |
| Audi Q4 e-tron | 4,000 lbs | 295 hp |
| Volvo C40 Recharge | 3,970 lbs | 402 hp |
| Tesla Model Y | 3,500 lbs | 455 hp |
| Cadillac LYRIQ AWD | 3,500 lbs | 500 hp |
| Ford Mustang Mach-E | 3,306 lbs | 480 hp |
| Volkswagen ID.4 | 2,700 lbs | 295 hp |
| Subaru Solterra | 2,700 lbs | 215 hp |
| Kia EV6 GT | 2,300 lbs | 576 hp |
| Hyundai IONIQ 5 | 2,300 lbs | 320 hp |
| Genesis GV60 | 2,000 lbs | 429 hp |
| Chevrolet Bolt EUV | 2,000 lbs | 200 hp |
| Volvo XC40 Recharge | 2,000 lbs | 402 hp |
| Toyota bZ4X | 1,500 lbs | 214 hp |
Conclusion
With the rise of electric vehicles, there is an increasing need to consider the possibilities for towing capacity.
While electric vehicles have a lower towing capacity than gas-powered cars, it's important to remember that they still have a fair amount of strength and can safely tow light to moderate loads.
Electric vehicle manufacturers typically make their information on towing capacity accessible and easy to understand so that consumers can quickly locate any restrictions on size when it comes to their specific model.
Additionally, industry experts suggest that anyone planning on using their car for towing should invest in extra safety equipment, such as high-strength suspension parts or heavy-duty brakes.
Electric vehicles may be different from traditional models regarding weight and power. However, with careful observation and the right know-how, they can still provide reliable transportation for those needing them for hauling purposes.