Towing capacity is often one of the reasons why people choose SUVs over other types of cars. Indeed, SUVs are known for their towing capabilities.
The SUV with the highest towing capacity is currently the Jeep Grand Wagoneer, which can tow up to 10,000 pounds.
However, SUVs with high towing capability tend to have poor fuel economy, which is crucial these days due to skyrocketing gasoline prices.
SUVs with hybrid engines can be an alternative. Hybrid technology allows a vehicle to maintain powerful engine performance while keeping fuel consumption low.
I will explore the list of hybrid SUVs with high towing capacity in this article. Below is a compiled list of the most effective hybrid vehicles for towing to make your search easier.
Here's a quick overview for those in a hurry: a table listing some hybrid SUVs with their respective towing capacities.
| | | |
| --- | --- | --- |
| Model | Engine | Towing Capacity |
| 2023 Toyota Sequoia | 3.4-liter V6 iForce MAX hybrid | 9,500 lbs |
| Land Rover Defender P400 MHEV | 4.0-liter V8 with 48-volt hybrid | 8,201 lbs |
| Lincoln Aviator Grand Touring | 3.0L V6 Hybrid | 6,700 lbs |
| Nissan Pathfinder Hybrid | 2.5-liter V6 Hybrid | 6,200 lbs |
| Jeep Grand Cherokee 4xe | 2.0L turbocharged and the electric motor | 6,000 lbs |
| BMW X5 xDrive45e | 3.0 L 6-cylinder | 5,952 lbs |
| Range Rover P510e | 3.0 liter inline six | 5,512 lbs |
| Ford Explorer Hybrid | 3.3-liter V6 Hybrid | 5,300 lbs |
| Volvo XC90 Recharge | turbocharged inline-four | 5,000 lbs |
| Ford F150 Platinum Hybrid | 5.0-liter TI-VCT V8 | 9,700 lbs |
2023 Toyota Sequoia (9,500 lbs)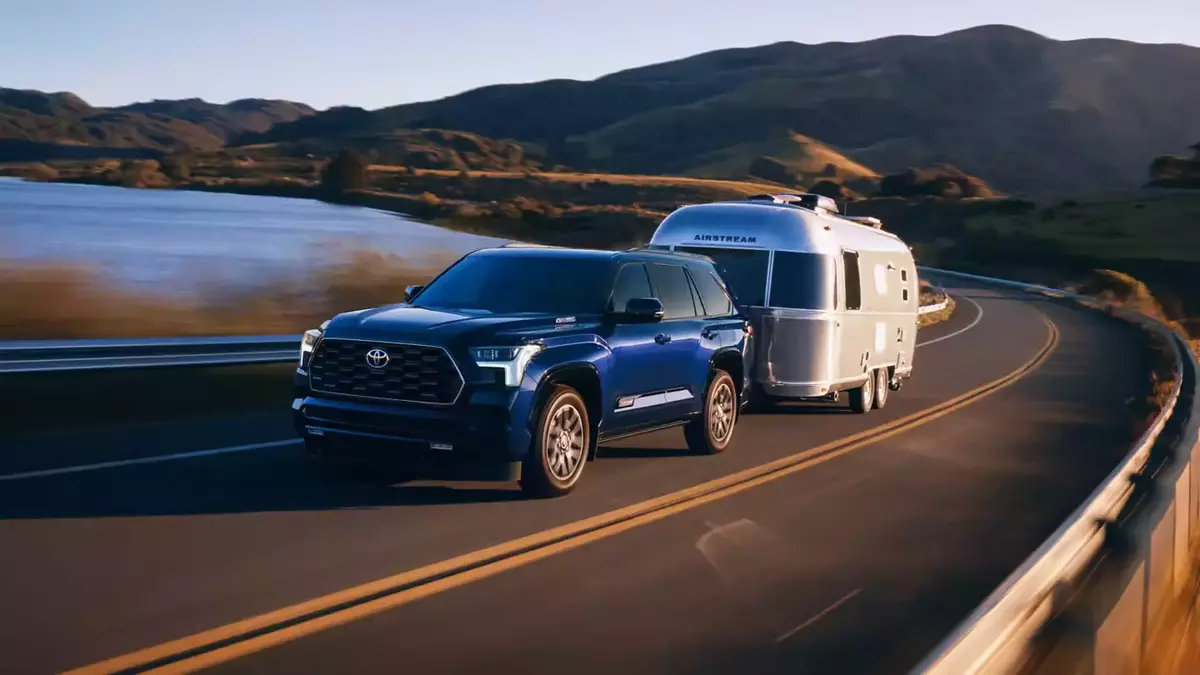 The all-new Sequoia, replacing the old one, is a significant improvement over the second-generation Sequoia produced a decade ago.
The vehicle generates 437 horsepower due to an iForce MAX hybrid gasoline engine with a 3.4-liter V6-cylinder displacement and an electric motor.
In terms of towing capacity, this robust SUV can tow up to 9,520 pounds with the right accessories.
It also comes with a three-row cabin that has the potential to accommodate eight people, and it is equipped with a large touchscreen that runs the latest software.
Moreover, the Toyota Sequoia can tackle various terrains with its available 4WD system and configurable lockable rear differential.
The EPA estimates that the front-wheel-drive Sequoia will achieve a combined gas mileage of 22 mpg, with a rating of 21 mpg in the city and 24 mpg on the highway.
According to Toyota.com, the Sequoia price starts at $58,300 for the most basic version. The Sequoia has five trim levels, including SR5, Limited, Platinum, TRD Pro, and Capstone.
2022 Land Rover Defender P400 MHEV (8,201 lbs)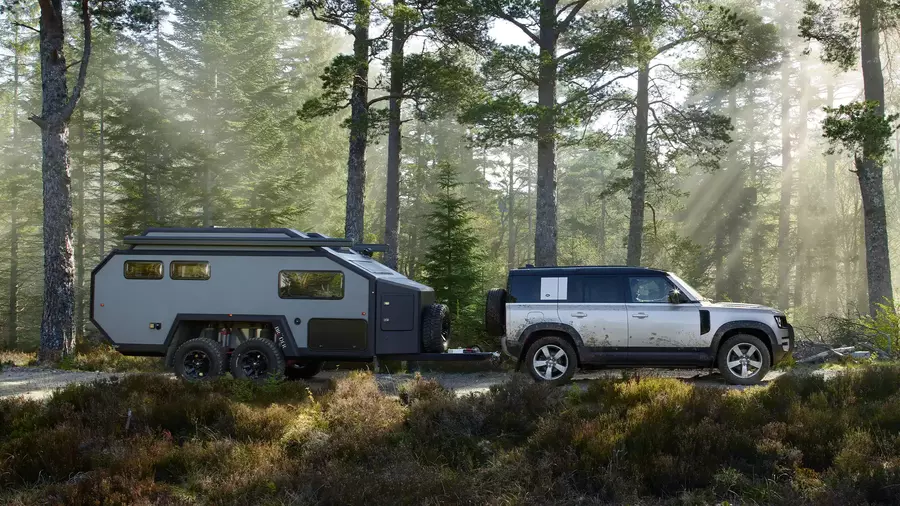 This fully packed Land Rover Defender SUV can pull 8,201 pounds. The Defender has a four-cylinder engine, a turbocharger, and a six-speed automatic system.
All versions come with four-wheel drive and differentials that can be locked.
Land Rover has a 4.0-liter V8 engine, a 3.0-liter inline-six, and a 48-volt hybrid electric supercharged engine.
The EPA ratings for fuel economy are the same for all versions of the Defender. The 4-cylinder 90 gets 18 mpg in the city and on the highway.
In the city, the six-cylinder 90 gets 17 mpg, but it gets 22 mpg on the highway. On the highway, the optional six-cylinder engine in the Defender 110X got 18 mpg, even at 75 mph.
2023 Lincoln Aviator Grand Touring (6,700 lbs)
The Lincoln Aviator 2023 is a midsize luxury SUV with three rows of seats.
In addition, the Lincoln Aviator has a lot of space for cargo and can fit up to seven people in different ways.
The Lincoln Aviator Reserve has a 3.0L V6 engine that can make up to 400 horsepower and torque and 415 lb-ft of engine power. When properly equipped, this luxury SUV can tow up to 6,700 pounds.
The Lincoln Aviator Black Label Grand Touring has a 3.0L V6 engine that works with plug-in hybrid technology to make exciting power.
Nissan Pathfinder Hybrid (6,200 lbs)
With a spacious interior that offers room for as many as eight occupants, the Nissan Pathfinder is ready to handle the transportation needs of large families.
This vehicle's peaceful interior and refined driving experience make long-distance travel and day-to-day commuting easier.
All-wheel drive is an option for the Pathfinder and gives the vehicle substantial off-road capability, although it cannot match the capacity of a Jeep or a Bronco.
Front-wheel drive and a V6 engine mated to an eight-speed automatic gearbox come loaded on the Pathfinder. An all-wheel drive is an option.
The Pathfinder is capable of pulling trailers in addition to its other capabilities. It is not beyond its capacity to pull a trailer loaded with 6,200 lbs.
Unfortunately, you can no longer buy the Nissan Pathfinder hybrid in new condition. Nissan is no longer producing it; 2014 was the last model year on the market.
2024 Jeep Grand Cherokee 4xe (6,000 lbs)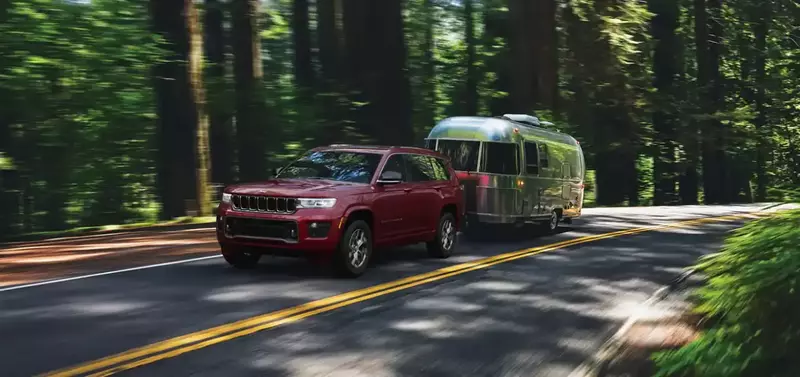 Over many decades, the Jeep Grand Cherokee has consistently held the company's best-selling automobile model title.
A combination of a 375-horsepower electric motor and a 2.0-liter, four-cylinder gas engine powers the 4xe.
Surprisingly, this plug-in hybrid version of the Grand Cherokee is quite capable and can even tow a trailer of up to 6,000 pounds.
A rear electronic limited-slip differential, an electronically disconnecting stabilizer bar, an adjustable air suspension, a mountain aid system, hill-descent control, and a mountain assist system are all add-ons for higher trim levels.
2023 BMW X5 x-Drive45e (5,952 lbs)
The X5, BMW's most popular sport utility vehicle, is now a plug-in hybrid with a powerful electric motor that can pull up to 6,200 pounds.
BMW offers just one hybrid X5, which is a very well-appointed model.
The front seats have 16 positions and four lumbar and memory settings. In addition, the seats are powered and heated.
They have a climate control system, a motorized panoramic sunroof, and Sensafin artificial leather seating surfaces as standard features.
In addition to a rearview camera, front and reverse parking sensors, and the Active Driving Assistant, which includes a forward driving aid, attention identification, collision warning, speed limit information, and automatic high lights, every model comes standard with a motorized tailgate.
2023 Range Rover P510e (5,512 lbs)
The Range Rover is an outstanding luxury SUV, according to every statistic.
The opulent interior of the Range Rover has a sophisticated design, cutting-edge technology, and seats that are fit for a king.
It can handle difficult off-road situations and pull over 5,512 pounds, although it can easily go over broken pavement and roads that wind around.
The 2023 Range Rover offers customers an option between three engines: the P400, the P440e, and the P530.
The 3.0-liter straight-six P400 engine has a turbine, an electric supercharger, and a 48-volt mild-hybrid system, all of which contribute to the engine's 395 horsepower output.
To generate 434 horsepower, the plug-in hybrid P440e utilizes a modification of the six-cylinder engine in conjunction with an electric motor.
The P530 is the last choice available, and it has a 4.4-liter V8 engine capable of producing 523 horsepower thanks to its two turbochargers.
All of them are equipped with an automatic transmission with eight speeds and all-wheel drive as standard features.
2023 Ford Explorer Hybrid (5,300 lbs)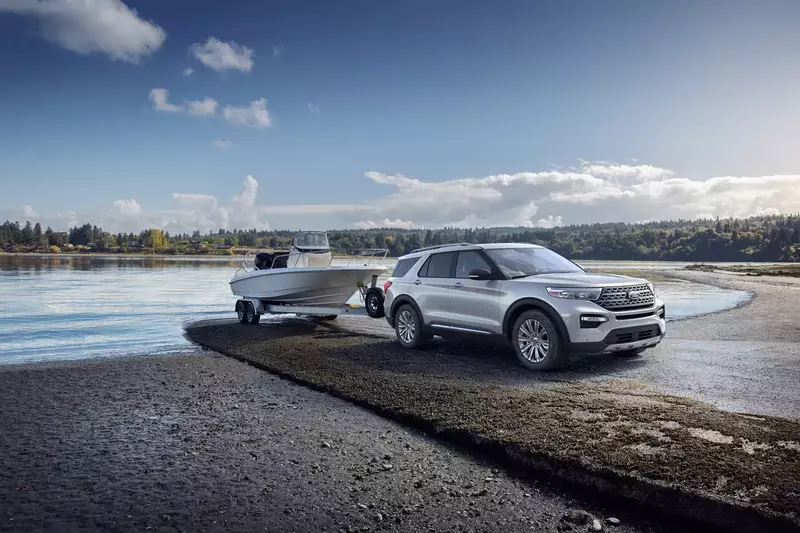 When properly equipped, the Ford Explorer has a maximum towing capacity of 5,300 pounds.
People looking for a vehicle capable of towing a trailer or camper will find the Ford Explorer an excellent choice.
Because of its high towing capacity, it can transport virtually any trailer or camping vehicle. However, the usefulness of the Explorer is not limited to the use of roads.
Four engine options are available for the 2023 Ford Explorer: a 2.3-liter EcoBoost four-cylinder engine, a 3.0-liter EcoBoost V6 engine, a 3.3-liter V6 engine, or a 3.3-liter V6 Hybrid Engine.
The Ford Explorer is a midsize SUV with front and all-wheel drive configurations.
2023 Volvo XC90 Recharge (5,000 lbs)
Because of its stylish external style, spacious interior, and a long list of premium convenience and safety equipment, the Volvo XC90 is an option among the various big midsize luxury SUVs available today.
The sophisticated interior of the XC90, which takes a significant amount of inspiration from Swedish design, is likely a significant contributor to its high place in our rankings.
While the S90 T8 is equipped with a turbocharged inline-four engine that produces 247 horsepower and a 48-volt mild hybrid system, the XC90 Recharge is powered by a plug-in hybrid system that creates 455 horsepower.
Furthermore, because of the exceptional maximum towing capacity of 5,000 pounds and the high level of standard equipment that comes standard on the XC90, it is clear that this vehicle was developed with the affluent consumer market in mind.
2023 Ford F-150 Platinum Hybrid (9,700 Lbs)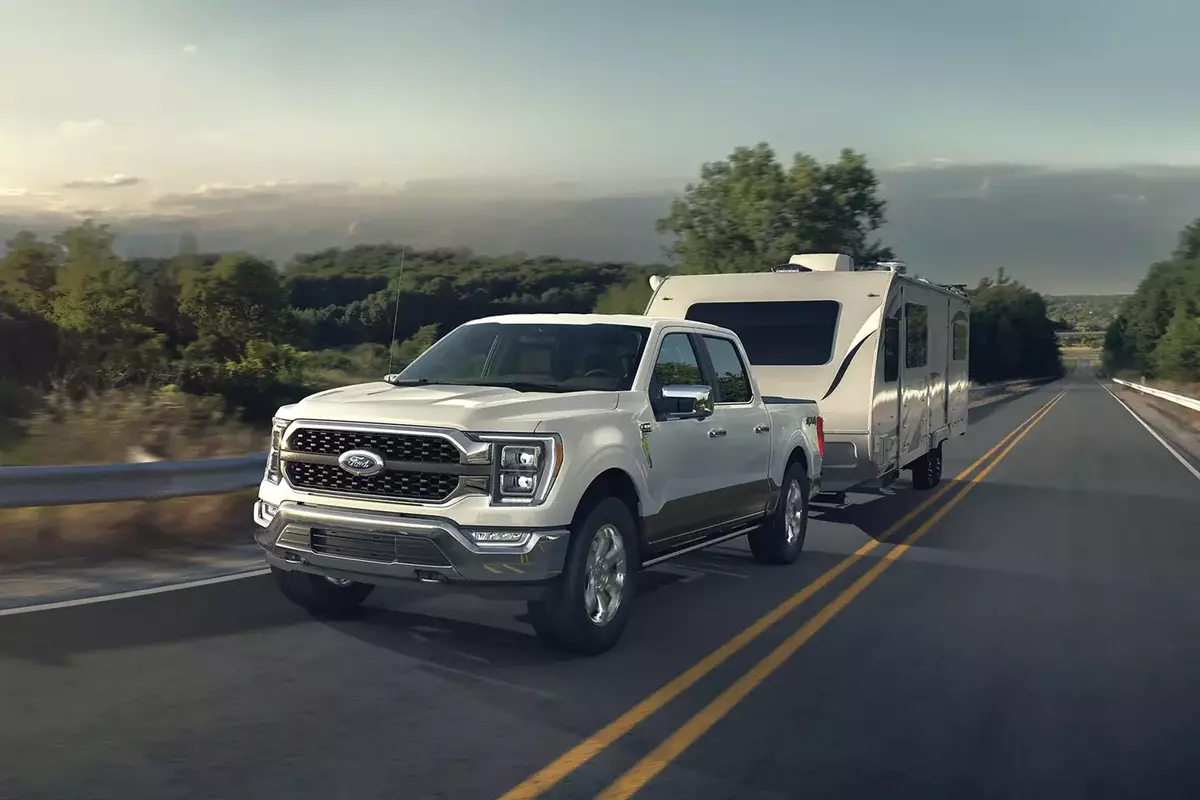 The F150 is a pickup truck, not an SUV, but it deserves to be on this list. Aside from a powerful hybrid engine, the F150 has high-end features and comfort comparable to an SUV.
The Ford F-150 is available in a diverse selection of trim levels for the 2023 model year, allowing the truck to cater to a large pool of different types of drivers.
However, when several alternatives are available, it may be challenging to establish which is the best due to the hazy distinctions between them.
The engine that comes standard in the 2023 Ford F-150 King Ranch trim level is the most powerful.
This is expected from a model with a name like "King Ranch," after all. It is equipped with a monstrous 5.0-liter TI-VCT V8 engine capable of generating 400 horsepower and 410 pound-feet of torque.
This engine has the potential to draw up to 9,700 pounds when combined with an automated transmission.
However, it is important to remember that in addition to the 3.5-liter EcoBoost, Ford now provides the King Ranch with a 3.5-liter PowerBoost Full Hybrid V6 engine.
Even though there is a lot of competition, the PowerBoost stands out because of its 430 horsepower and 570 pound-feet of torque.
Final Words
When looking for an SUV that can be used for towing, the two most important pieces of information to have on hand are the total weight of the trailer when it is completely loaded and the tow rating of the SUV.
You cannot move anything heavier than your SUV can tow securely. Therefore, the capabilities of the SUV need to be such that they match those of the trailer.