While an SUV is useful, many people are looking to downsize. They still want an SUV, which is not as large and has better gas mileage.
Car manufacturers are taking notice and looking to make some changes and give consumers what they want, including working on hybrid & plug-in hybrid engines for more efficient powertrains.
There are some good smaller hybrid SUVs on the market. These are the top 8 SUVs with decent MPG ratings for 2023.
Lexus UX Hybrid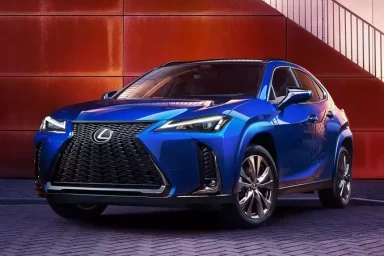 Price: $35,350 MSRP
Gas Mileage: 41 mpg City, 38 mpg Highway
This model is for those who want to reduce fuel consumption and still have a great ride. This is an upscale SUV with good fuel economy.
The cabin on this model has been upgraded, but there is less storage space than a person may be used to in an SUV.
An information system can also be complicated, so users find it frustrating to figure it out. One of the best features of this SUV is the fuel economy and a relaxed ride.
Hyundai Tucson Hybrid
Price: $30,900 MSRP
Gas Mileage: 38 mpg City / 38 mpg Highway
This car is one of the most liked SUVs. There is a comfortable ride, and there is still plenty of storage room. The interior has been improved, so it has a more upscale feel.
There is a lot of power in this ride. While the fuel economy is still below what most customers would like, it still is not bad for something so powerful. However, the Tucson hybrid earns an EPA-estimated 38 mpg in the city and 38 mpg on the highway.
Under the hood, it has a 1.6L turbocharged four-cylinder engine and a 44.2-kW electric motor that combine to produce up to 226 horsepower and 258 lb-ft of torque.
Subaru Crosstrek Hybrid
Price: $36,845 MSRP
Gas Mileage: 90 MPGe & 35 mpg on gas
This is another great crossover SUV that will offer a comfortable ride.
There is modest acceleration and a smaller cargo, but this will help save a person regarding gas mileage.
The SUV is easy to handle and uses the latest technology in the information system. It may not be as powerful as other models, but it is still a nice ride.
This is a good option for people looking for a plug-in car who want to be more environmentally friendly.
The car can go up to 17 miles on battery power and is still a smooth ride. It is more fuel efficient and is still well built.
Toyota Venza
Price: $33,595 MSRP
Gas Mileage: 40 mpg City / 37 mpg Highway
This SUV has an improved interior, and it is a comfortable ride. This is good for someone that wants a hybrid SUV with good gas mileage.
This SUV is fuel efficient and can get 40 miles per gallon on the highway and 37 miles per gallon when driving in the city. It has a comfortable drive.
The interior and exterior of this SUV are stylish and sleek. There are some great safety features too. The engine can be noisy at tunes, and there is limited cargo room.
Under the hood, the Venza is equipped with a 2.5L four-cylinder engine and a pair of electric motors capable of delivering up to 219 horsepower. It is also equipped with a CVT transmission and all-wheel drive as standard.
Lexus NX Hybrid
Price: $41,995 MSRP
Gas Mileage: 84 MPGe
Lexus NX has exceptional fuel economy, and there is an upscale interior. Overall, users have said this offers a really pleasant diving experience.
The cabin is comfortable and stylish. There are some powertrain options. The information system and technology used in this SUV can be difficult for some to understand at first.
This model can come without a plug or can be a plug-in model. It offers great power and is modern and comfortable.
The NX Hybrid is a fairly powerful crossover SUV with a 2.5L liter four-cylinder engine and THREE electric motors. The Lexus NX 350h has 240 horsepower, while the 450h+ has 304 horsepower.
Besides having a powerful engine, the Lexus NX also has all-wheel drive as standard, making it a versatile vehicle.
Ford Escape Hybrid
Price: $30,185 MSRP
Gas Mileage: 44 mpg city and 37 mpg Highway
The Ford Escape can be an option for a small SUV with a zippy and fuel-efficient engine.
In addition, the Escape hybrid also offers stable handling even when driving on slightly bumpy roads.
Under the hood, a 2.5-liter four-cylinder engine and an electric motor combined to produce up to 200 horsepower channeled through a CVT automatic transmission.
The Escape comes with front-wheel drive as standard and all-wheel drive as an option.
Inside, there is ample space for adults in both the first and second rows, and user-friendly infotainment is also available. In addition, the Ford Escape Hybrid is also equipped with safety features that are quite complete for its price range.
Kia Niro Hybrid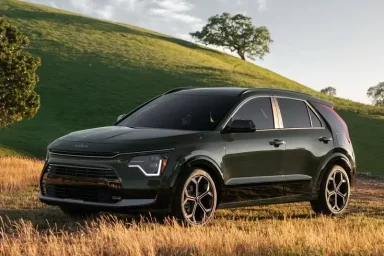 Price: $26,590 MSRP
Gas Mileage: 52 mpg combined
Some say that the car looks more like a large hatchback but has a lot of power.
While to some, it may seem small, there is still plenty of legroom and some great new features regarding technology.
The technology is easy to use. While the Kia may be smaller, it gets good gas mileage, and some power behind it.
Under the hood, a 1.6L four-cylinder engine and an electric motor work together to produce 129 horsepower. That's quite a small amount of power compared to its rivals, but the less powerful engine translates to more efficient fuel consumption. It's also one of the most affordable hybrid SUVs on the market today.
The Kia Niro is among the best in fuel consumption among other hybrid SUVs. It's rated up to 53 mpg in the city and 54 mpg on the highway, which is fantastic.
2023 Mini Cooper PHEV
Price: $41,500 MSRP
Gas Mileage: 73MPGe
While the name states mini Cooper, there is still plenty of space. The performance is solid, and so is the acceleration. The ride is comfortable and stylish.
The plug-in will allow a person to get good mileage while still giving a good ride.
The Mini Copper is also comfortable, and while it may be a little smaller, there is still plenty of legroom.
Final Words
These are some of the best SUVs that are a smaller size. They will still offer what a person loves about the ride, but they are more practical and better on gas mileage. They have some luxury features, and they still offer a fun ride. Now a person can enjoy their SUV without worrying about rising gas prices and if they can afford to drive their ride.