Maine is an incredibly beautiful state, known for its beautiful coastline, abundant seafood, Mighty Moose, and the Acadia National Park that is ready to be explored. Maine is also one of the healthiest states in the U.S, so it is a fun place to live without a doubt.
But Maine is cold, and it's undeniable that Maine has had very harsh winters. It has 157 consecutive days with one inch of snow on the ground, making it one of the third coldest states in the US after Alaska and North Dakota.
If you are looking for a car to drive in Maine, you have to look at several things, including its ability on snowy roads. Being in Maine is a loss if you don't explore the beautiful coastline or fresh pine forests, so you will need a good vehicle for light off-roading.
Here are some great cars for the Maine lifestyle.
Toyota RAV4
The Toyota RAV4 is the perfect winter companion, thanks to its superb safety features. It has limited trim levels and a torque venturing AWD system that sends sufficient torque to the rear wheels to ride over snow.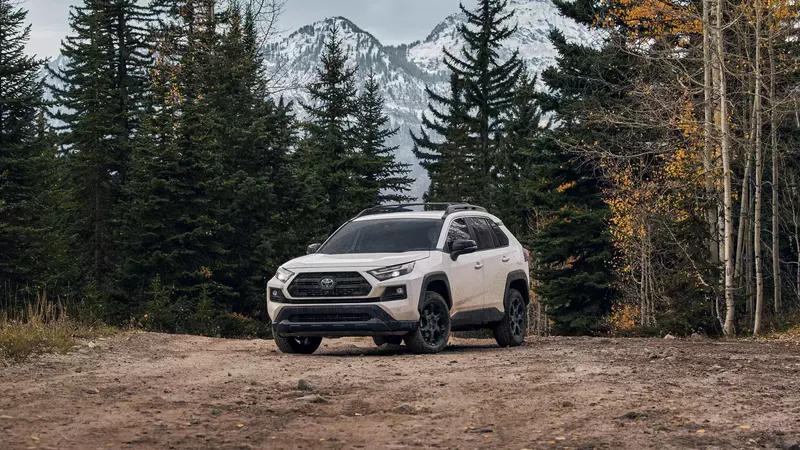 You are guaranteed a smooth, comfortable ride with the all-wheel drive system. The Toyota RAV4's great fuel economy will save on fuel.
One thing we cannot overlook is how spacious this car is. It has room for up to 5 people to fit comfortably and plenty of cargo space at 37.5 cubic feet.
The car's high ground clearance-8.4 inches makes it maneuver easily in up to 5 inches of snow without difficulties.
Also fitted is a warm and fascinating interior, traction control, a fuel-injected engine, electronic brake force distribution, an anti-lock braking system, and vehicle stability control to stabilize it in the snow.
It would be great if you get a Rav4 Hybrid; Besides being more fuel-efficient, the hybrid model also gets more power thanks to the addition of an electric motor.
Honda Passport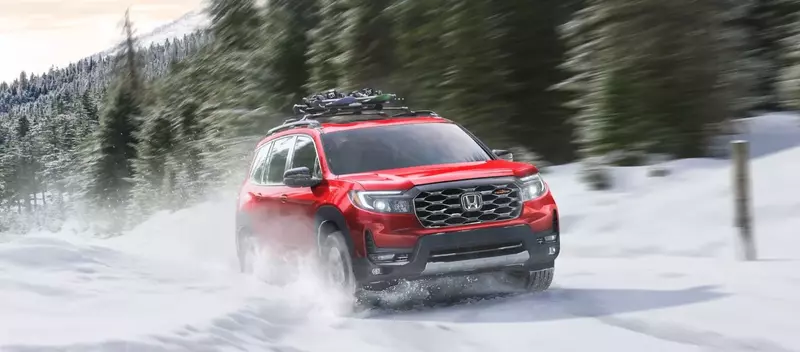 The Honda Passport is a great SUV with good fuel consumption, plenty of storage space, and a spacious cabin that can comfortably accommodate up to 5 adults and still have plenty of room for cargo at 41.2 cubic feet.
It is fitted with a 3.5-liter V6 280 Horsepower engine that helps you power through the snow easily. Its torque-vectoring AWD keeps it steady during adverse conditions.
Honda passport comes with a high ground clearance of 7.8 inches for a better off-roading experience. We cannot forget the standard features it boasts of. The vehicle visibility assist keeps it stable in unstable road conditions while the traction control inhibits the extreme wheel spins.
Also featured are adjustable heat settings, a road departure mitigation system, electronic brake distribution, and an anti-lock braking system (ABS) that prevents the locking of wheels.
Subaru Crosstrek
The Subaru Crosstrek is a compact SUV offering a symmetrical AWD system that delivers power efficiently. This guarantees you a better grip on slippery roads, whether on the highway or off-road.
The Crosstrek has an 8.7 inches ground clearance, that way taller than many SUVs. This means that it can plow through the deepest snow banks without difficulty.
This car also has some pretty impressive standard features. It has enhanced features like the eyesight driver assist technology to track what is happening around you and heated mirrors, windshield, and front seats.
What makes it stand out is the advanced X-mode snow system that utilizes 5 different controls to ensure the tires don't slip.
Honda CR-V
The Honda CR-V is one of the perennial best-seller vehicles in the United States and a great choice for Maine. It has a superb ability to weather winter roads. It has a real-time AWD system that helps reduce fuel consumption.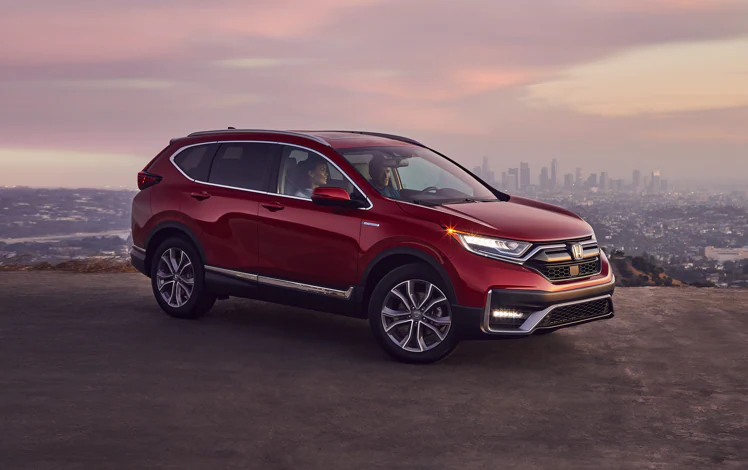 Its high ground clearance of between 7.9-8.2 inches lets you ferry your family smoothly without the white stuff stalling your wheels.
Honda CR-V has plenty of room to fit up to 5 people and 39.2 cubic feet of cargo space. You are also guaranteed a comfortable ride with heated front seats and a heated steering wheel to keep you warm. As if that was not enough, the manufacturers also equipped it with a dual-zone climate control system.
The Honda CR-V is available in several models, including a Hybrid variant. I suggest you get this version as it is much more fuel-efficient and more powerful than the regular version.
Toyota Highlander Hybrid
Do you want a great family car to beat the snowy roads? The Toyota Highlander is among the best in offering good performance in snow. It has a high ground clearance of 8.0 inches and an optional all-wheel drive that handles torque distribution on low-traction surfaces.
Its front and second-row seats, plus the steering wheel, are heated to beat the notorious Maine weather. This car gives a smooth ride and provides a good cargo space of 84.3 cubic feet.
Other features that make the Highlander great for Maine are the vehicle stability control that guarantees safe driving in the winter and traction control to help the wheels grip firmly onto the road.
Also included is an anti-lock braking system to regulate brake pressure to the wheels and a snow mode designed to prevent slippage.
Ford F-150
The Ford F-150 is a great rugged workhorse that can get you through snowy weather. It also tops as the most popular car in Maine. It has enough seating space and impressive cargo capabilities. Its payload capabilities range from 1.410 to 3.325 pounds.
This car is quite efficient and has a 10-speed automatic transmission with 5 driving modes that help you meet different performance needs. The Ford-150 has 9.3 inches of ground clearance and optional all-wheel drive that easily allows it to go over snow.
It has several powertrains options that are efficient enough to get you through the snow.
Toyota Camry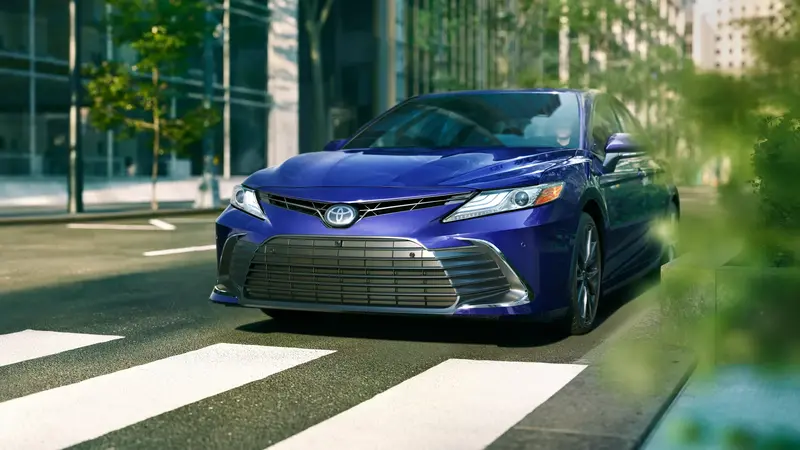 The Toyota Camry is a reliable and efficient car with emergency braking, forward collision warning, and automatic high beams, making it suitable for snowy driving.
This car has room for 5 people and has a good cargo space of 15.1 cubic feet. The Camry has a 6.1 inches ground clearance and optional all-wheel drive.
Ground clearance on the Camry is sufficient to deal with snow that covers the road, especially in the city of Portland, where the road conditions tend to be good. I also recommend the Toyota Camry for cities with other snowy weather, like Denver, Colorado.
It comes with a powerful 2.5-liter 4-cylinder engine, making it one of the best cars for driving in snow.
Final Words
These are just some of the best cars to help you enjoy all that Maine offers. There are many other great choices, but be sure to check those listed in this post.
You Might Also Like: