Transporting large items can always be tricky, especially when your vehicle's space is limited.
Among such items, large rugs pose a unique challenge. Their unusual dimensions complicate the transportation process, making it far from straightforward.
Recently, I purchased a 9'x12′ rug and successfully transported it home from the store. Miraculously, both the rug and my car emerged from the experience unscathed.
In this article, I'll share insights from this experience, helping you navigate the logistics of moving large rugs. I'll also explore scenarios involving rugs larger than 9'x12′, analyzing their compatibility with standard SUVs.
I aim to arm you with practical knowledge, allowing you to tackle this peculiar challenge head-on. This will save you both time and potential frustration.
So, buckle up as I guide you through this captivating journey into the realm of rug transportation.
In short: Will a 9'x12′ Rug Fit in an SUV?
A 9'x12′ size rug can fit in any size SUV. However, this necessitates special handling to minimize its dimensions. More than merely rolling it up and placing it in the vehicle is required. It's crucial to fold it carefully to achieve a compact size while ensuring the rug isn't damaged.
Understanding the Size Rugs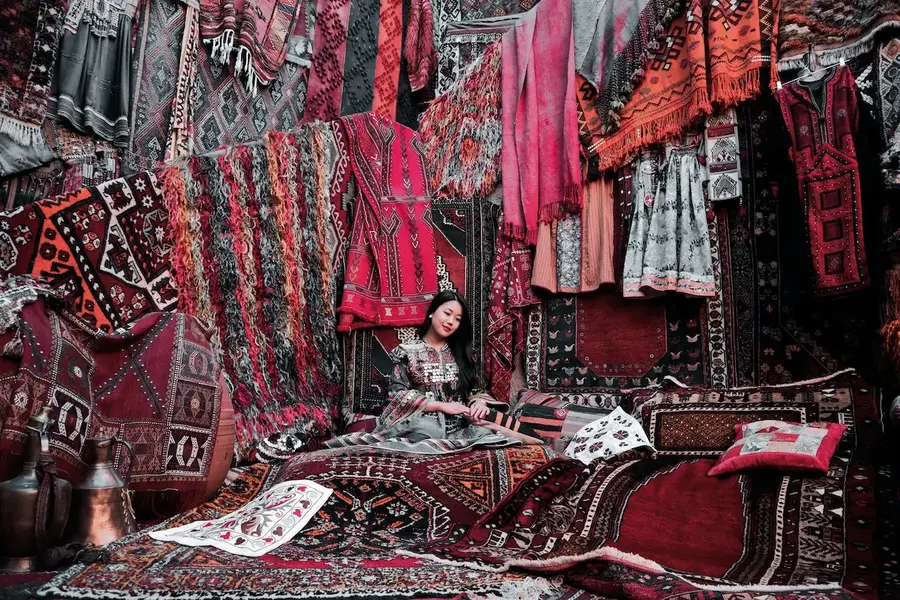 To accurately estimate whether a rug will fit in your car, it's crucial to understand the rug's dimensions.
Rugs come in various sizes, ranging from the smallest at around 2'x3′ to the largest at approximately 12'x15′.
Below, you'll find the standard dimensions of rugs that are commonly available.
| | | |
| --- | --- | --- |
| Rug Size in Feet (WxL) | Rug Sizes in Centimeter (WxL) | Rug Sizes in Inches (WxL) |
| 2'x3′ | 61×91 | 24″x36″ |
| 3'x5′ | 91×152 | 36''x60'' |
| 4'x6′ | 122×183 | 48″x72″ |
| 5'x8′ | 152×244 | 60″x96″ |
| 6'x9′ | 183×274 | 72″x108″ |
| 8'x10′ | 244×305 | 96″x120″ |
| 9'x12′ | 274×366 | 108″x144″ |
| 10'x14′ | 305×427 | 120″x168″ |
| 12'x15′ | 366×457 | 144×180″ |
Apart from the abovementioned sizes, several carpet models have somewhat unique shapes. For more detailed information, please refer to the table below.
6'x6′ Round Rug
8'x8′ Round Rug
2.6'x4′ Runner Rug
2.6×6′ Runner Rug
2.6'x8′ Runner Rug
2.6'x10′ Runner Rug
2.6'x12′ Runner Rug
General SUV Interior Dimensions
Understanding the typical interior dimensions of an SUV is integral to the puzzle of rug transportation. Not all SUVs are created equal, and their cargo spaces vary quite a bit, influenced by make, model, and year.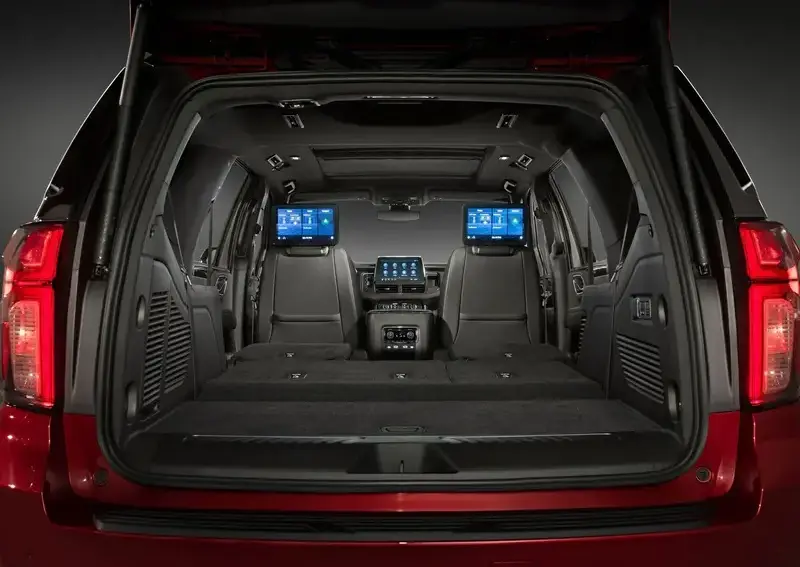 In most compact SUV models, you'll find an average cargo length of approximately 5 to 6 feet with the rear seats folded down. However, this is just a general estimate. Some models offer more room, others less.
Midsize and large SUVs, unsurprisingly, offer greater cargo length – usually ranging from 6 to 8 feet with rear seats down. These models are more likely to accommodate oversized rugs, such as the 9'x12′, but these approximate values and dimensions may vary.
Broadly speaking, all SUVs can fit even a large rug, especially SUVs with foldable rear seats, which makes it much easier to get the rug into the trunk.
How to Fold a Rug to Fit in a Car
Start by positioning the rug face up on a clean, flat surface.
Flip the rug so its pile side, or the textured side, faces downward.
Carefully fold the rug lengthwise, bringing one side over to overlap the other.
From one end, fold the rug a quarter of the way towards the center, then fold the opposite end over to align with the first fold.
Repeat the previous step. Fold one end towards the center, followed by the other end, creating an even more compact shape.
Begin rolling from one end, moving towards the other. This method of folding and rolling helps make the rug compact enough for storage or transportation.
Secure the rug by tying a piece of thread or a bungee cord around the center, ensuring it remains compact.
However, if you find your rug is too thick or rigid for rolling, you may opt to omit step 6. Simply folding the rug as per step 5 can effectively make a large rug compact enough to fit into a vehicle.
Folding the rug correctly and following the guide above can significantly minimize the risk of damage while compacting it more than simply rolling would. In this manner, transportation becomes more manageable, minimizing the risk. By employing this method, I've been able to load six 9'x12′ rugs into just a Toyota Sienna.
One crucial aspect to remember is that after reaching your home or destination, the rug should be promptly unfolded and rolled out as usual. Leaving it folded for an extended period may lead to the formation of crease lines, potentially damaging the rug.
Alternative Solutions
If you find yourself unable to fit a large rug into your SUV despite employing the methods mentioned earlier, there are still a few other options at your disposal:
Professional Movers: You might consider hiring a professional moving company. They possess the equipment and expertise necessary to transport bulky items safely and efficiently. While this comes at a cost, it might be worth it for the peace of mind of knowing your rug is in professional hands.
Pickup Trucks or Vans: These vehicles typically offer more space than an SUV if you can access a pickup truck or van. This could be a more viable option for larger rugs or multiple rugs. However, ensure to protect your rug from weather elements if it's an open truck.
Rug Delivery Service: Many retailers offer delivery services if you purchase a new rug. In some cases, this might be included in the price or available for a small additional fee.
Renting a Cargo Van or Trailer: Companies like U-Haul offer rental services for cargo vans and trailers specifically designed for transporting larger items. This could be a cost-effective solution if you only need to transport the rug once.
Ask for Help: Don't underestimate the power of community. If you know someone with a larger vehicle, you could ask for their help. Perhaps you could swap vehicles for the day, or they could assist in transporting the rug.
Remember, the key is ensuring your rug arrives at its destination undamaged. Always prioritize the safety and protection of the rug over convenience.
Conclusion
In conclusion, transporting large carpets like a 9'x12′ or bigger in an SUV is possible with thoughtful preparation and technique.
Measure your rug and vehicle, fold and secure it correctly, and load it carefully.
If this isn't feasible, consider alternatives such as professional movers, delivery services, or rental trucks. Safe travels!
You Might Like: