So you're ready to go to the home depot and buy a snowblower, but you doubt whether you can bring the machine home in your vehicle, which may be an SUV or truck. You'll agree that shoveling the snow covering the front yard is a pretty tiring activity, not as fun as it looks. Fortunately, a snowblower was found as a solution.
Will a snowblower fit in an SUV?
An SUV tends to have a roomy cargo space than a regular car. Moreover, most SUVs nowadays have rear seats that can be folded flat. That's more than enough space to put a snowblower inside without any significant issue. You will need bubble wrap or movers blankets to protect the car's interior surfaces from any damage.
How Big is a Snowblower?
Snowblowers vary in size depending on the type, but a typical snowblower ranges from 18-36″ wide with a tall handle. The width of the snowblower will not be a problem. You need to pay attention to are the height and length. The two-stage snow blower has a handle height of about 42″ and a length of up to 58″, which would be a problem for some SUVs.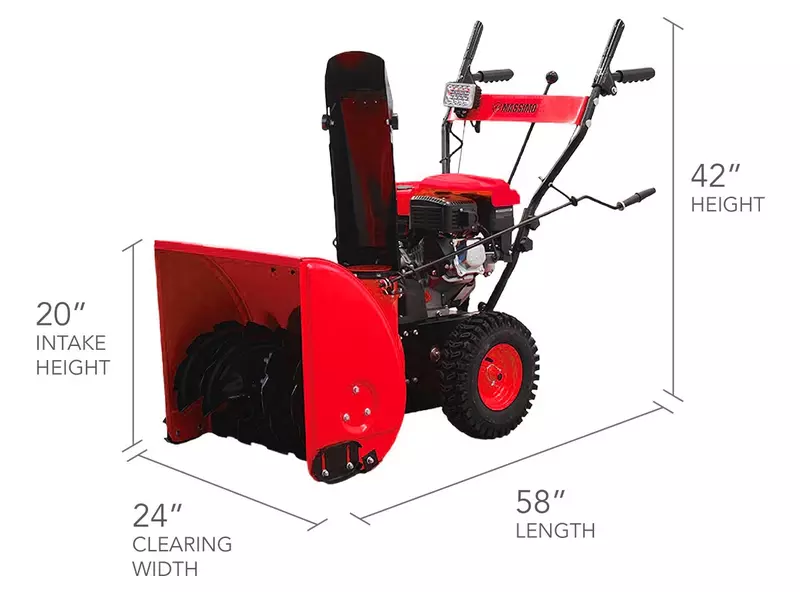 Before loading a snowblower into your vehicle, I highly recommend measuring the machine's dimensions first.
How much does a snowblower weigh?
The snowblower is heavy enough for you to lift on your own, around 80 to 100 pounds for a single-stage model and up to 300 for a bigger model such as a three-stage snowblower.
Which SUV can fit a snowblower? and which ones didn't?
Electric and single-stage snowblowers should fit in the trunk of all types of SUV. for a small or mid-size SUV with three rows of seats that tend to have a small trunk capacity, you can fold the back seat to get extra space.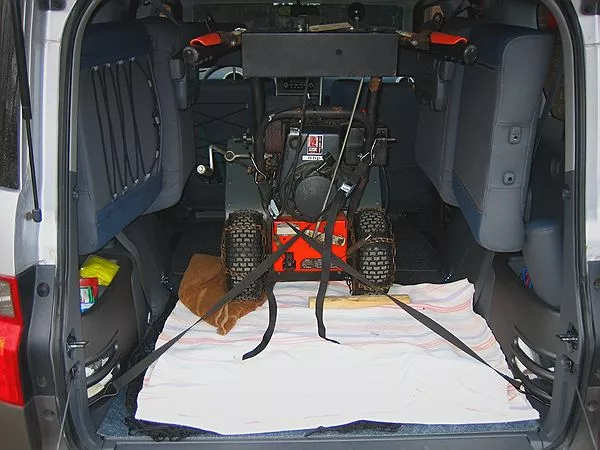 Larger snowblowers, such as two-stage and three-stage models, will be more challenging to transport in an SUV. You can transport it easily if you have a full-size SUV, such as a Chevrolet Suburban, Toyota Sequoia, Ford Expedition, or GMC Yukon. So, how about other, smaller SUVs?
Snowblowers can still fit in mid-size SUVs like the Toyota Highlander, Ford Explorer, and Honda Pilot. However, you have to fold all passenger seats, whether they're in the third or second row. That way, you'll have a safe place to transport the snowblower.
So what if your SUV doesn't have a foldable seat feature?
For a full-size and mid-size SUV, you can still fit a small snowblower in the back of the passenger seat. But for a small SUV, it doesn't seem easy to do.
As I said before, a small SUV and SUV with three rows of passenger seats can fit a snowblower only if the rear seats can be folded flat. If your SUV can't do that, you need to remove the seats, and of course, you'll need extra effort to do something like that.
How do you transport a snowblower?
You can use several ways to lift a snowblower: inside the cargo space, placing it on a hitch hauler, or pulling it with a trailer.
At this point, I'm assuming you don't have a hitch and a trailer, so the only option you have is to put the snowblower in the vehicle.
Before putting the snowblower into the vehicle, you need to cover the car's interior surface with a mover's blanket. If not, you can use bubble wrap or even cardboard. It aims to keep the car's interior surface from being damaged or scratched.
To load a snowblower into the SUV, you need a loading ramp. These attach to the back of your SUV when the tailgate is open so that you can walk the snowblower right up to it smoothly. You must know, never turn on the snowblower when inserting it into the vehicle. It will be dangerous for you, your car, and the engine itself.
What if you can't get a loading ramp?
When you can't lift the snowblower into your car by yourself, you can ask someone else to help. Besides putting your safety at risk, you can also scratch your car or damage the snowblower parts. Please don't make yourself do it.
Can you transport a snowblower on its side?
When you turn a snowblower over on its side, the gasoline and oil in the machine will leak out. I don't think it's a good idea to do that. Instead, find another way to move it or get a car to move it properly. Unless an electric motor powers your snowblower, you are free to put it in any position.
Final Words
Unlike a flexible mattress, a snowblower is a rigid object that cannot be bent. Even so, it is possible to move a snowblower with an SUV. You have to pay attention to a few things to get things done without having any trouble.
I think you should get a full-size SUV or at least a mid-size SUV. If you could get a pickup truck or cargo van, it would be even better and safer.