Nissan Kicks 2022 is one of the newest Nissan compact SUVs in 2022. It is affordable, has a cargo-friendly interior, and has helpful car features. It is one of the budget-friendly SUVs from Nissan that does its job properly; however, with some downside of poky acceleration, relatively unrefined engine sounds, and no All-wheel-drive options can be crucial.
If you plan on buying an SUV but don't have a big budget, then you are glad to know that Nissan kicks one of the affordable SUV cars that look attractive while also proving quite good as a family car.
Here, we are going to take a look at the Nissan kicks capability and performance for snow and winter driving. Even though the Nissan kicks isn't the best or the most versatile of the SUV from the Nissan lineup, how does it perform in the snow, and is it worth it to buy Nissan kicks if you are in an area that needs winter gear, or seeing a lot of snow?
Is Nissan Kicks Good In Snow?
One thing that Nissan lacks is the All-wheel-drive options, which is quite a bummer, especially for people driving in snow-heavy regions. However, if you're on a tight budget, then Nissan kicks even though, with just front-wheel drive, it actually can do a decent job in the snow.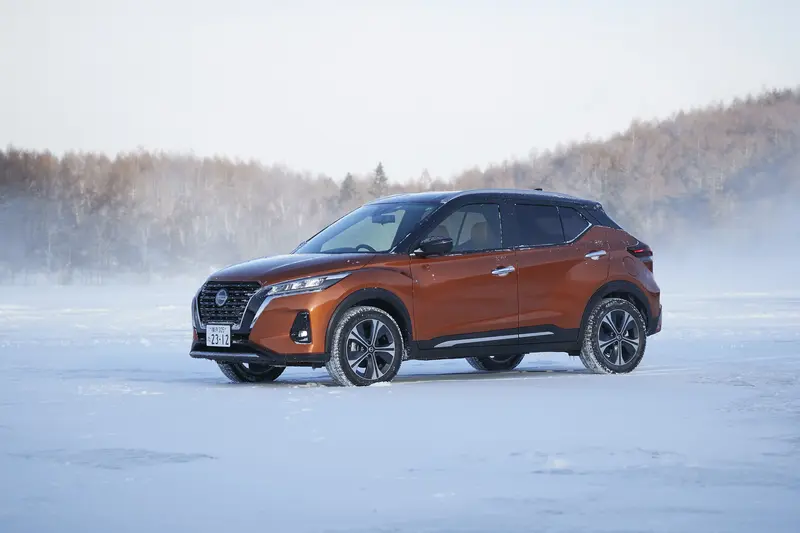 Take note that when the snow is getting heavier, thicker snow up to 6-inches, and driving uphill, you might need to add winter gear.
The FWD options for Nissan kicks can do their job for you, equipped with a short wheelbase, ground clearance of up to 178 mm, and stable regenerative braking, making this Nissan kicks one of the least expensive choices for SUV to use in snow conditions. One thing lacking from this car is its mediocre engine performance, only about 122 horsepower with four-cylinder engines. 
Few models of the Nissan kicks, however, have their braking problem, and ever since Nissan introduced the first series of model kicks, this problem persists. It is one of the most annoying problems and can be quite a critical issue for the car since it stalls its speeds. Sometimes it can be dangerous for the owner, especially when the emergency braking system is active at highway speed.
Which Nissan Kicks Features Will Improve Winter Driving?
Even though it doesn't have an all-wheel-drive, the front-wheel-drive from the Nissan is good enough and covers a range of different terrains. Some of the most useful features that could be useful for winter driving include the snow mode, remote engine start, heated outside mirrors, and heated front seats.
Snow mode – As with any other SUV that supports winter driving, Snow mode in Nissan kicks provides more control for the car on slippery roads and helps your vehicle stabilize and stay in control on the road. The snow icon represents the snow mode.
Remote engine start – Remote engine start can warm up the car even before you are out of the cabin. This is useful to heat your vehicle before driving.
Heated outside mirrors – This is essential since when you are driving in the cold, the outside mirrors will be foggy, and you won't be able to see anything without heated mirrors.
Does A Nissan Kicks Have Snow Mode?
Yes, Nissan kicks has its snow mode. Snow mode enables you to gain more traction on the tires, allowing you to gain more control and stabilize your car on the road.
The front-wheel-drive of Nissan kicks has three modes you can use, dirt, sand, and snow. Each of them is useful in different terrain, however, mostly you aren't going to use any of these if you are driving in the urban areas.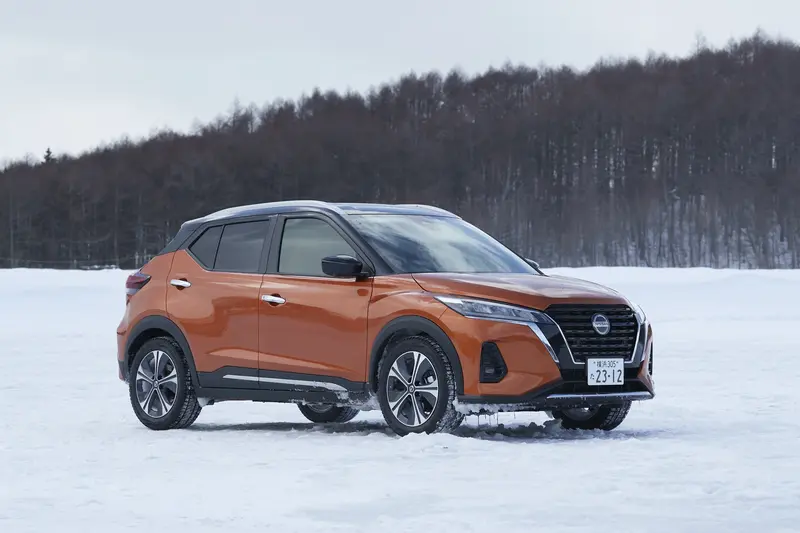 Can You Install Additional Snow Gear On Nissan Kicks?
Nissan kicks is quite an affordable, and small compact SUV that provides a lot of essential, and complete packages of SUV cars, with spacious cabins, and nice improvements of technology from the latest Nissan series. However, when we are talking about snow gear, or the capabilities to handle snow roads, Nissan SUV is far from perfect.
That's why you can install additional snow gear on the 2022 Nissan kicks, such as the winter tires, anti-freeze, heated seats, a more responsive braking system, and fog light.
How Much Snow Can A Nissan Kicks Handle?
Since the Nissan kicks is FWD (Front-wheel-drive), the weakness is that it has weaker grips on the road, lesser power, and also lesser traction controls. This is bad if you are driving on a road that has thicker snow, is slippery, and is uphill. If you are living in snow-heavy regions and seeing a lot of snow, it is recommended to just buy a 4WD car.
If you are seeing at least 5 to 15% of snow during your time using a car, and only at least handling 2 inches of snow, then the Nissan kicks is fine for handling snow and winter driving.
Do Nissan Kicks Need Snow Tires?
If you live in an area with a high frequency of snowfall, then a pair of winter tires is a worthy investment. But, if you only find a little snow in a year, all-season tires will be fine.
The Nissan Kicks is only equipped with front-wheel drive, which is enough to make it go well in light snow, but the presence of a winter tire will provide better traction, making the vehicle's handling easier and more controllable.
Final Words
Overall, the 2022 Nissan Kicks is an affordable, compact SUV that can be used in most urban areas, but actually can handle quite a snow. With some additional winter features such as heated mirrors, seats, and remote engine start along with snow mode that can help you to get through the snow.