The Mitsubishi Mirage is a subcompact car that has been manufactured since 1978. It is renowned for its low price, fuel economy, and compact size.
The Mirage has seen various design modifications and improvements throughout the years, with the most recent edition debuting in 2013.
The most recent generation of the Mirage is available as both a hatchback and a sedan, with a variety of small-displacement engines and transmissions.
Is a Mitsubishi Mirage a Good Car for Snow?
The Mitsubishi Mirage isn't built for harsh winters, so it may struggle in areas with plenty of snow and tricky driving conditions.
It's fine in a dusting or two of snow but may struggle on heavier snow or icy slopes.
Installing winter tires on a Mitsubishi Mirage is suggested for a better grip on snow and ice during winter.
Having anti-lock brakes, stability and traction control systems installed is a good idea in the winter months.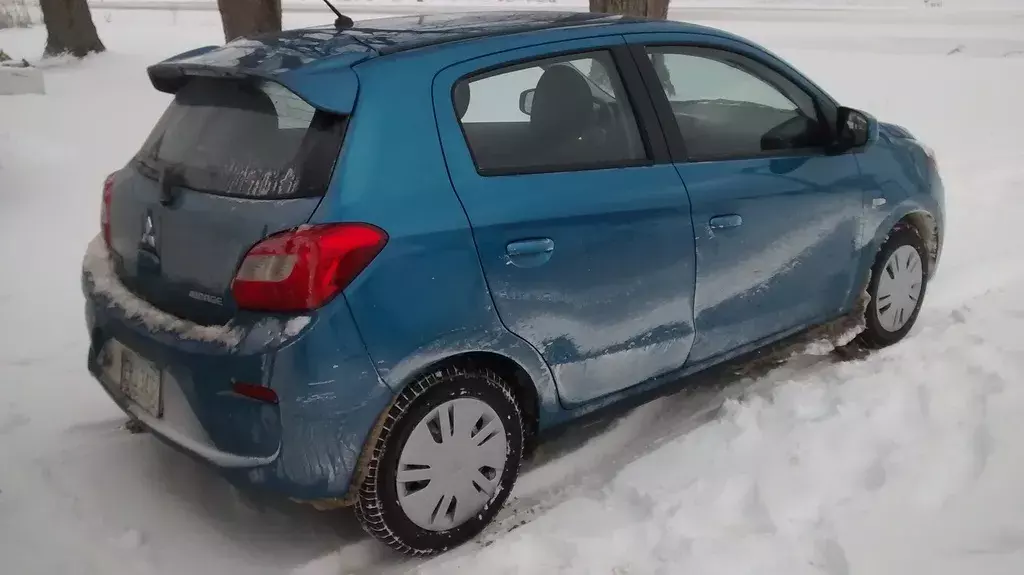 Owners Feedbacks
I have owned the 2017 Mirage for a week now. The day after we bought the car, it snowed like crazy, warmed up, re-froze, and snowed again and the temps have been in the teens last 3 days here in the snow belt in NE Ohio. We have had no issues starting the car in sub-freezing or single digit temps. This Mirage has the stock all-season tires on it and we have had no issues driving on the snow covered roads. One morning we were pushing snow with the front bumper and the car did outstanding.

Source
The Mirage is good in winter driving conditions. A combination of light weight, narrow tires, and the electronic traction control really does the trick.

Source
Which Mitsubishi Mirage Features Will Improve Winter Driving?
Front-Wheel Drive
A Mitsubishi Mirage's front-wheel drive can also be a significant winter-driving characteristic.
Because the weight of the engine and drivetrain is over the front wheels, it has greater traction and handling in snow compared to rear-wheel drive vehicles.
This is because the weight of the engine and drivetrain provides additional grip on slippery surfaces.
This can improve the vehicle's overall performance and level of safety by helping it maintain its traction and stability in wintry conditions.
Electronic Traction Control
Electronic traction control might be a crucial feature when it comes to better handling during the winter months in a Mitsubishi Mirage.
When traction control systems detect that one of the wheels is losing grip, they either apply the brakes or lower the amount of power sent to the engine to help maintain traction.
This can be especially helpful on slick roads, such as those covered in snow or ice, since it can prevent wheel spin and improve stability.
This can be extremely effective. It is essential to keep in mind that traction control, even though it can make driving in the winter more manageable, is not a replacement for driving safely and cautiously and that it is still essential to modify your speed and driving habits so that they are appropriate for the conditions of the road.
Heated Seat & Steering
A Mitsubishi Mirage with heated seats and a heated steering wheel is a welcome addition to a cold-weather car.
Having these amenities throughout the winter months can assist in keeping the driver and front seat passenger toasty and comfortable while on the road.
If snow or ice has collected on the seats or steering wheel, heating them might melt it and restore visibility.
Keeping drivers' attention on the road and away from their phones can help keep everyone on the road safer when the weather worsens.
Does Mitsubishi Mirage Have Snow Mode?
There is no "snow" setting in the Mitsubishi Mirage. There is no dedicated snow mode, however, it may feature stability control systems that help traction and handling on slick roads.
Before making a car purchase, it's crucial to think about the unique driving conditions you'll be encountering and pick a car that works well in those settings.
It's a good idea to get a car built for driving in the snow, such as one with all-wheel drive or high ground clearance, if you'll be doing so frequently.
Does Mitsubishi Mirage Winter Tires?
Yes! The Mitsubishi Mirage can be equipped with winter tires; however, they are not standard equipment.
Driving in snow and ice can be hazardous, but winter tires are purpose-built to increase traction and handling over standard tires.
But these tires aren't required in every state or climate, and you may find that all-season tires work just fine for you.
When selecting tires for your car or truck, you must consider the road conditions you'll be driving on.
How Much Snow Can a Mitsubishi Mirage Handle?
Each model year and trim level of the Mitsubishi Mirage has its own unique minimum ground clearance.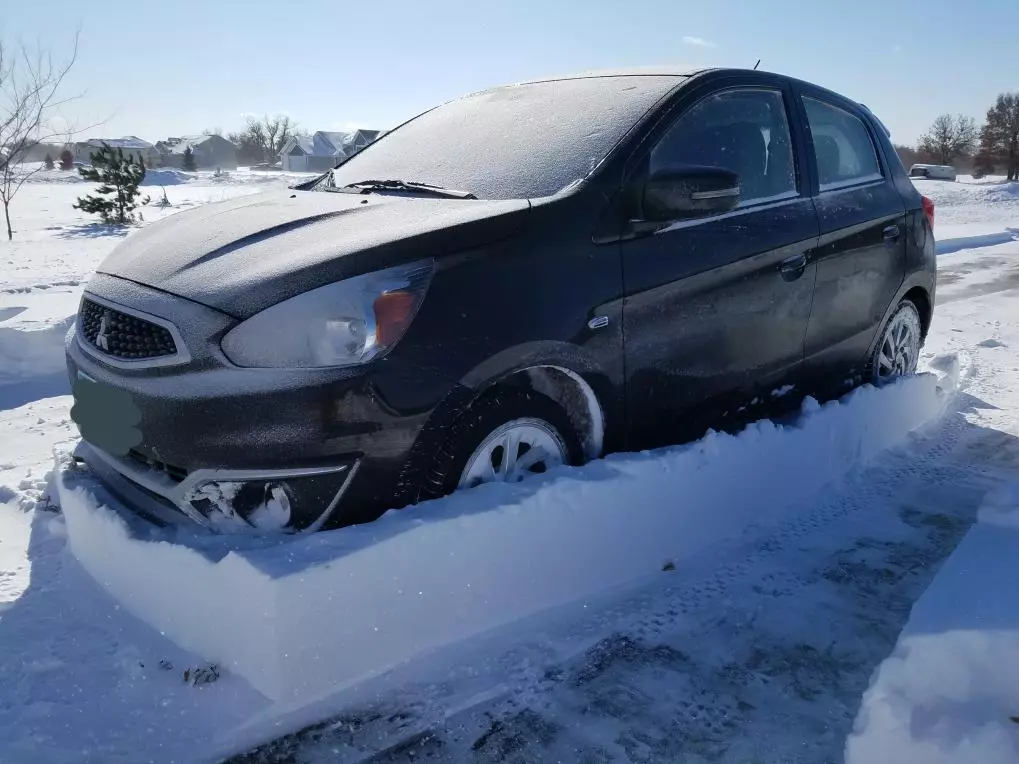 The Mitsubishi Mirage's ground clearance is about 5.5 inches off the ground (140 mm). You should be able to drive safely even in deep snow with that 5.5-inch clearance.
In addition, the road conditions, tire type, and driving experience and skill of the driver all play a role in how much snow a Mitsubishi Mirage can handle.
Get through the snow more easily by shoveling out the area behind your vehicle's tires.
You could gain an extra inch or two of snow-driving depth if the ice and snow are cleared away.
Is the Mitsubishi Mirage Reliable?
The reliability of a Mitsubishi Mirage might differ by model year, trim level, and vehicle. On the other hand, the Mitsubishi Mirage's reliability has been met with various opinions.
Some drivers have complained about their vehicles' dependability, citing faults with the electrical system, the suspension, and the engine, while others have said the opposite.
Conclusion
The Mirage has a compact, fuel-efficient engine with average acceleration and decent gas mileage.
The car's compact dimensions and lightweight suit driving in congested urban environments.
The Mitsubishi Mirage is a wonderful option for those looking for a cheap, dependable, and environmentally friendly vehicle.
You should know that the Mirage is not a high-end model; thus, it may not be as powerful or refined as more expensive cars.