When the snow starts falling and the temperatures drop, it's time to think about winter driving.
For many, that means packing up the car and hitting the highway. But for those who own a Mazda CX-5, winter driving doesn't have to be a hassle.
In fact, with a few simple precautions, your Mazda CX-5 can handle whatever Old Man Winter throws your way.
This post will answer some common questions about driving a Mazda CX-5 in the snow and winter.
Are Mazda CX-5 good in the snow?
The simple answer is yes, Mazda CX-5 is excellent for snow driving. I even put it on the top list of one of the best SUVs for snow. They're some of the best vehicles you can buy for winter driving.
All-wheel drive is standard on all Mazda CX-5 models, and it's a big reason why these SUVs are so good in the snow. With all-wheel drive, your Mazda CX-5 will send power to all four wheels, giving you better traction and more control when slippery roads.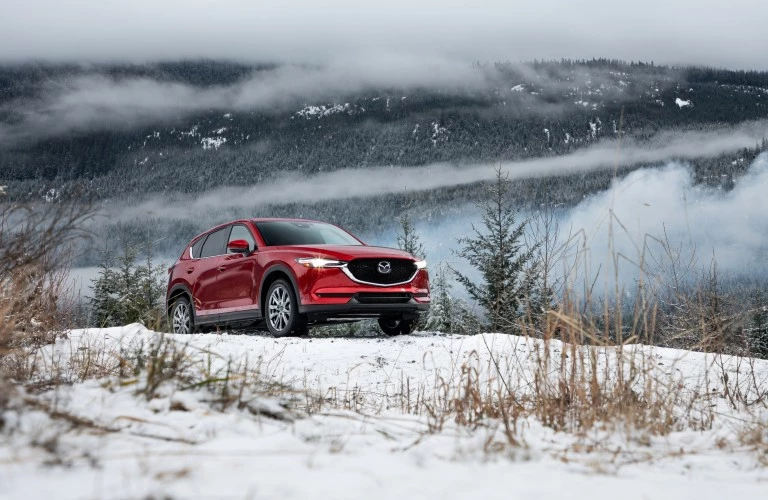 Which Mazda CX-5 Features Will Improve Winter Driving?
In addition to all-wheel drive, a few other features can help improve winter driving.
Snow mode
When activated, snow mode will change how your Mazda CX-5 behaves, making it more capable in slippery conditions.
For example, snow mode will cause your Mazda CX-5 to start in second gear rather than first, which can help prevent wheel spin.
Snow mode will also adjust your throttle input and stability control settings to give you more control on slippery roads.
Heated Seats
Nothing beats the warmth of a heated seat on a cold winter day. And Mazda CX-5 models come standard with heated front seats. So you can stay nice and cozy even on the coldest days.
Other heated parts of the Mazda CX-5 include the steering wheel and outside mirrors. The heated steering wheel is lovely because it can help you stay warm even when you're not moving.
Heated Mirrors
Heated mirrors are another excellent feature for winter driving. You won't have to worry about your mirrors fogging up or being covered in ice with heated mirrors. You can turn on the heat and enjoy clear visibility.
Another reason heated mirrors are essential is that they can help prevent ice buildup on your windows. That, in turn, can help you avoid getting frostbite.
Windshield wiper de-icer
This handy feature can help you keep your windshield clear of ice and snow. The de-icer will automatically turn on when it senses that the temperature is below freezing, and it will help prevent your wipers from freezing to your windshield.
LED Headlights
Mazda CX-5 models come standard with LED headlights, which are great for winter driving. They provide better illumination than traditional halogen headlights and don't get as hot, so they're less likely to fog up in cold weather.
Lane-keep Assist
This safety feature can help you stay in your lane on slippery roads. Using a camera, the system will detect if you're veering out of your lane and provide gentle steering input to help keep you going straight.
Owner's Experience
We bought a 2020 over the summer and I put a set of winters on it in late November. We got a huge dump right before Christmas that got quite a few of my neighbours stuck, but the CX5 had zero issues pulling out of the deep stuff. No drama, doesn't seem to get pulled around in ruts as bad as the Audi it replaced either.

Source
I live in Norway, have a 2018 CX-5 AWD. Handles snow just fine, never had any issues over the last 3 winters. Never even had to disable traction control to get out of deeper snow, default driving mode just handled everything. Admittedly last winter there was not much snow and lockdowns meant I didn't drive much, but based on xp so far, I would say you don't need to worry unless you are planning to do proper winter offroading.

Source
I have been running Toyo Celsius tires on my CX5 and I had a coworker having a really hard time getting out the parking lot with his Forester it just keep digging in instead of cutting through the snow. While my CX5 was going through it like it's was butter. Maybe I am just a better driver in the snow than him. But he really was having trouble

Source
Some feedback from CX-5 owners indicates that it is a reasonably reliable vehicle to drive in winter.
Do Mazda CX-5 Need Snow Tires?
While Mazda CX-5 is good in the snow, they're not invincible. So it's always a good idea to have a set of winter tires ready to go when the temperatures drop.
Winter tires are designed to provide better traction and grip on snow and ice, so they can help you stay safe on the roads when conditions are at their worst.
You may not always need them, but it's always good to be prepared. If you're unsure whether your Mazda CX-5 needs snow tires, the best thing to do is consult your owner's manual.
It will have specific recommendations for winter tire usage based on your model and year. In general, most Mazda CX-5s will benefit from the added traction of winter tires when the snow starts to fly.
So if you're looking to get the most out of your Mazda CX-5 in the snow, make sure you have a good set of winter tires. They could be the difference between getting around safely and being stuck at home.
How Much Snow Can A Mazda CX-5 Handle?
Mazda CX-5 is an excellent vehicle for snow and winter driving. It has various features that make it ideal for this type of driving, including snow mode, which can be activated when conditions warrant it.
The CX-5 also has all-wheel drive, which gives it added traction and stability in slippery conditions. With proper tires, the CX-5 can handle a great deal of snow. However, it is essential to note that the CX-5 is not a replacement for a snow plow or other heavy-duty equipment. It is best used in light to moderate snow conditions.
Are Mazda CX-5 reliable?
Mazda is a Japanese car manufacturer known for making reliable and affordable vehicles. The Mazda CX-5 is one of the company's most popular models, and it's often praised for its excellent performance in all types of weather conditions.
When it comes to driving in the snow, the CX-5 is a great choice thanks to its all-wheel-drive system and various other features that help it handle well in slippery conditions.
Conclusion
Mazda CX-5 is an excellent choice for snow and winter driving. It's equipped with an all-wheel drive and various other features that make it ideal for this driving. It's important to note that the CX-5 is not a replacement for a snow plow or other heavy-duty equipment. It's best used in light to moderate snow conditions. The CX-5 can handle a great deal of snow with proper tires and careful driving.