Kia Stinger is an impressive sports car with a very high 300 horsepower, excellent engine options, a mix of comfort and luxury for the small car class, and equipped with the most formidable twin-turbocharged V6 engine. It is one of the sports cars for the small car class that is quite expensive. However, it does have its cutting-edge technology, features, and style.
With the additions of the Kia Stinger, it secures its place as one of the top-ranking luxury small cars, packed with many features and pros, from the huge cargo area, cutting-edge technology, powerful engine with smooth transmission, and so on. 
Is Kia Stinger Good in Snow?
Kia Stinger is a small, sporty car that combines an elegant style, cutting-edge technology, and excellent engine performance.
The question is, how does the Kia Stinger perform in the snow, is it any good in the snow, or are there better options for snow driving?
Even though the Kia Stinger is unlike other stronger or more compact SUVs, the Kia Stinger is also packed with many amazing features that could make your winter driving more comfortable, safe, and speedy.
The Kia Stinger can handle snow very well when equipped with an all-wheel drive and winter tires. However, since its ground clearance is only about 5 inches, it won't be able to handle deep snow.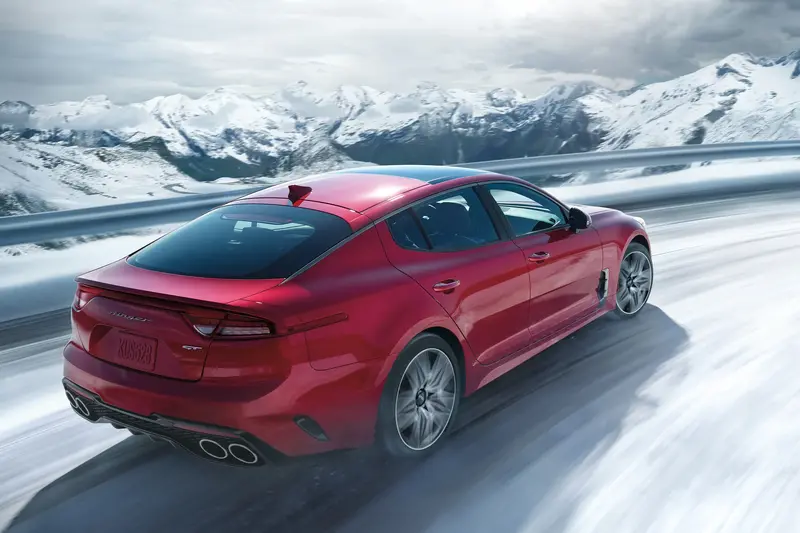 However, the Kia Stinger models don't feature AWD control, but you can choose the AWD options for an additional $2.000. The AWD will undoubtedly help with winter driving.
Owner's Feedback
Finally snowed in mass🙌, been waiting to try out the stinger in the snow. Did not disappoint. It cut the snow like nothing. The only problem I had was trying to keep my foot off the gas. 😁 other than that great handling not problem with any sliding or getting stuck.

Conditions roads not plowed (well barely) I say about a foot of snow not visible road all snow.. temp 28 and stinger in comfort mode also on all weather factory tires. If I got winter tires would be even better I would imagine.

Found an empty parking lot and yes u can have fun especially in sport mode with traction control off. Had no problems lol

Source
First snow in Jersey also…not enough to play but enough to let me know I won't have any problems this winter.

Source
Which Kia Stinger Features Will Improve Winter Driving?
The Kia Stinger, although a small sporty car, is packed with many amazing features that could be useful for rugged winter driving, including:
Adaptive Headlight – Adaptive headlight from the Kia is enough to light the way through the fog, heavy snowfall, and late-night winter driving. 
AWD System – For an additional $2.000, you can choose to have an AWD system implemented in the Kia Stinger, of course, this is optional, so you can choose whether you will need it or not, but for regular winter driving, we recommend it.
Brembo Brakes – Regenerative Brembo brakes allow the Kia stinger to have more responsive and grabby controls over the brakes. 
Automatic emergency braking and forward-collision warning – These are safety features from the Kia that allow you to prevent a collision and manage emergency braking whenever you are in danger. 
Does a Kia Stinger Have Snow Mode?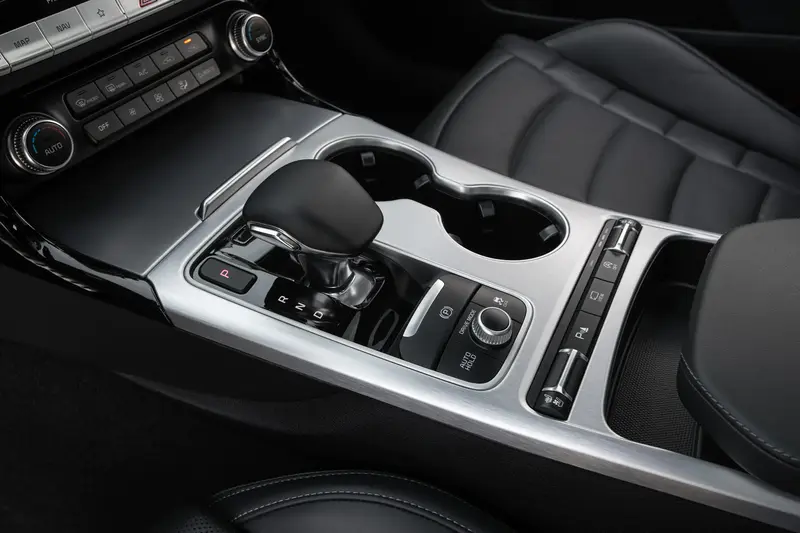 Kia Stinger has a standard drive mode for every Kia, including four different drive modes: sport mode, dirt, sand, and snow mode. This mode ensures you can drive more comfortably and safely when the tractions of the tires become less and the car starts to slip. 
The snow mode works by detecting the car's slip and slide and the vehicle's tire rotation speed. When it detects slipping, the traction control will be better suited for slippery roads and snow.
Can You Install Additional Snow Gear?
Kia Stinger is a small sporty car. However, it can give you some comfortable winter driving.
Additional snow gear can be installed for the Kia Stinger and improve your snow and winter driving, such as the snow tires, other AWD tractions system, and heated outside mirrors.
Additional snow gear such as the snow tires and snow chain is recommended if you see more than 6-inches of snow when driving. If you expect to drive more than 5 to 10% of snow during the lifetime of your car, then you need snow tires. 
How Much Snow Can A Kia Stinger Handle?
The Kia Stinger is a sporty sedan, so it doesn't come with the high ground clearance of a crossover. With a ground clearance of only about 5 inches, the Kia Stinger can only handle snowy roads less than 5 inches thick.
This indicates that relying on the Kia Stinger as a daily car is not a good idea if you live in an area with high-intensity snowstorms.
Do Kia Stinger Need Snow Tires?
You definitely need winter tires for the Kia Stinger. An all-wheel drive alone is not enough to make the Stinger capable of tackling slippery roads. An all-wheel drive will get you going, but a pair of winter tires is what stops you.
Good winter tires provide better traction when driving on slippery roads due to ice and snow. It will significantly impact the vehicle's stability and prevent the car from losing control when braking.
Final Thought
The Kia Stinger is an elegant, stylish, sporty small car that is one of the high-tier cars, and the quality itself is also competitive with a lot more popular brands of sports cars.
For winter driving, most people would choose bigger cars such as SUVs and minivans that can have more spacious features. 
However, the Kia Stinger also provides many useful features and additional upgrades that can make your snow and winter driving much more comfortable and easy. These features include heated seats, adaptive headlights, Brembo brakes, and upgrades for AWD traction control.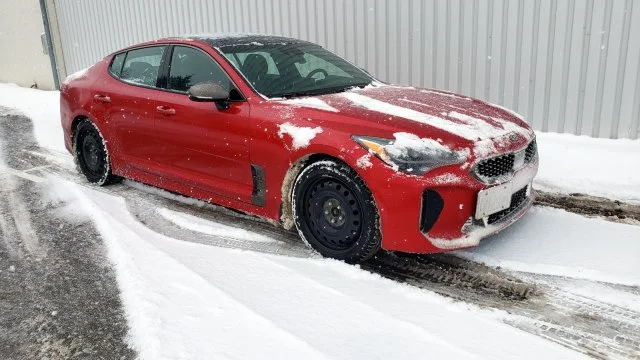 Kia Stinger Specs
| | |
| --- | --- |
| Vehicle layout | Rear or All-wheel Drive, 4-door hatchback |
| Seat Capacity | 5-Passenger |
| Engine | 2.5L 4-Cylinder Turbocharged |
| Power | 368 Horsepower, 311 lb-ft |
| Fuel Economy | 20/17/24 mpg |
| Transmissions | 8-Speed Automatic Transmission w/ Paddle Shifters |
| Ground Clearance | 5.11 inches |
| Wheelbase | 114.4 in |
| Dimensions | 190.2 in Length X 73.6 in Width X 55.1 in Height |
Safety Features:
Kia Drive Wise – Driver Assist Technology
Traction Control System (TCS)
Electronic Stability Control (ESC)
Cornering Brake Control (CBC)
Brake Fade Compensation
Anti-Lock Brake System (ABS), 4-Wheel Disc Brakes
Hill Start Assist Control (HAC)
Tire-Pressure Monitoring System (TPMS)