Kia Seltos is one of the newest additions from The Kia, one of the roomiest, complete functions, elegant new techs, great economic value, and fuel efficiency.
The Kia SUV is quite famous for its huge cabin and cargo hold, affordable prices, and a great family SUV car. The only drawback of the Kia Seltos is the meager base engine, which is less agile and more clunky than its rivals.
Kia Seltos has All-Wheel-drive traction controls that will let it has more control, grip, and power through the road, making it very useful for all-terrain, including snow.
Is Kia Seltos Good in Snow?
The Kia Seltos handles snow very well, thanks to its all-wheel drive and 7.3 inches of ground clearance. One of the most prominent features of the Kia Seltos is its newly developed Dynamax AWD system, developed by Magna.
The AWD system automatically tracks the traction control of the car, once the car slips just by a little, the system detects it and then switches the control to give it more traction, and gain more control. It is handy for winter driving and with thick snow.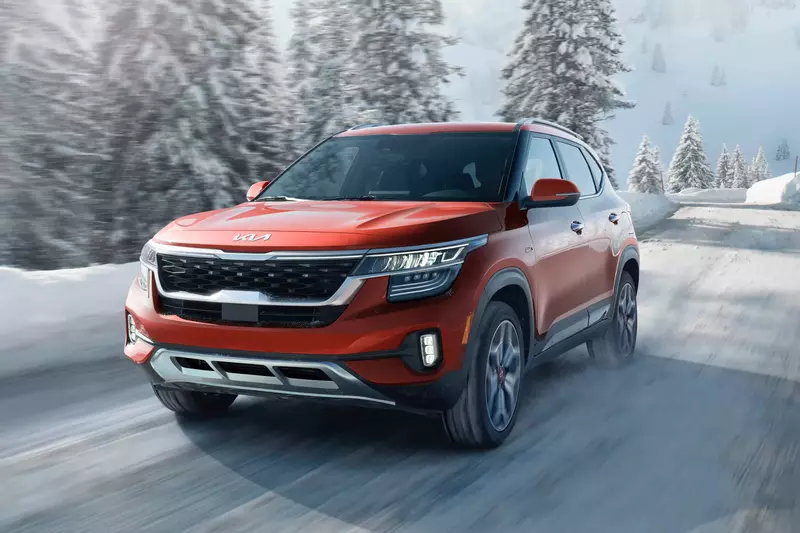 One of the good things about the Kia Seltos is that it can handle quite a lot of snow; even when it is 6 inches or more, the AWD system will still have excellent performance in traction control. You will not worry about getting a slip in the winter or getting stuck in the interjections. 
Kia Seltos is one good AWD SUV car that is comfortable for snow driving and perfect for living in snow belts, such as Canada and the northern United States. It is impressive how Kia developed such amazing features of the AWD traction system. 
Which Kia Seltos Features Will Improve Winter Driving?
Kia Seltos offers a wide array of amazing features, not just for typical city and highway driving but also for all-terrain driving, from dirt, sand, and snow. The snow mode offers a very comfortable way of driving, creating more control and stability over the slippery road, and plowing through the snow will be much easier in this SUV.
There are lots of amazing features from the Kia Seltos that will prove useful for winter driving, such as:
All-Wheel-Drive Traction Control
All-wheel-drive from the Kia Seltos is comfortable for snow driving, as it can give you the best experience when driving through the snow.
AWD traction control is an automatic system that detect the tires' slipping. Whenever the tires have faster rotation than normal, the system will detect it's, and then change the traction control.
Whenever you bring your car in winter, of course, the most important thing is the cabin and seat heater. Without a cabin heater, your car will be turned into a moving refrigerator.
The Kia Seltos offers comfortable and spacious cabins, making sure you will drive comfortably in the cold.
With a great horsepower engine, the Kia Seltos could easily plow through the snow effortlessly, be it uphill drive, thick snow driving, or long road driving, the Kia Seltos will easily drive it. 
Does A Kia Seltos Have Snow Mode?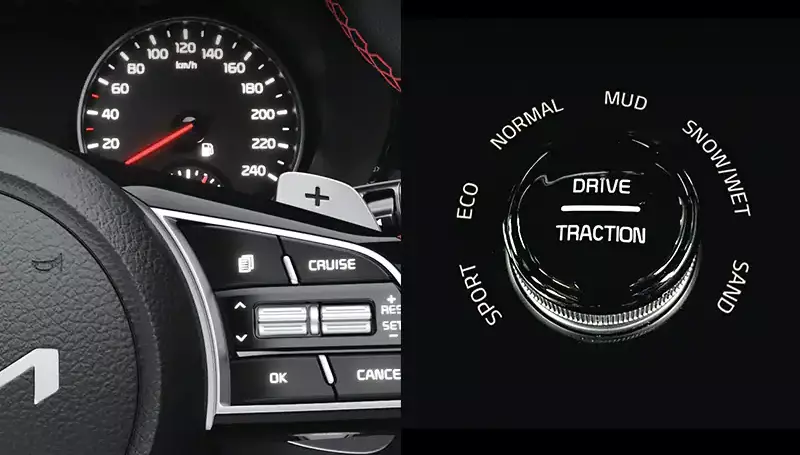 Kia Seltos has snow mode and is equipped with the AWD tractions system, it can comfortably drive through the snow. The snow mode from Kia Seltos is very amazing, as it offers very responsive control, amazing regenerative brakes, and easily prevents slipping. 
The snow mode of Kia Seltos is surprisingly amazing, as you can rely on it and the AWD traction control alone without ever needing to change into snow tires. 
Can You Install Additional Snow Gear?
You can install much additional snow gear for the Kia Seltos, from snow tires, fog lights, mirror heaters, more horsepower engines, and so on. It is recommended, however, to keep snow tires ready whenever you have thick snow, more than 6 inches of snow. 
How Much Snow Can A Kia Seltos Handle?
Surprisingly, Kia Seltos could handle a lot of snow. It can easily handle slippery roads, winter roads in a suburban city, 6 inches of snow, and it can even run on ice. This is all thanks to the newly developed dynamic AWD traction system that lets this Kia has fast, responsive traction control, enabling it to change and assert control of the tires whenever there is a slight slip in the tires. 
However, for more rough snow terrains, where you will drive for more than 6 inches of snow, you might still need to change into snow tires for Kia Seltos. 
Do Kia Seltos Need Snow Tires?
Winter tires are a must if you're in a location with a long winter. All-wheel drive and all-season tires on the Kia Seltos work well on snowy roads, but winter tires would take the Seltos to another level.
As I always say, all-wheel drive and ground clearance will get you to drive, but winter tires will help you stop.
For the city and highway roads, the standard wheel of the Kia Seltos is perfectly stable and in control, as for the snow mode, it could easily give more traction and control for the car, leaving it very recommended for the winter road. 
Final Thought
Kia Seltos is an SUV designed for all-rounded purposes, used for the family car in suburban neighborhoods, city roads, highways, and rougher roads such as sandy beaches, dirt, and snow. Surprisingly, Kia Seltos perform well in snow, with its Dynamax AWD tractions control, which helps it gain more control over the road, preventing slipping on the ice. 
Overall, the Kia Seltos is much recommended for the SUV to use on snow roads, as it gives more comfortable and safety with its stable steering and traction. It is very comfortable to drive in Kia Seltos, regardless of whether you are using snow tires or not. 
Kia Seltos Basic Specs
| | |
| --- | --- |
| Vehicle layout | Front or all-wheel drive |
| Seat Capacity | 5 Passenger |
| Engine Type | 2.0-liter four-cylinder and turbocharged 1.6-liter four-cylinder |
| Horsepower | 146 – 175 |
| Transmission | 7-speed dual-clutch automatic |
| Fuel Economy |  27/25/30 mpg |
| Wheelbase | 103.5 inches |
| Ground Clearance | 7.31 inches |
| Size | 172.5 in Length X 70.9 in Width X 64.2 in Height |