Kia Niro is a hybrid, which means it can run on electricity and fuel, having the best of both worlds. It is a crossover SUV with a sporty design, dependable performance, and a great engine. It is an innovative crossover SUV that will enhance your daily driving and drive style, great for family cars, luxurious interior and great MPG.
However, How does the Kia Niro perform in the snow, and can it be a good car in the snow even without changing into winter tires?
Is Kia Niro Good in Snow?
The Kia Niro can handle snow well thanks to its traction control feature and 6.3 inches of ground clearance. However, since the Niro is only equipped with front-wheel drive, a set of winter tires would be helpful.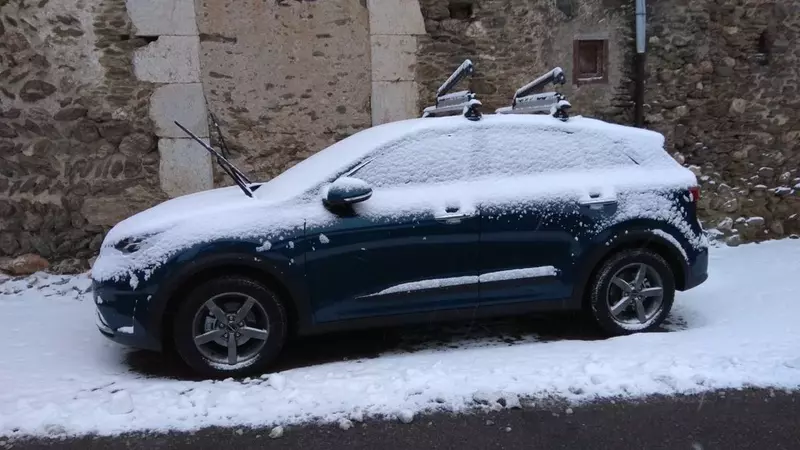 The 2022 Kia Niro is quite an affordable compact SUV that brings in the best of both electric cars and fuel cars. It is easy and fun to drive, along with spacious cabins that could give you and your family the most comfortable driving experience.
Kia claims that the newer Niro series has outstanding mileage and can comfortably be used in many terrains, dirt, sands, and snow, and they didn't lie.
Kia has successfully delivered one of the compact SUVs you can bring in for snow driving. It is pretty good on snowy roads and can handle quite deep snow. It isn't the best for snowy roads whatsoever. However, it isn't bad either. 
One thing that is quite a disadvantage for the Kia Niro is that all series of the Kia Niro only come with Front-wheel-drive and not All-wheel-drive.
AWD is very useful to have in rough terrain, and when driving in thick snow will always bring in more power and grips and provide more traction. It is offset by using snow mode from Kia Niro, which helps maintain tire control and gain more traction. 
Experience Of Niro Owners
My Niro and I make enough trips to the snow this winter, I can tell you that the car is going very well and with temperatures of -6 to -10 degrees the car does not show any problems. Driving with snow is very good, although I have put my winter wheels for safer driving.

Source
Just had a long drive on snowy roads in a Mi state park on my stock tires, 2018 touring. the traction control works great. I wont be getting any snow tires.

Source
Yea today has been the worst snow driving so far and my touring has been sliding around but compared to other front wheel drive cars I have driven, this niro is just a bit better. probably because of the traction control.

Source
With some feedback from Kia Niro owners who have experienced driving on snowy roads, we can conclude that the Niro has good capabilities for Winter driving. If possible, a pair of winter tires will make the Niro perform even better.
Which Kia Niro Features Will Improve Winter Driving?
To improve its winter driving, the Kia Niro offers many helpful features, such as the 201 horsepower engine, regenerative braking system, snow mode, cabin heaters, etc.
Here are a few features from the Kia Niro that help you drive in the snow more comfortably.
Regenerative braking system
An adjustable regenerative braking system allows you to have better control, responsive steering, and brake and prevents slips and sliding of the car.
Snow mode will detect if the tires will turn a lot faster than they should, meaning that it starts to slip, and then automatically change their traction system to gain more control over the road.
Of course, it is mandatory to have cabin and seating heaters. Otherwise, your car will be a walking refrigerator in the middle of the intersection. 
Does a Kia Niro Have Snow Mode?
Yes, it has, along with an automatic traction control system and remote engine start, that would be helpful in the snow and winter driving. 
Can You Install Additional Snow Gear?
Yes, you can. Kia Niro is very open to any additional snow gear, making it an excellent car for improvements, upgrades, etc.
You can install many snow gears from snow tires, more improved fog light, and a better engine for more power, seats, and mirror heaters.
This way, you will easily customize your car with more comfortable gear and be better equipped to handle snow or even icy hail.
Luckily, Kia got you covered. You can easily purchase any additional gear for the Kia Niro in your local car accessories shop and upgrade it to suit your needs. Not just upgrading it with style, but also for more comfort, speed, and safety. 
How Much Snow Can A Kia Niro Handle?
Kia Niro is a hybrid crossover with quite surprising performances for cold roads. However, it still has problems that persist as an electric car because the battery of an electric vehicle will drain very quickly if used in a full-performance of winter mode.
This is due to the winter mode that will turn on many features that drain the car battery pretty fast, such as the cabin heater, air conditioner, seat heater, AWD traction control, etc.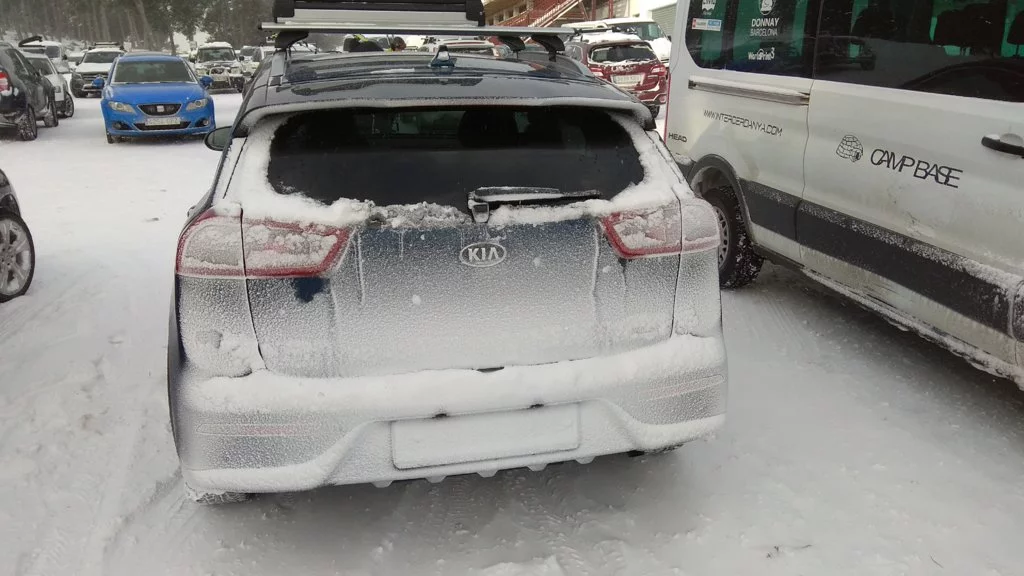 So, how much snow can a Kia Niro handle?
Well, it's pretty good. The Kia Niro can handle quite snow, and it will run on snowy urban roads in stable, is perfectly able to drive on icy rain, and can handle deep snow for around 2-6 inches, thanks to its 6.3 inches ground clearance.
However, if you are driving in deep snow or on ice, you will need to change your tires into snow tires to prevent slipping and gain more control over the cars. 
Do Kia Niro Need Snow Tires?
Kia Niro drive models are very useful to get more control over rough terrain. However, for more traction and control over the thicker snow, you need snow tires.
Since Kia Niro isn't an AWD traction control, if you drive your car for more than 5 – 10% during your lifetime, you might need to change into snow tires.
The Kia Niro could handle slippery rainy roads, and it could even handle icy rain on the road. Its traction controls would easily bring in more controls and stability.
It is also pretty good handling in deep snow. Hence it is very useful for deep snow traveling.
However, if you are driving uphill on a snowy road and getting more than 6-inches of snow, you will need to prepare snow tires. 
Kia Niro Specs
| | |
| --- | --- |
| Layout | Front-Wheel Drive |
| Seat capacity | 5-Passengers |
| Engine | 1.6-liter four-cylinder |
| Horsepower | 139 Horsepower |
| Transmission | 6-speed dual-clutch automatic |
| Fuel Economy | 49/51/46 mpg |
| Wheelbase | 106.3 inches |
| Size | 171.5 in Length X 71.1 in Width X 60.8 in Height |
| Ground Clearance | 6.31 Inches |
| MSRP | $24,690 |
Safety Features:
4-Wheel Disc Brakes w/ Anti-lock Brake System (ABS)
Vehicle Stability Management (VSM)
Electronic Stability Control (ESC)
Electronic Brake-Force Distribution (EBD)
Brake Force Assist System (BAS)
Hill Start Assist Control (HAC)
High Line Tire-Pressure Monitoring System (TPMS)
Dual Front Advanced Airbags
Dual Front Seat-Mounted Side Airbags
Full-Length Side Curtain Airbags
Driver's Side Knee Airbag
Image Source: kianiroforum.com/dakotabcn.4898