Disclaimer: This article contains affiliate links
When it comes to the SUV tent, there is a lot you need to know, and in this article, I will cover all the essential details that will help you get a clear picture of whether or not an SUV tent is suitable for your camping needs.
So, Is an SUV tent worth it?
The SUV tent can make outdoor activities more comfortable at a relatively affordable cost. SUV tent has many advantages over standalone and rooftop tents, and having them in your trunk is nice.
I will also go over some pros and cons so you can make sure you buy one that fits what you want out of your next adventure!
What is an SUV Tent?
SUV Tent is an Automotive tent that attaches to the rear of a car, SUV, or truck, usually with a strap system.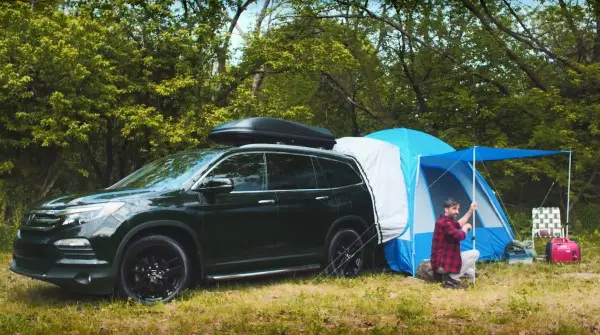 You can use the tent for camping, tailgating, picnics, etc. It has been designed as a portable shelter that allows you to enjoy outdoor activities in any weather condition.
They serve as an extension to your vehicle's trunk space. They have become prevalent among campers who want more room than their vehicles provide.
SUV Tent Pros & Cons:
SUV tents are great when you want something with lots of space and comfort while still taking advantage of the outdoors. However, like most things in life, there are always tradeoffs. Here are some of the main pros and cons of SUV tents.
Pros of SUV tent
Simple
SUV tents are easy to set up and use. All you need is a few tools and maybe a screwdriver. If you've ever tried setting up a regular tent, you'll see how much easier it is than trying to figure out how to put together a traditional tent.
Their simplicity allows anyone to enjoy their trip even if they aren't very experienced at camping. For instance, if you were planning on taking a road trip across the country and wanted to stop along the way to camp, you could easily just rent an SUV tent instead of spending hours figuring out how to pack everything correctly.
Saving Money
This may seem obvious since you wouldn't pay anything extra for an SUV tent, but many people overlook that renting an SUV tent saves you money overall. Instead of paying hundreds of dollars for a hotel room every night, you would only need to shell out a couple hundred bucks weekly.
That's a huge saving, especially if you're travelling during peak season. Having a comfortable place to sleep each night is priceless.
Extra Protection
If you're worried about getting robbed or attacked while sleeping outside, an SUV tent protects against these types of dangers. Since you're staying inside the tent, thieves cannot steal your belongings.
Also, if someone does try to break-in, you'd likely wake up before they got too far. In addition, if you're concerned about wild animals coming near your campsite, you can close off the entrance and keep them away.
Flexibility
Since SUV tents are so versatile, you can customize them however you wish. Some models allow you to add shelves, cabinets, beds, etc., making them perfect for families.
Others offer storage compartments, allowing you to store clothes, shoes, books, etc. There are plenty of options available to suit everyone's needs.
For example, if you're looking for a simple model, you can choose a basic tent that includes no extras.
On the other hand, if you prefer something more luxurious, you can go ahead and purchase a fully equipped version. Either way, you should find precisely what you're looking for!
Extra Room
One thing that sets SUV tents apart from other camping equipment is that they provide ample space.
Many models feature large windows that let light flood through the interior. These windows also help create a feeling of openness within the tent. As long as you don't mind sharing your space with others, you shouldn't have any problems finding enough room.
Weather Proof
Another great benefit of using an SUV tent is its ability to withstand inclement weather conditions.
Unlike most conventional tents, which require some cover, SUV tents come with rain flys that protect the entire structure from heavy rains. This means that no matter where you decide to pitch your tent, there will be nothing standing between you and nature.
You won't have to worry about being soaked by sudden downpours either because all of the water drains into the ground below. For example, if it starts raining heavily, you can open one side of the tent and let the excess moisture drain out.
Cons of SUV Tent
The only downside of the SUV-attached tent is the "attached" itself. With the condition of the tent that is attached to our vehicle, it will be difficult for you when you are in a hurry to go somewhere in your car. The standalone tent will make you Easier to drive off if you need to make a food/beer run.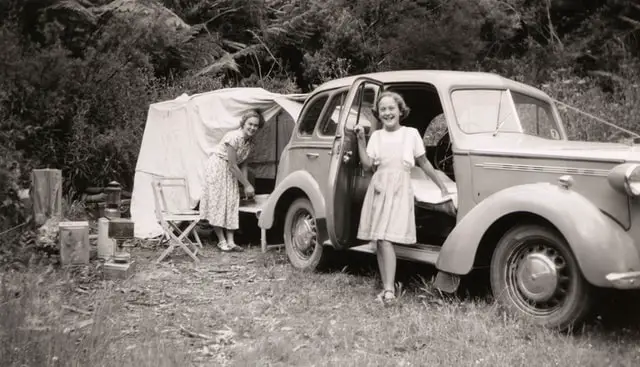 SUV-attached tent vs. standalone tent?
Below is a simple comparison between an SUV-attached tent vs. a standalone tent The choice of the tent will depend on your taste and preference
Standalone tent
A standalone tent is usually made of lightweight materials and folds easily. Therefore, it takes less time to set up and pack. Moreover, since it comes without accessories, you don't need to spend extra money buying other stuff. But, it lacks versatility.
Many standalone tents only accommodate two or three persons. Thus, if you want to bring along friends or family members, you may end up having to share the same space.
SUV-attached tent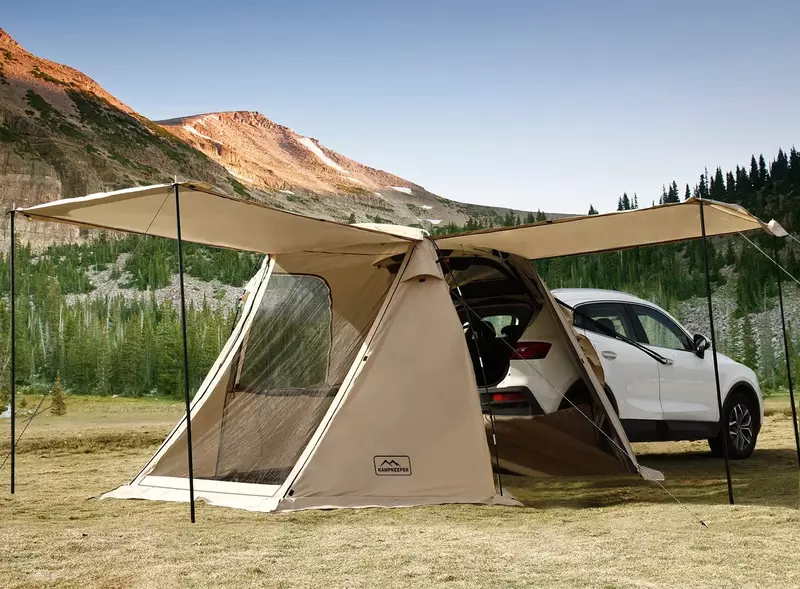 An SUV tent offers greater flexibility in terms of size and shape. Since it attaches directly to the vehicle, it provides better protection against wind and rain. Also, it allows you to carry larger loads inside.
Furthermore, it features a spacious interior that makes it easier to move around. Although it costs more than a standalone tent, it remains affordable.
How much do car tents cost?
A car-attached tent is not as expensive as a camper and no more expensive than a rooftop tent. The cost of an SUV tent ranges from $200 to $300, depending on the brand and size. Sometimes a brand launches a car tent officially as Honda did with its Honda Piot Car tent.
Bottom line
Are SUV tents worth it? Yes! An SUV tent has so many benefits over traditional tents. Not only are they easy to use, but they're also very versatile.
With their unique designs, these tents offer plenty of storage options for both gear and people. Plus, they allow you to enjoy the outdoors even during rainy days. All in all, if you're looking for something durable yet comfortable, then look no further than an SUV tent.