Honda CR-V is an SUV that many people are considering for their next purchase. However, some prospective buyers wonder if this car can handle the rigors of driving on snow and ice.
To better inform those seeking more knowledge before making their next purchase, I have compiled a short, facts-only article on the Honda CR-V's ability to drive through snow.
How good is the Honda CR-V in the snow?
Honda CR-V has been ranked one of the best vehicles regarding road and snow conditions. With these facts in mind, it is safe to assume that the Honda CR-V will provide comfort, durability, and reliability each time you get behind the wheel, regardless of the weather outside.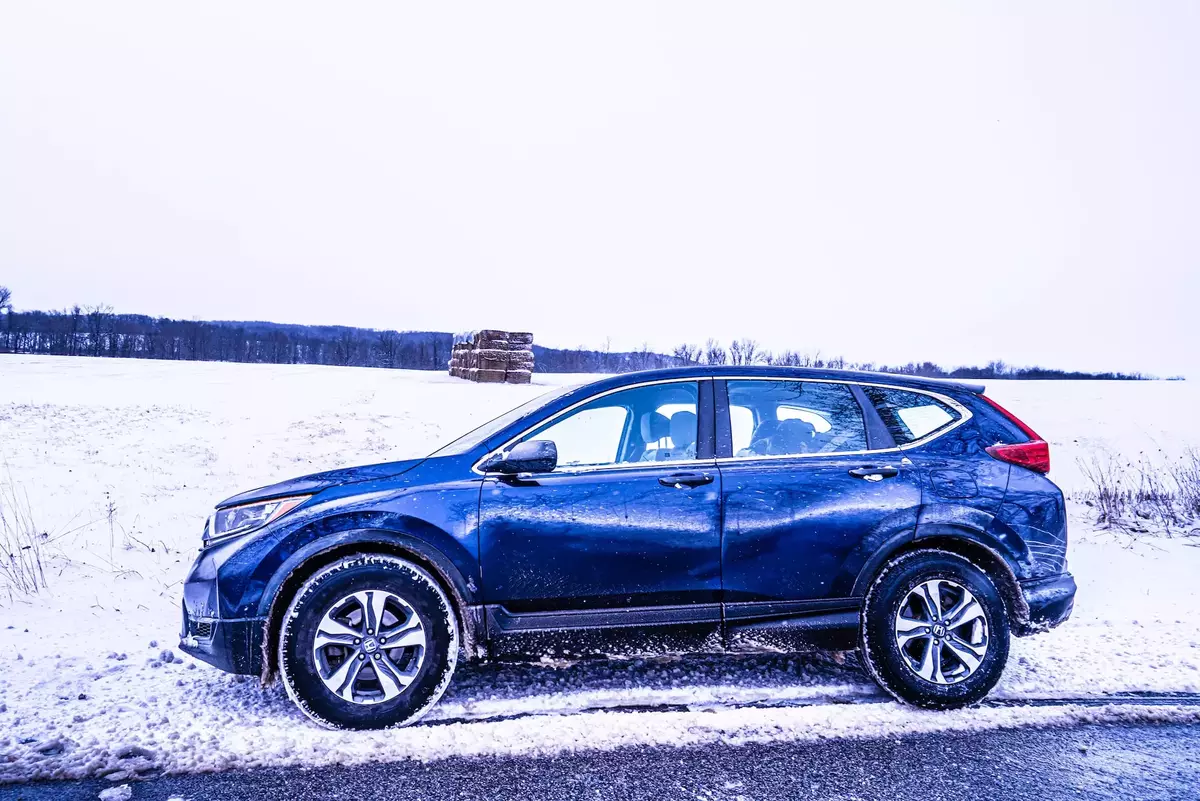 Which Honda CR-V Features Will Improve Winter Driving
The Honda CR-V has several features to improve winter driving. Some improve safety, traction, and control on slippery winter roads. These features include:
Real-Time All-Wheel Drive
The Real-Time AWD system on the Honda CR-V provides several benefits to the driver and other road users. According to Honda: The Real-Time AWD system helps the CR-V to deliver excellent traction on snow or slippery roads. When slipping occurs, AWD automatically applies a drive to the wheels with the best traction – no matter which wheel is spinning.
Vehicle Stability Assist 
This feature keeps the Honda CR-V stable while cornering on wet roads. It prevents the Honda CR-V from sliding in tight corners or accelerating at high speeds. This feature is activated in response to the vehicle's engine speed and steering angle.
Traction Control
The Honda CR-V has a Traction Control system that monitors wheel spin. When wheel spin is detected, the sensors activate to send more power to the wheels with more traction. Traction control is ideal in winter weather when the roads are slippery.
Antilock Braking System
Antilock Braking System (ABS) on the Honda CR-V is designed to make braking smoother and more efficient. When braking, the ABS will automatically pump the brakes to help maintain a steady rate of braking and prevent skidding.
Comfort-Enhancing Features
Some CR-V models come with comfort-enhancing features. These include heated front seats, a dual-zone climate control system, and heated steering wheels. The heated steering wheel and heated front seats keep you warm during winter. You can also turn on the dual-zone climate control to keep everyone in the vehicle warm.
Brake Assist
Braking during winter is challenging, and Brake Assist helps to keep the CR-V under control during emergency braking. This feature can detect when drivers try to make an emergency stop. Brake Assist is especially useful in poor visibility conditions or when the road is slippery.
Electronic Brake Force Distribution
Electronic Brake Force Distribution (EBD) helps to distribute braking force to all four wheels equally. In braking situations, EBD will hold each wheel firmly without sliding or breaking traction on the road.
Does Honda CR-V Have Snow Mode?
From 2023, Honda CR-Vs will have snow mode. However, the current models don't have this feature.
Instead, the Honda CR-Vs rely on other features to help them handle the weather. These include Vehicle Stability Assist, Traction Control, and Real-Time AWD system.
How Much Snow Can a Honda CR-V Handle?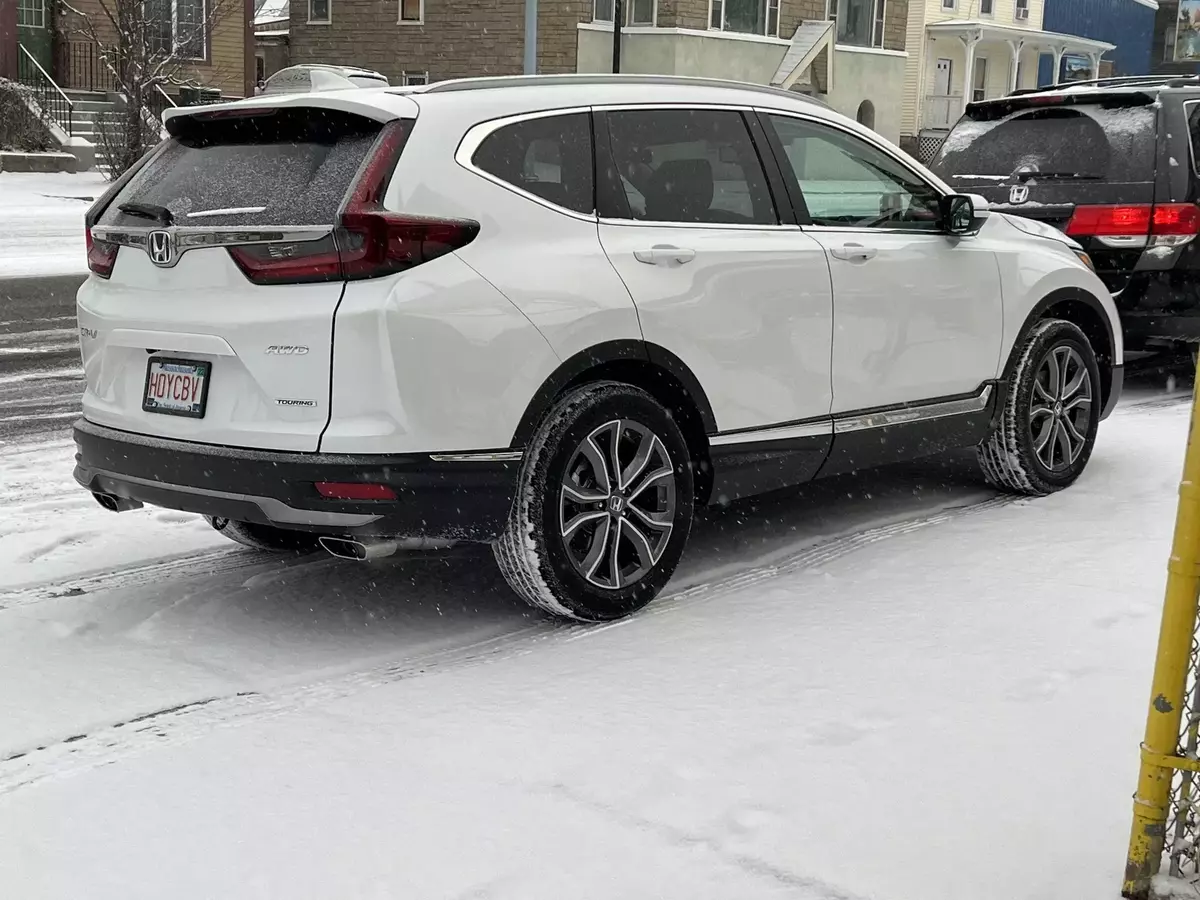 Depending on your Model, a CR-V has 7.9 to 8.2 inches of ground clearance. With this clearance, it is safe to assume that a Honda CR-V can handle as much as seven inches of snow.
However, Honda CR-V drivers should avoid driving in snow above seven inches. A CR-V also has a real-time AWD system that improves handling on thick snow.
Does Honda CR-V Need winter tires?
Like any other compact SUV, the Honda CR-V needs winter tires to perform well in the snow. While the stock all-season tires perform well in wet conditions, they are not suited for very snowy conditions.
Winter tires provide maximum traction and grip on ice and snow. When you combine these with a light, balanced, responsive steering and braking system, you get a vehicle that will make your winter driving experience much more comfortable.
Is Honda CR-V All-Wheel Drive?
Yes. The Honda CR-V has a sophisticated all-wheel drive system that works together with the engine and transmission to provide the optimum level of traction for any driving situation.
While front-wheel drive is standard for the Honda CR-V, you can add an advanced AWD option to any model. However, this advanced AWD system works differently compared to the traditional AWD system.
Is Honda CR-V Reliable?
Honda CR-Vs are known for their reliability, and this is the main reason why many people like to depend on them year after year.
The Honda CR-V received a "Great" rating from J.D Power, which is excellent. It also received a reliability rating of 4.5 out of 5.0 or excellent from RepairPal.
Is CR-V Safe?
This car is one of the safest cars on the road and has received numerous awards for its safety features since it was first introduced 25 years ago. Several CR-V models have also received the Top Safety Pick award from the Insurance Institute for Highway Safety.
This award is given to cars with top ratings in many crash tests, including tests for frontal, side, and rear impact collisions.
Even with this in mind, as with any other car, there are some issues. The most common problems with the Honda CR-V include excessive oil usage and leaks, noisy brakes, and faulty power steering hoses.
Conclusion
Honda CR-V is easy to drive on snow because it features an all-wheel-drive system and a good ground clearance. Its 4-wheel anti-lock braking system also helps prevent stalling.
Unfortunately, it does not have a snow mode, but you can order it with winter tires for even better results. Overall, Honda CR-V is reliable and durable and should not be ignored as an option to get around when there is snow or ice.