It can be challenging to locate your car keys late at night, especially if your phone is dead. It's a great idea to install an ambient lighting system in your automobile to see better when you're inside the vehicle at night.
However, some vehicles come standard with factory ambient lighting, some of which have even more features than aftermarket lighting. I have reviewed some cars with interior ambient lighting with the brightest and most pleasant illumination available.
Kia EV6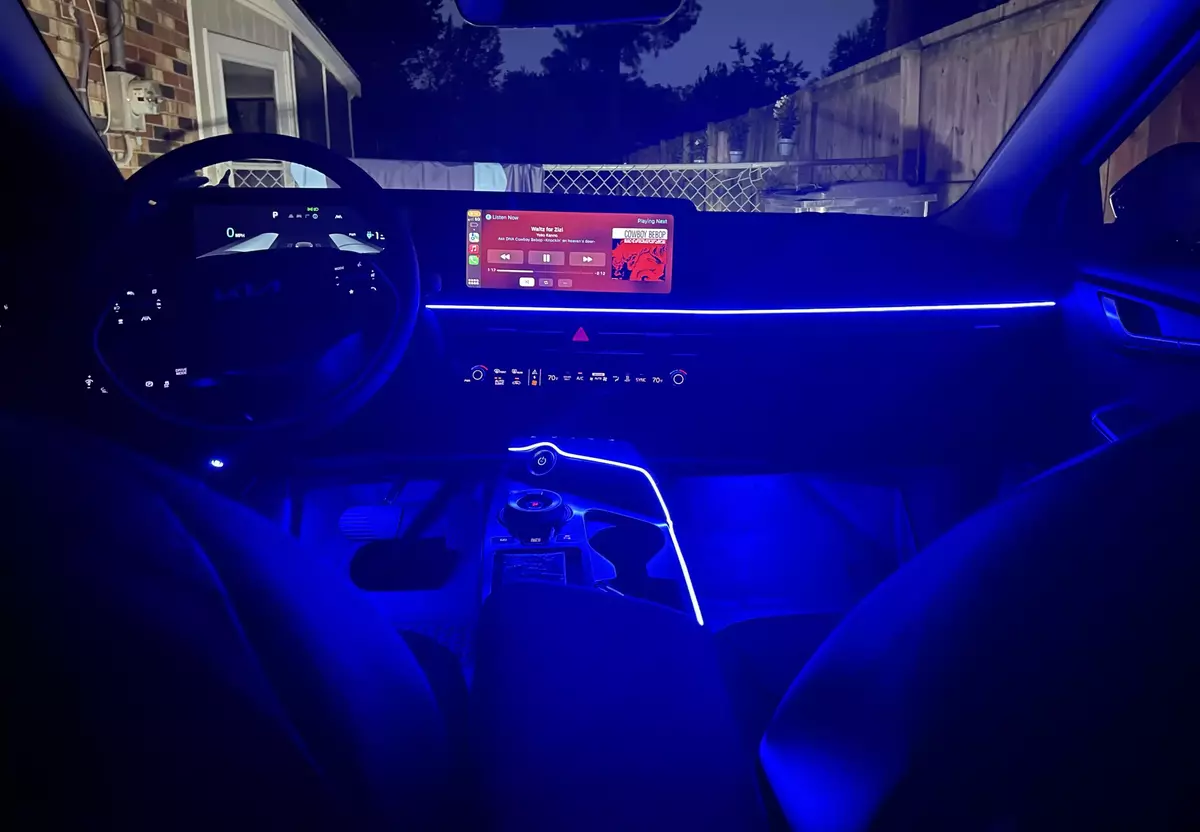 While the Kia EV6 shares a lighting design and setup similar to the Kia Soul, it is considered basic equipment.
The Kia EV6's vibrant hues are a design highlight. The ambient lighting in the Kia EV6 is gentler than many other options on the market since it is inspired by natural colors and the specific moods and times they convey. A higher standard of elegance and fewer science fiction references.
They're still stunning, and the Kia EV6 comes in various hues, so you won't feel confined in your color selection.
Acura TLX

Newer Acura TLX includes an ambient lighting system that improves the ride's luxury and refinement.
The A-Spec and Technology Package both come standard with Acura's Iconic Drive Ambient Cabin Lighting, which features a touchpad with 24 options based on performance driving hotspots and racetracks like the Pacific Coast and the Suzuka circuit in Japan.
Hyundai Palisade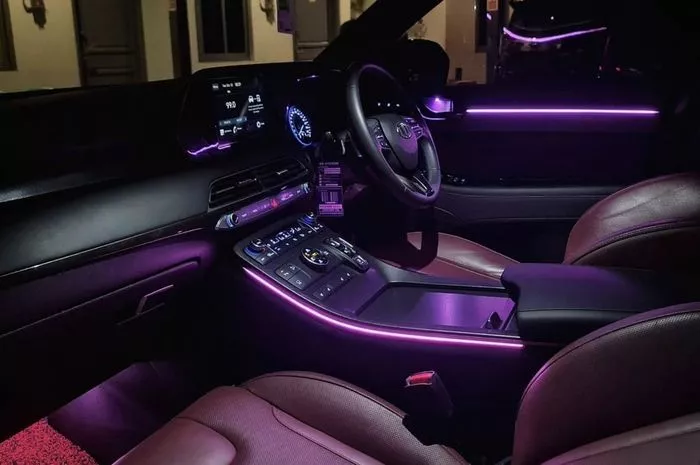 The latest model of the Hyundai Tucson includes an ambient lighting system that can be set to any of six different colors, from icy blue to vibrant green to comforting orange. It also has a brightness knob.
At night, Tucson's interior creates an atmosphere of dramatic understatement thanks to the pool lighting effects created in the center console tray and door bins.
Non-Luxury Cars with Best Interior Ambient Lighting
The digital driver display, which is used in place of the traditional speedometer and rev counter, turns its dials red when you switch to Sport mode, creating a more dramatic and exciting atmosphere.
Kia Soul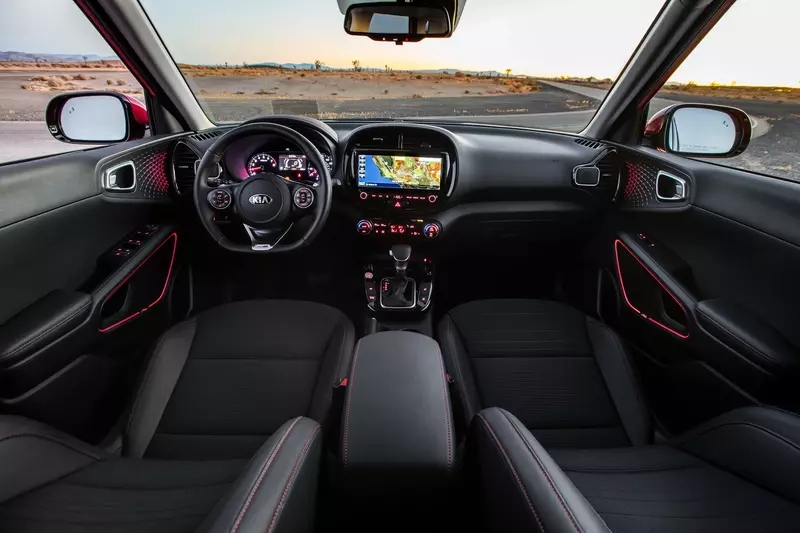 The mood lighting system is music-responsive so that you can set it to pulse along with your favorite tunes.
The area around the front cup holders and speakers will pulse and change colors with the music.
Invigorate your senses with a thrilling visual and auditory experience courtesy of the Mood Lighting System. The effect is similar to having a disco ball installed in your cabin.
The Kia Soul places a premium on individuality, and its Mood Lighting System lets you choose between various settings depending on how you feel at any given moment.
The Soul may provide either rapid-fire color changes or soothing ambient illumination. To clarify, only the top-tier GT-Turbo versions feature the Mood Lighting System.
Mercedes CLA Coupe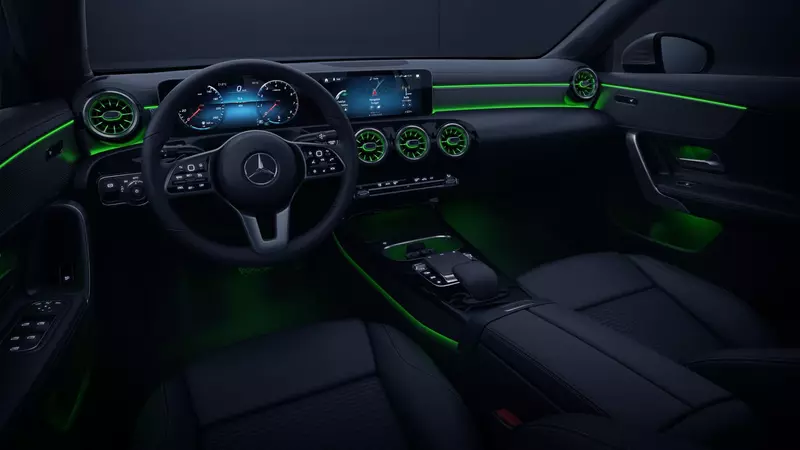 The Mercedes-Benz CLA's revised dashboard has a new widescreen display and touchscreen.
LED lights and air vents styled like turbines add a touch of class to the contemporary cabin.
The CLA's interior features a cutting-edge dashboard layout with a wing shape that flows uninterrupted from one side to the other.
A separate touchscreen media display suggests the prominence of technology in this car.
Ford Mustang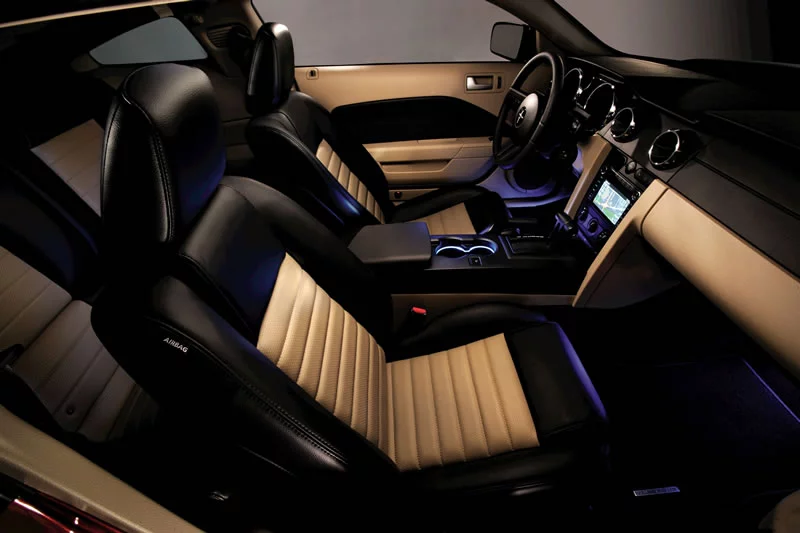 The Ford Mustang has an amazing interior lighting setup and fantastic exterior design.
Ford MyColor, a technology that lets drivers select from a palette of 125 colors for the Mustang's interior illumination, debuted in 2005.
Most Mustangs came included with the Interior Upgrade Package, which included MyColor.
Ford later equipped the Mustang with an ambient lighting package with seven color options for illuminating the footwells and cup holders.
The available colors for motorists are red, blue, orange, indigo, green, violet, and yellow.
The MyColor system allows you to coordinate your home's lighting by choosing from various colors, all of which are included in the ambient lighting package. This will soften the cabin's feel and make long journeys more bearable.
Hyundai Sonata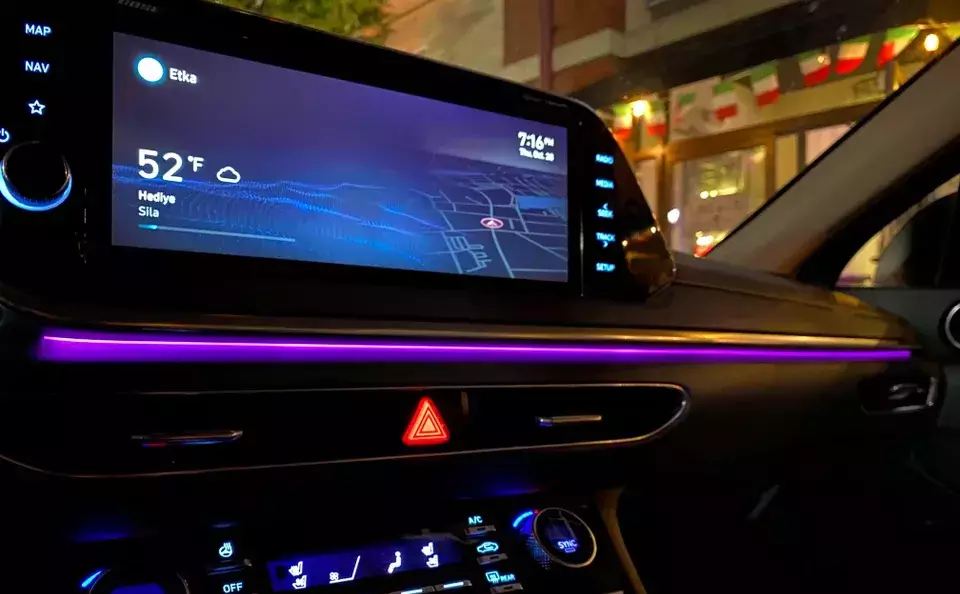 Hyundai understood they needed to enhance their vehicles' interiors to entice and retain more buyers. The Sonata 2022 offers an elegant and discreet ambient lighting option.
You may customize the interface to your liking with a rainbow of colors, and getting started couldn't be easier.
The Hyundai Sonata's ambient lighting system was created to complement the car's aesthetics without detracting from its functionality.
Acura RDX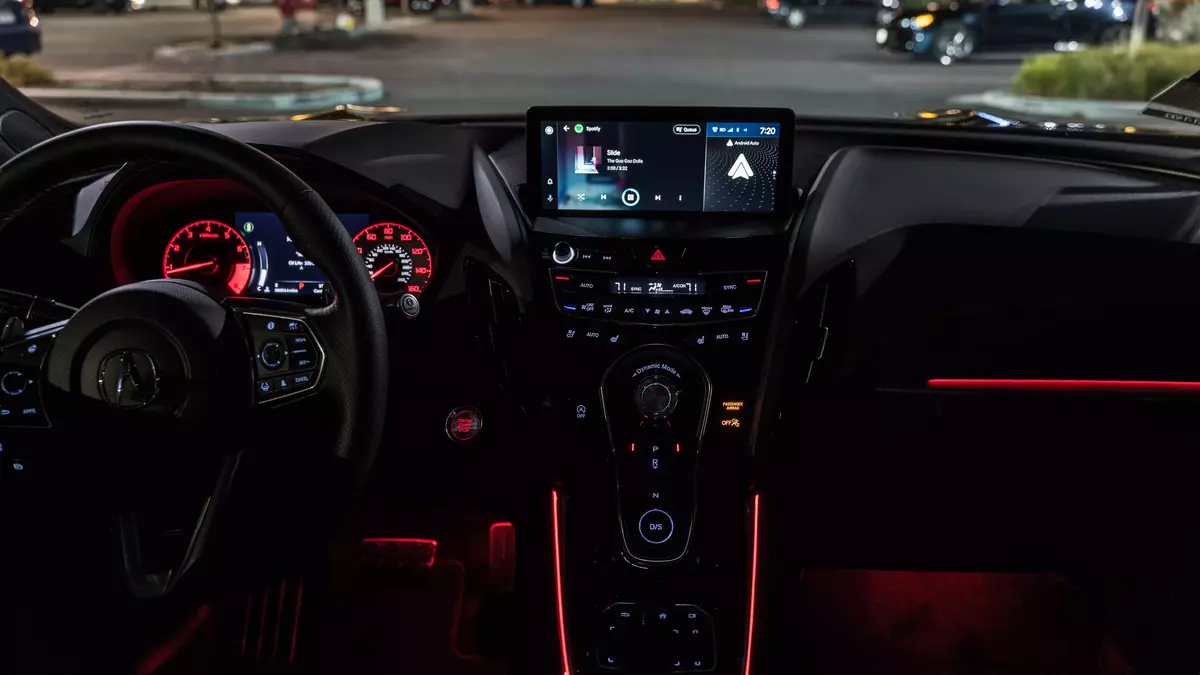 Suppose you're seeking to step up your interior design game. In that case, you'll be happy to know that the Acura RDX's Technology and Advance Packages have eye-popping Ambient LED Cabin Lighting as standard equipment.
You can make your travels unique and fun with this feature, as there are an impressive twenty-seven distinct themes to pick from.
Some streets, like Atlantic Road, are illuminated in seafoam green, while others, like Kanjo Loop, give alluring purple tones. LED "light pipes" highlight the front doors, center console, and footwells.
Their adjustable brightness and color will have your family and friends clamoring to join you on your next trip.
Mercedes A-class Sedan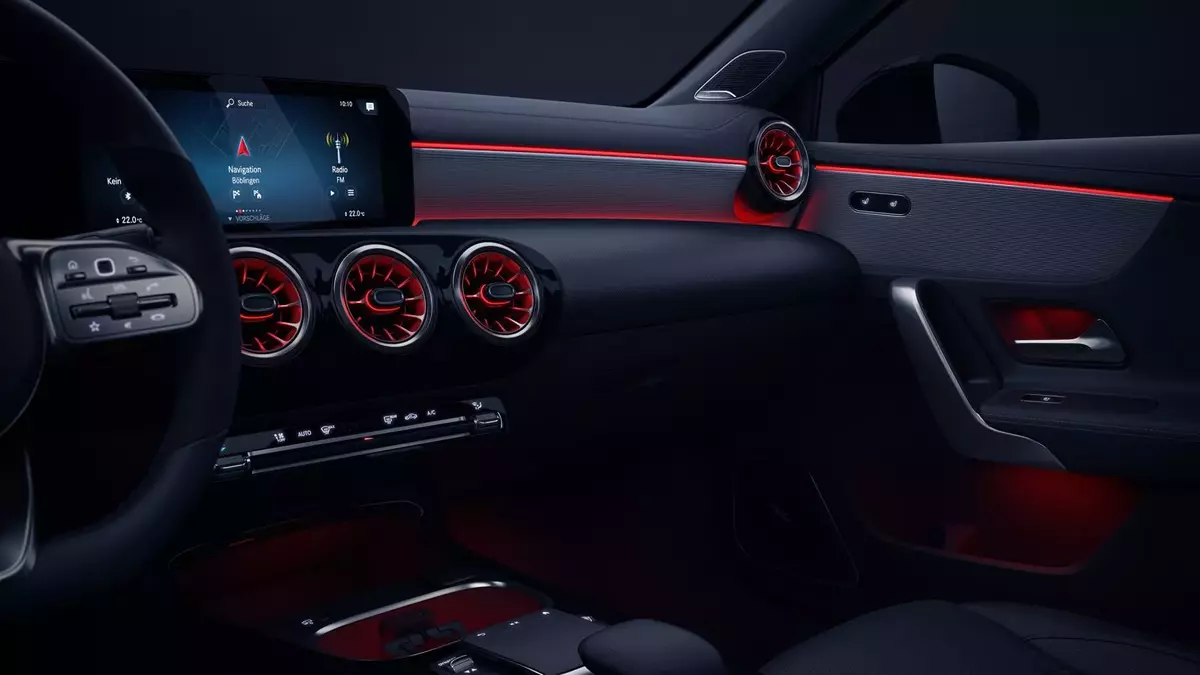 The Mercedes A-class Sedan includes an ambient lighting system with 64 color selections. It's not limited to high-end limousines like the S-Class either.
This ambient lighting is not limited to luxury vehicles; it is available even on the entry-level A-Class hatchback.
Luxury Car With Best Interior Ambient Lighting
The turbine-style air vents are the greatest part of this bright nighttime interior. At night, when the ambient lighting is doing its thing, the turbine blades take on the color of your choice, making for a striking visual effect.
Lincoln Aviator
When it comes to high-end, huge SUVs, the Lincoln Navigator is a top contender. On top of its already impressive level of luxury, it also boasts cutting-edge features that improve the driving experience.
By illustration, the Navigator lineup features adaptable interior lighting thanks to ambient lighting options.
Ambient lighting controls allow you to modify your Navigator's color temperature and illumination level.
Chevrolet Camaro
The Chevrolet Camaro is every sports car fan's fantasy because it was one of the first cars to have ambient lighting.
An advanced dashboard that allows instantaneous color and mode changes control this bright vehicle's LED lighting system.
The Camaro's flamboyant "show mode" is one of its most distinctive qualities.
This disco-inspired lighting package is the icing for what has become one of the most sought-after sports vehicles available today.
Audi A3
Despite the limited color palette available for the A3 Series' ambient lighting, Audi makes excellent use of it by skillfully illuminating the interior's curves and major lines with pool lighting that provides a diffuser glow to balance the LEDs' pinpoint pinpoint pinpoint.
The designers have been cautious to avoid creating too much palette conflict by having dozens of shades, as the buttons and dials often maintain the iconic Audi warm orange.
The 3 Series cabin also benefits from extra shrewdness in its attention to detail. Flashing the inside lights whenever a door opens the car is a visual cue to other motorists on the road.
Volkswagen Jetta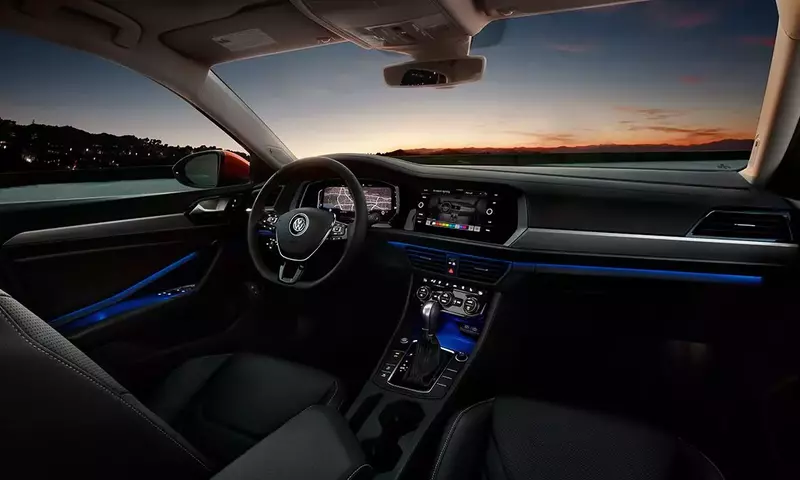 The Volkswagen Jetta is one of the most reliable cars on the market. Newer versions of the automobile, like the 2022 model, feature substantial upgrades that make it feel modern and thrilling.
You can choose from ten distinct hues with Jetta's new ambient lighting system, which looks and feels terrific while you're behind the wheel. This system is for you if you enjoy driving at night and value ambiance and sophistication.
Final Thoughts
There are a lot of beautiful cars on the market, from the versatile Hyundai Sonata to the sleek Mercedes A-Class.
The effect of ambient lighting on the interior of a car is truly remarkable.
We hope you've found our comparison of the best ambient lighting cars useful in narrowing your search.