Transporting heavy exercise equipment like the Peloton Bike by a car can be very painstaking. While many vehicles like SUVs offer wider luggage or cargo spaces nowadays, it doesn't make the task less complicated and challenging.
If you're ever stuck in this situation, you might wonder, "can a Peloton fit in an SUV?" Or if it's even possible to transport a Peloton Bike by yourself in the first place.
So, Can a Peloton Bike fit in an SUV?
Moving a Peloton Bike from one place to another via SUV is absolutely possible. However, it might not be as easy for many. You need to prop and wrap the bicycle handler so that the screen is not damaged due to accidental bumps during transportation.
To effectively fit the bike inside an SUV, you must detach some components that may get easily damaged.
One piece of equipment, for instance, is the touchscreen, which is the most crucial component of the equipment. While it is possible to fit it in the SUV with the screen on, you have to be extra careful not to damage it.
How big and heavy is the Peloton Bike?
The overall height of the Peloton Bike is 60″ (152.4 cm), but the handlebars are adjustable, so people who are at least 4'11" (150 cm) in height are capable of using it.
It comes with a relatively thin width of 24″ (61 cm) and a length of 48″ (121.9 cm).
The overall measurements are equivalent to 40.0197 cubic feet. Without the screen, the bike's frame measures 48 x 24 inches.
Its weight is 140 lbs (64 kgs.), which is light enough to be carried by two capable movers. This weight can support no more than 297 lbs (135 kg.)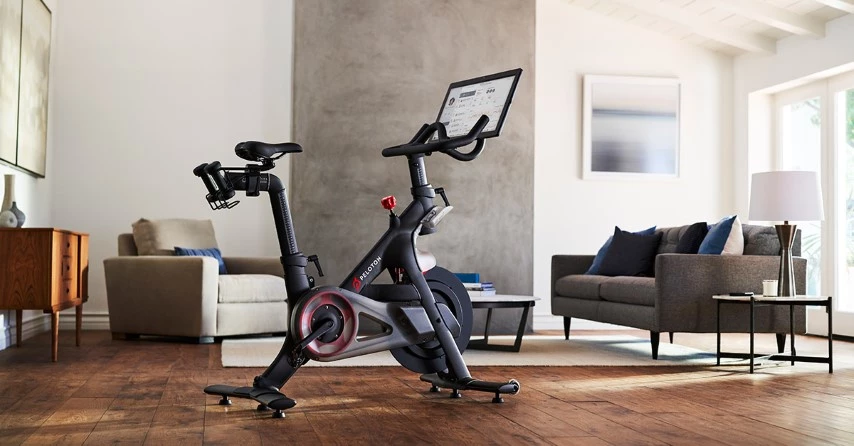 How do you move Peloton Bike in an SUV?
While the frame of the Peloton could be heavy, it is possible and relatively easy to move it in general. However, fitting it in an SUV is another tricky situation.
The Peloton support page highly recommends using a moving company. However, if that is not one of your options, there are provided tips that you can follow.
It is highly advisable to take the screen off to move the Peloton Bike, playing the most critical role in the bike's functionality. Following that, detach the pedals, sweat guard, water bottle holder, and weight holders from the bike. It would help if you disconnected anything that can fall off or break off.
The next thing you need to do is bring the handlebars and seat posts to the lowest positions and make sure that all adjustment levers are fully tightened.
After you've done these tips, you can keep the screens and other detachable components in boxes to secure them. Don't forget the cords too.
Finally, carry the frame inside the SUV together with the other components. Be extra careful with handling this bike yourself because damage due to disassembling, reassembling, or moving the bike can void its warranty.
How hard is it to move the Peloton Bike?
The difficulty of moving the Peloton bike depends on where you want to move it.
If it's from one place to your house, extra precaution is needed, so it makes it somewhat tricky.
While you can do it yourself with the help of another full-grown adult, it is still best to contact technicians that will take apart your bike and put it together to ensure that the warranty will be protected and for your added convenience as well.
On the other hand, if it's inside your house, you will see that it isn't as complex, but you don't want to do it often as it is still a piece of heavy equipment.
If it's just a room-to-room move on one floor, you can make use of its front wheels. You can do this by positioning yourself behind the bike and grabbing the stabilizers with both hands. After this, you need to lift its back and tilt it on its front wheels. Lastly, push or pull it according to your discretion.
If you want to move it upstairs or downstairs, you can carry it with the help of a capable mover. Yes, it is heavy, but it can take two or three physically strong people.
Which SUV can fit the Peloton Bike?
With the innovation of SUVs nowadays, most of them can fit objects that measure hundreds of cubic feet in size and a thousand pounds. Here are some SUVs that can accommodate the Peloton Bike.
The 2021 Chevrolet Suburban can hold an impressive amount of 144 cubic meters behind its front row. The 2021 Chevrolet Tahoe is an excellent SUV for moving this bike, with 122.9 cubic meters behind the front row.
The 2021 Ford Expedition Max has an expansive cargo space of 121.5 cubic feet to accommodate the bike's dimensions. The 2021 Toyota Sequoia is also equipped with a functional cargo space of 120.1 cubic feet from one of the most loved automobile brands.
The 109.2 cubic feet available space behind the first row of the 2021 Honda Pilot will surely fit the bike and support its weight. Lastly, the Volkswagen Atlas space 2021 also doesn't disappoint with its 96.8 cubic feet of space behind the front row.