The BMW X2 is a compact SUV with a dynamic engine and quick handling, making it enjoyable to drive.
As a premium SUV, it has a well-crafted interior, a competent infotainment system, and a comprehensive suite of safety features.
As an SUV, the X2 delivers sporty driving characteristics, as its slightly firm suspension and high ground clearance make it suitable for all terrains and weather conditions, including winter.
This article will explore the X2's winter driving capabilities in further detail.
Is BMW X2 Good for Snow?
BMW's xDrive system, which distributes power between axles to ensure the car maintains grip, helps the X2 handle well in the snow while providing a luxurious and pleasant ride.
Thanks to its high ground clearance and all-wheel drive systems, it performs admirably in the snow.
SUVs like the BMW X2 have a significant height advantage over other vehicles, and many drivers take advantage of the xDrive system to have the most traction possible in any weather.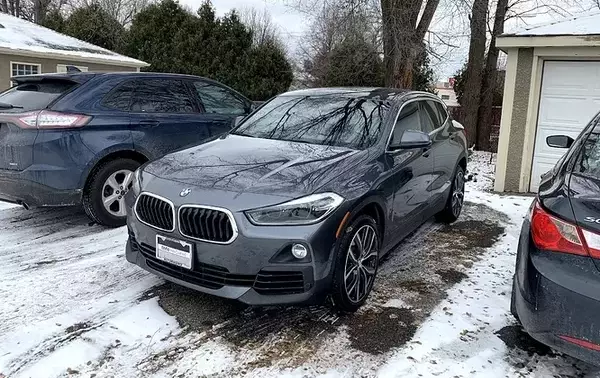 Which BMW X2 Features Will Improve Winter Driving?
As a luxury SUV, the X2 is equipped with several features that help it perform well in the snow, including:
Symmetrical All-Wheel Drive
BMW's All-Wheel-Drive technology uses wheel rotation speed differentials to determine which axle needs to receive power.
Electronic Stability Control
ASC employs the brakes primarily and only applies them to the driven wheels. Power to the driving wheels can be reduced in more recent ASC iterations.
It's possible to get out of sticky situations where the car has very little traction, thanks to this technique.
Buying a new BMW means investing in reliable transportation that will get you where you need to go in comfort and style.
When you turn the key in your ignition, your car's dynamic stability control system will immediately go into action. This mode of operation for your BMW serves as a security blanket.
BMWs include an option called Dynamic Stability Control (DSC) that helps them adhere to physics. In most cases, this sort of setting, which is controlled and keeps the car on the desired path, is preferable.
If power exceeds grip, the DSC system will apply the brakes to a specific wheel to prevent skidding.
Traction Control System
It's common to need some wheel spin when going uphill in the snow. This is when Dynamic Traction Control (DTC) comes in handy.
BMW says that DTC is a feature of DSC that allows for the greater wheel spin. Pushing the DTC button on the dashboard unlocks the possibility of wheel slip.
Heated Seat & Steering
BMWs include automatic climate control that can be used to heat the steering wheel. If you prefer to trigger this feature manually, you must utilize your Control Display. Your BMW manual will provide a comprehensive explanation of this function.
Does BMW X2 Have Snow Mode?
Yes. When driven in Eco Pro mode in the snow, BMWs are at their finest. Thus, it restricts the engine's torque output to prevent wheel spin.
Eco mode isn't as exciting to drive in, but it's the safest option when the roads are wet. In the game, you have to keep the automobile from spinning by making sure the wheels don't spin when it's driving normally.
The Dynamic Stability Control system will be activated automatically to ensure your safety if you lose traction. When it senses a loss of traction, it can reduce engine output or apply the brakes to the offending wheel(s).
The mode known as "coasting" can also be useful. In most cases, this feature is used automatically, but if you disable it, you can slow the car down using engine braking instead.
As a result, there is less danger of the brakes locking and the vehicle slipping out of control.
Does BMW X2 Need Winter Tires?
An efficient set of tires is essential for driving well in the snow. While BMWs are famed for their exceptional performance, even the best will struggle in the snow if they aren't equipped with the right tires.
Driving in the snow requires constant attention to the vehicle's traction.
BMWs are potent vehicles, and when fitted with a suitable pair of snow tires, they perform admirably in the winter weather.
How Much Snow Can a BMW X2 Handle?
About 7 inches of ground clearance are all that exist under this vehicle. You can rule out plowing through deep snow banks on your way home. You should have plenty of room to drive safely, even in deep snow, with those 7 inches of clearance.
But contrary to popular belief, it performs admirably in the snow. Because of its incredibly lightweight, it can easily hop over snow, just like a mountain goat. The electric torque it has allows it to deliver immediate, steady power.
Is the BMW X2 Reliable?
An anticipated dependability rating of 80 out of 100 has been assigned to the BMW X2. According to J.D. Power, a predicted dependability score of 91-100 is seen as the Best, 81-90 is regarded as Great, 70-80 is regarded as Average, and 0-69 is regarded as Fair and is considered below average.
Conclusion
BMW's X2 SUV is a competent choice. It's a blast to pilot because of its peppy motor and responsive handling, but the ride quality suffers due to the car's sporty nature.
The inside is solidly built and features a straightforward infotainment system and supportive seats. However, there are also some low-quality plastics available. The competition has many alternatives with more plush interiors.
Image Credit: forum.leasehackr.com