Winter Driving, not everyone in the country will experience these risky driving conditions. But if you are one of those that do, it pays to have a car that handles those harsh conditions well.
Snow is about the worst driving condition you can drive in. It is slick, wet, and hard to stop on. With the right vehicle like the Jeep Renegade, your winter driving worries may be over.
Are Jeep Renegades good on snow?
The way the new Jeep Renegade vehicles are built tells you that they will be good to drive when there is snow on the ground. While a limited number of trims are available, they all come with front-wheel or four-wheel drive.
Those two drive options make Jeep Renegade perfect for snow. You get better traction with the front-wheel drive option because the engine's weight is where it is needed most.
In the 4WD model, all four wheels are getting you the traction you need. There should be no spinning of tires getting you stuck deeper into the snow with this model option.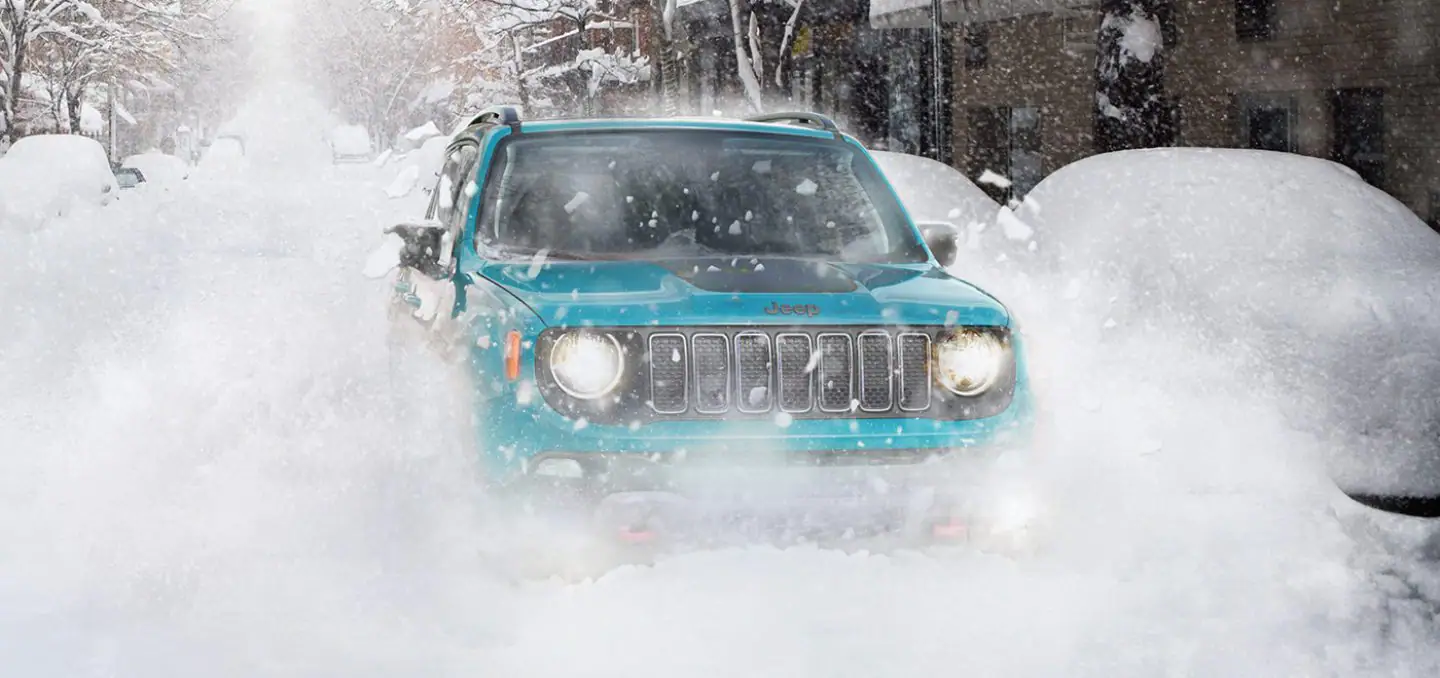 Which Jeep Renegade Features Will Improve Winter Driving?
The best built-in feature will be the Selec-Terrain Traction Management system. This new invention makes sure your Renegade can meet any weather situation and get you through to your home with ease.
The Selec-Terrain Traction Management system has five modes or driving options you can select. Each one is designed to provide you with the right amount of throttle and traction responses for the weather condition it is set to work in.
When set in the snow mode, the Selec-Terrain Traction Management system sends an even amount of torque to all four tires. This way, you avoid any spin-outs that happen on compacted snow or ice.
On 4x4s, there is what is called active drive. It is basically the Selec-Terrain Traction Management system, except that the rock mode is missing from this option.
Finally, the Renegade is equipped with a high clearance level. This design gives you 8.7 inches of space between the chassis and the ground. That makes driving over deep snow a lot easier.
Does Jeep Renegade Have Snow Mode?
When it comes to the design of the top vehicle, the engineers included a special feature called the Selec-Terrain Traction Management system. This system is equipped with 5 modes of operation.
Each mode is designed to work best in a specific weather or ground situation. All you have to do is put it into the mode that fits where you are driving. The 5 modes are auto, snow, sand, mud, and rock.
It should be mentioned that rock mode is not offered on all Renegades with the Selec-Terrain Traction Management system or the Active drive option. It is part of the Active Drive Low feature though.
Do Jeep Renegade Need Snow Tires?
It is a good idea to have good snow tires on your Jeep Renegade. These tires are made for driving in the snow and they have the treads to keep you out of difficult situations.
However, if you have all-season ties or high traction tires on your Renegade, those tire options should work just as well. The tires that you will have on this vehicle will depend on the state you live in.
If your state's winter season does not have a lot of snow, then you may not need snow tires unless you plan on driving up into the mountains, where there is lots of snow. Then it would be best if you put some good snow tires on this vehicle.
How Much Snow Can A Jeep Renegade?
The deepest snow where the Renegade has performed well has been reported to be 3 to 4 feet. That was when the owner put the car into snow mode. It drove like normal.
Other reports have said 3 to 4 inches of wet snow have not been any problem to the Renegade. Your results will depend on numerous factors including how you drive, how much snow there is, and if you use snow mode or not.
There will be limits, of course, but so far those limits seem to be set fairly high. It would be wise not to push it too far though. Always stay on the safe side of things when it comes to snow.
Is Jeep Renegade reliable?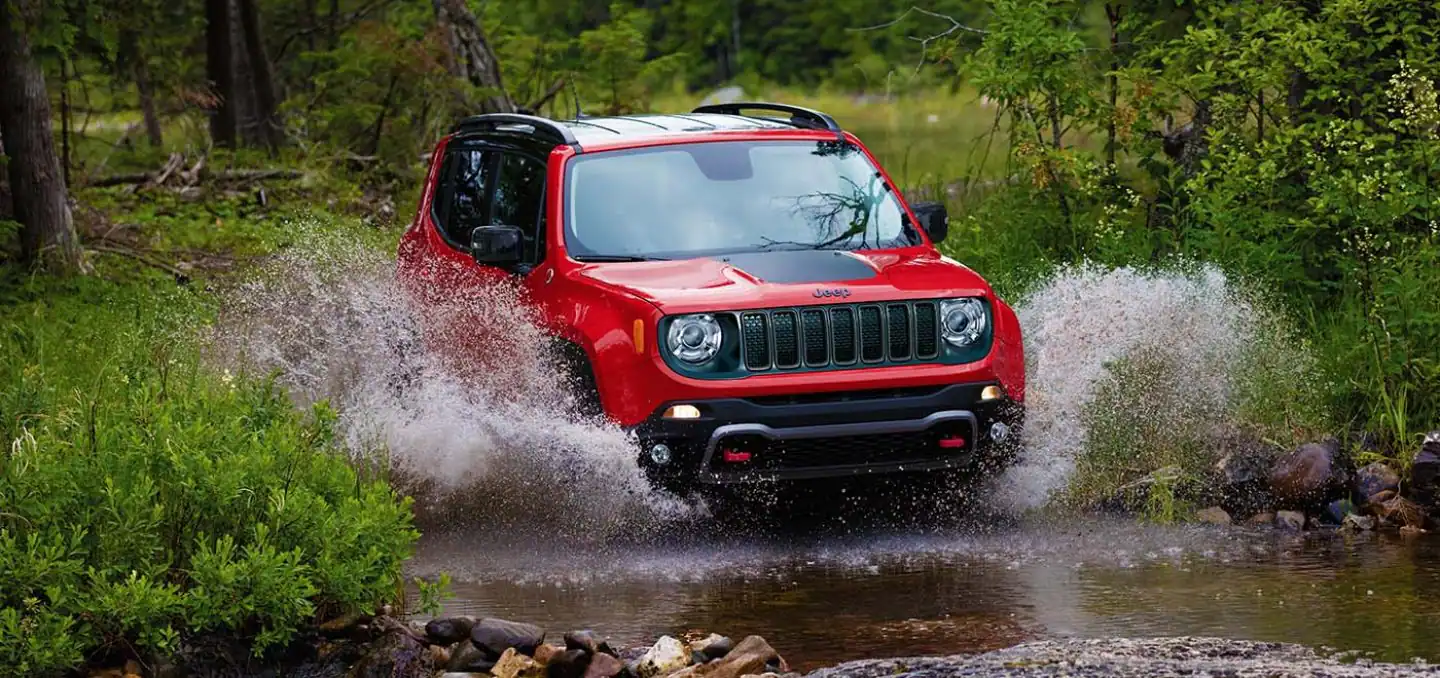 This is a very reliable vehicle to own. It handles well and in different snow competitions, it was one of 6 vehicles that made it through to the finish line. That means it is a top-performing vehicle no matter what weather conditions you are experiencing.
Because of all the factors involved, it is hard to say how reliable the car is as a lot of its performance depends on your driving skills. Consumer Reports gave it a 3 out of 5 for reliability, which is better than other Jeep vehicles.
Some final words
When you want an excellent car for those snowy days, check out the Jeep Renegade. Its ground clearance and Selec-Terrain Traction Management system ensure you get to your destination safely.
Just make sure to have the right tires so that there are no unexpected issues that pop up on you.