Driving a good car gives you a new status and confidence when driving. Honda CR-V is the car you need if you are looking for comfort, class, performance, safety, good space, and a quiet and smooth ride.
Usually, people don't really recommend an SUV for a first car, but that's an exception if the SUV is the Honda CR-V. In this article, I will go into more detail on why the Honda CR-V is suitable for new drivers as their first car.
So, Is a Honda CR-V a Good First Car?
Honda CR-V is definitely a good car to buy as your first car or for your first ride. SUV is known to be the safest car on the road, and Honda CR-V is one of them. Besides, the CR-V is also easy to drive and park.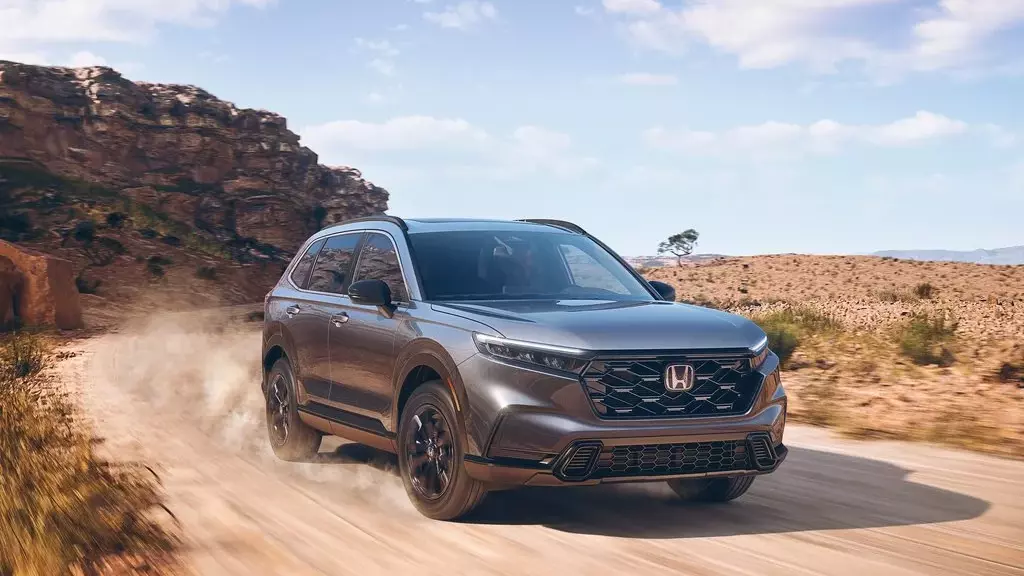 The CR-V has modern safety features like a driver assistant, comfortable and spacious driver's seat, Honda sensing, driver-assist system, Lane Watch, and a video system. All these features make Honda CR-V a safe car for inexperienced drivers, young drivers, and seniors. Besides, the car is user-friendly, with all the tools the driver needs conveniently located.
The big problem is that the car is a bit costly, so if you are on a budget, it can be hard for you to afford it. However, the good thing is that you can opt for a second-hand Honda CR-V and enjoy the ride.
Is Honda CR-V Easy to Drive?
Yes, Honda CR-V is one of the easiest cars to drive that is mostly preferred by seniors and inexperienced drivers for its user-friendliness.
It comes with lots of standard driver assistance features, and its comfortable interior, good cabin space, and smooth ride make it easy to drive. However, like any other car, you must be keen and observe all safety rules when hitting the road.
Is Honda CR-V safe for Teen Drivers?
Although I didn't include it in my list of the best SUVs for teens, the Honda CR-V is still a good choice. Its modern safety features and ease of use make it safe for a hyper and inexperienced teen.
Features like driver-assistance systems help avoid collisions and reduce their severity in case of an accident. In addition, the car has features that will help your teen change lanes easily and at the right time and see all other road users.
You Might Also Like:
Is a Honda CR-V Good on Gas?
Yes, it is economical when it comes to gas usage. It has a 14-gallon gas tank and can travel for approximately 434 miles on a full tank, which is excellent compared to other cars.
However, it is important to learn that there are different models of Honda CR-V, and each one has different gas usage.
You also need to ensure your Honda CR-V's tires are well aligned and have enough pressure to reduce gas consumption.
Another thing that can make your Honda CR-V use more gas is a defective fuel pump, so have your car checked often.
Is Honda CR-V Expensive to Maintain?
Honda CR-V is reasonably inexpensive to maintain, with average maintenance costs of $407 per year. The average annual maintenance costs for SUVs are estimated to be $521, and Honda CR-V spends less than that, which makes it inexpensive to maintain.
The good thing there are free maintenance costs for Honda CR-V: after driving for the first 1000 km, you get free maintenance services, the second free maintenance service comes after 10,000 km and the third after 20,000 km.
Again, with a warranty, you can expect the costs to go down since you will get repair and maintenance services for free. So if you are planning to buy a used Honda CR-V, you must ensure the warranty is still valid and will serve you for a long time.
Is a Honda CR-V a Reliable Car?
Honda CR-V is considered one of the most reliable vehicles on the road. This is the only car you can give your teenager to drive, and you will not panic, its maintenance costs are relatively low, and it is hard for the car to break down. Its reliability rate is 84/100.
Honda has rectified most of the issues experienced by customers who bought the car back in 2017, and it is now the best car that everyone should consider buying.
Is Honda CR-V Worth Buying?
Honda CR-V is worth buying, and it should be your next car on the buying list. Its outstanding features that provide the highest safety on the road are one of the reasons you should invest in this magical car.
It delivers an energetic acceleration upscale interior with spacious and comfortable seats. These are other characteristics that make Honda CR-V the most sought car.
The cheapest new Honda CR-V costs $25,750 but it is worth buying since its maintenance costs are low and will give you other endless advantages.
Honda CR-V Pros & Cons
Pros
Comfortable to ride in and has a large space
Good on gas which will help save money
Modern and functional safety features
There are five different options to choose from
Has standard Honda sensing suit of driver aids
Highly Reliable
Good cargo space, which allows more luggage
Cons
Low-performance infotainment touchscreen with no tuning knob
They have a low towing capacity of 1,500 pounds compared to their competitors, who can tow up to 3500.
The automatic climate control system sometimes fails.
Final Thought
Honda CR-V is a reliable car that will make your life easier and better. It gives one a comfortable ride knowing you have all the safety you need. Even though buying a new Honda CR-V car seems expensive, it's worth investing in it for its classy features.